'Covid' Ops: What effect will the Maxwell factor have?
Ghislaine bail hearing up next week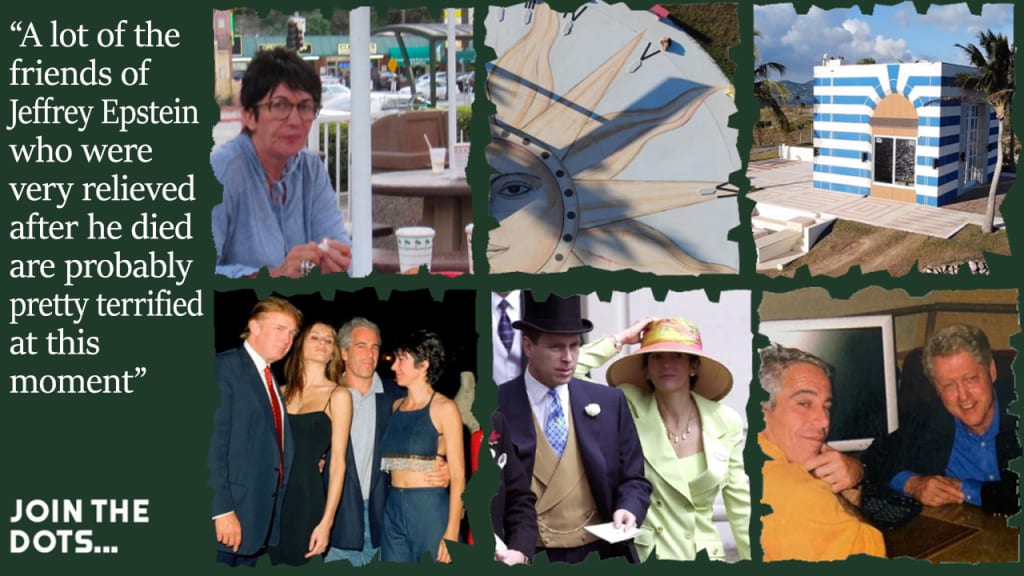 How long is it that she's been in custody? Eight days isn't it? And already the worms are starting to crawl out ahead of Ghislaine Maxwell's appearance before a New York court for an arraignment and bail hearing via a video-link next Tuesday.
The 58-year-old former girlfriend and alleged "procurer" of young girls for child sex offender Jeffrey Epstein was arrested by the FBI in New Hampshire a week ago and charged with sex trafficking.
Maxwell, who had been in hiding since August last year following Epstein's "suicide" in a Manhattan prison cell, is being detained at a federal jail in New York and is expected to be denied bail.
It is believed she will be cooperative with the FBI, which could see the likes of Donald Trump and Bill Clinton called into question. Prince Andrew is also said to be "agonising" over her arrest and fears "making enemies".
The Duke of York was pictured yesterday for the first time since Maxwell's arrest, Trump's Attorney General saying his prosecutors are very keen to speak to the royal.
The duke, who has been keeping a low profile at his Windsor home since he was forced to step back from public life in November over his links with Epstein, was pictured with a protection officer driving in a Range Rover near his home.
He is reported to be involved in a war of words with the US authorities over whether he will assist their investigation into Epstein's sex crimes and US Attorney General Bill Barr said yesterday the duke must speak to the FBI as his team "definitely" wanted to interview him.
Prince Andrew hasn't commented since his dear friend was arrested and charged with grooming and trafficking underage girls for Epstein, with The Telegraph reporting he is caught in a dilemma over how to proceed while under questioning by the FBI.
Former US president Clinton is also facing some soul searching after he was accused of having an affair with Maxwell during trips they took on Epstein's private jet, according to excerpts from a book, "A Convenient Death: The Mysterious Demise of Jeffrey Epstein", revealed by the New York Post at the end of May.
In the book sources say Clinton would have sex with Maxwell during overseas trips on Epstein's "Lolita Express" and would visit her Manhattan townhouse, although the former president has denied having the affair… his spokesman saying "it's a total lie today, it's a total lie tomorrow, and it'll be a total lie years from now".
The sources quoted in the book claim Clinton was involved with Epstein only because of his alleged affair with Maxwell. "(Bill) and Ghislaine were getting it on," one source said. "'That's why he was around Epstein, to be with her. You couldn't hang out with her without being with him. Clinton just used him like everything else."
The pair were together at various events in New York City, including ones held by the former president's own Clinton Foundation, and Maxwell was among the guests at Chelsea Clinton's wedding in July 2010.
According to Alana Goodman, the co-author of the book, Maxwell's arrest will have sent shockwaves through Epstein's elite inner circle who fear she will be "naming names".
"I think that a lot of the friends of Jeffrey Epstein who were very relieved after he died are probably pretty terrified at this moment," she said. "Epstein is dead ... she (Maxwell) doesn't really have to worry about protecting him or anything else at this point."
The allegations revealed by the New York Post came hot on the heels of a new Netflix documentary that claims Clinton was seen sitting with Epstein on the convicted sex offenders' Caribbean island where young girls were allegedly taken and assaulted by the paedophile and his high-profile friends.
Steve Scully, a 70-year-old former worker on Epstein's private Caribbean island of Little Saint James, claims he saw Clinton sitting with Epstein in the porch of the island's villa.
The claims appear in the series "Jeffrey Epstein: Filthy Rich", which hears of Epstein's abuse from witnesses and victims. Clinton has denied ever visiting the Caribbean island but has admitted flying in Epstein's private jet on four occasions.
His spokesman denied the claims in the Netflix series, saying: "This was a lie the first time it was told, and it isn't true today, no matter how many times it's repeated."
Scully, who maintained the phones and internet on the island, told the documentary makers he saw other "important people" coming and going from the private island. On one occasion, he allegedly saw another male guest naked and flanked by three topless girls.
Alleged Epstein victim Virginia Roberts Giuffre, who claims Prince Andrew had sex with her as a 17-year-old at Maxwell's London apartment, has previously stated in legal papers that she also saw Clinton on the island.
Giuffre alleged she had dinner with Clinton, Epstein, Maxwell and two other women from New York on the island on one occasion.
And, according to Goodman, there's a long list of other famous names who will be itching to know what Maxwell might reveal about them.
Alan Dershowitz, the lawyer who represented Trump at his impeachment trial last January, also previously represented Epstein, flew on his plane and reportedly received at least one massage at Epstein's home. Dershowitz has denied any wrongdoing.
Les Wexner, the CEO of L Brands which owns Victoria's Secret, was also among Epstein's inner circle although he distanced himself from him in 2007 after allegations first surfaced. "I would not have continued to work with any individual capable of such egregious, sickening behaviour as has been reported about him," Wexner said last year.
French modelling agent Jean-Luc Brunel, 74, who also went "missing" in the wake of Epstein's death after being accused of being his "fixer" and "pimp", is another who will be following developments with close interest.
While actor Kevin Spacey and comedian Chris Tucker also reportedly took trips with Epstein and Clinton, spending a week touring AIDS project sites in Africa in 2002, according to New York Magazine.
In an interview with the New York Times, Epstein once claimed Elon Musk had sought him out for business advice, although the Tesla tycoon has denied knowing Maxwell after a photo of them at a party resurfaced recently. The tech billionaire said Maxwell "photobombed" him at the Vanity Fair bash.
And Clinton is not the only US president who has been closely associated with Epstein, Trump was once pictured with him and Maxwell at a 2000 party at the president's Mar-a-Lago resort in Florida.
"I've known Jeff for 15 years," Trump said in a 2002 Epstein profile in the New York Magazine. "Terrific guy."
But after Epstein's arrest, Trump quickly changed his tune saying he "knew him like everybody in Palm Beach knew him". "I had a falling out with him," he said. "I haven't spoken to him in 15 years. I was not a fan of his, that I can tell you."
But it hasn't stopped him being named by one of Epstein's alleged victims, whose lawsuit claims Trump was aware of the financier's sexual tastes.
The unnamed woman is reportedly suing Epstein's estate and claims when she was 14 years old the billionaire took her to Mar-a-Lago, where he showed her to Trump. As he allegedly "playfully" elbowed Trump during the introduction, she claims Epstein said: "This is a good one, right?"
There is no suggestion Trump knew she was underage or was involved in any abuse.
Prosecutors now believe Maxwell is a flight risk and will ask that she be detained without bail. She is charged with four criminal counts related to procuring and transporting minors for illegal sex acts and two of perjury, according to the indictment by federal prosecutors.
It'll be interesting to see how developments pan out, as Maxwell launched a civil lawsuit against Epstein's estate in March seeking reimbursement of her legal fees and personal security costs.
According to a court filing in the US Virgin Islands, she claims Epstein repeatedly made "clear and unambiguous" promises to always support her financially.
"Maxwell reasonably and justifiably relied on Epstein's promises and put her trust in Epstein that he would fulfil his promises," the lawsuit filed in Superior Court in St Thomas claims.
According to the lawsuit, she claims to have been employed by Epstein and his companies from about 1999 to 2006 as a manager of the multi-millionaire's luxury properties in New York, Florida, New Mexico, France and the US Virgin Islands.
She alleges that when she sought to start her own business venture in about 2004, she received a typewritten letter from Epstein with a handwritten note asking her to remain in his employment and promising no matter what she chose to do, Epstein would always "support her".
At the moment lawyers for Epstein's estate are busily conducting settlement talks with 17 of his accusers, who have agreed to participate in a Victim Compensation Fund that will assess each claim before issuing a payout.
The women involved are believed to have to sign a four-page contract that states they can never again file legal action against the Epstein estate and co-executors Darren Indyke and Richard Kahn, or "any entities or individuals who are or have ever been engaged by, employed by, worked in any capacity for, or provided any services to" Epstein, the Epstein entities or the Epstein estate.
So, if the estate settles with Maxwell, does that mean under the terms of the Victim Compensation Fund she cannot be taken to court by women who settle their claims?
Maxwell has hired Christian Everdell, former assistant US attorney for the Southern District of New York, to represent her in the federal case, with former colleagues of his saying he may use his experience in high-profile hearings to convince her to strike a deal and disclose what she knows about Epstein's twisted inner circle.
Prosecutors say she faces up to 35 years in prison, but how much shorter could the sentence be if a deal is struck and how will negotiations in the civil case affect the outcome?
It seems everyone is keen to bring a swift end to proceedings… that Covid19 carpet won't be around forever to sweep the mess away!
About the Creator
From Covid to the Ukraine... nothing is as it seems in the world. Don't just accept the mainstream brainwashing, open your eyes to the bigger picture at the heart of these staged productions.
JOIN THE DOTS: http://not.wildaboutit.com
Reader insights
Be the first to share your insights about this piece.
Add your insights