'Covid' Ops: The Gates to Wuhan
Inside Bill's coronavirus quest: PART TWO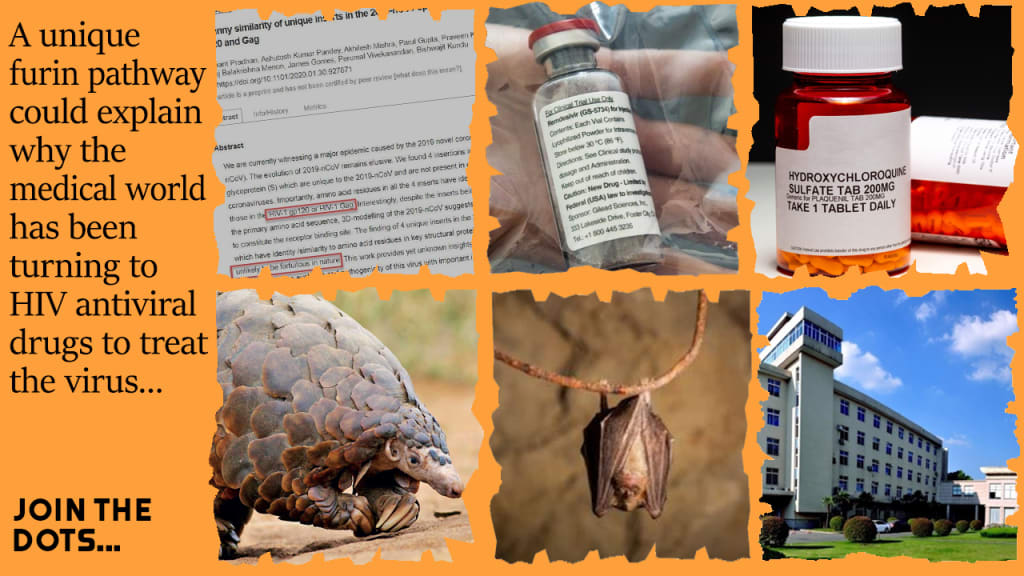 The Covid19 mystery: From Wuhan to hydroxychloroquine
While Bill Gates' involvement at every stage of the Covid19 saga that has devastated the world in 2020 could just be the foresight of a very benevolent philanthropist, personally I tend to think it would be a very naive way of viewing the situation.
As well as the quantum-dot and microchip technology, mentioned in the earlier article about his coronavirus involvement, the Bill & Melinda Gates Foundation has pumped US$47 million into the Chinese Academy of Sciences (CAS), the organisation responsible for the Wuhan Institute of Virology, over the last decade and has also been heavily funding multiple coronavirus projects, even before the Covid19 outbreak materialised.
In 2015 Gates warned of such a pandemic at a TED event, while his foundation also funds the Surrey-based Pirbright Institute which took out a coronavirus patent the same year.
While the Pirbright patent obviously does not cover Covid19, since it didn't materialise until the end of 2019, it does indicate Gates' funding of research into the family of viruses long before the Covid19 outbreak manifested itself in Wuhan.
The virology lab was initially founded in 1956 as the Wuhan Microbiology Laboratory under the CAS umbrella and, after a series of administration and name changes, returned to CAS supervision in 1978 as the Wuhan Institute of Virology.
In 2015 its National Bio-safety Laboratory became the first bio-safety level-four facility in mainland China, being completed in collaboration with the French government's CIRI lab at a cost of about $44 million. Its establishment was also partially funded by the US government and took more than a decade to complete from its conception in 2003, with the laboratory also having strong ties to the Galveston National Laboratory at the University of Texas.
Interestingly in 2017 Gates was granted one of China's highest academic honours normally reserved for top scientists and engineers, becoming the only non-academic foreigner hand-picked by the Chinese Academy of Engineering (CAE) for lifetime membership.
The CAE, which is closely associated with CAS and also falls under State Council jurisdiction, elected Gates primarily for his role as founder and chairman of Washington-based nuclear power company TerraPower, which has partnered with the China National Nuclear Corporation to develop advanced nuclear reactors.
Part of the Gates' foundation and US government funding of the Wuhan lab went towards research on bats from caves in Yunnan province, which many scientists consider to be the original source of the Covid19 outbreak, although the initial response was that it transferred to the human population via an infected pangolin from the Wuhan wet market.
The Wuhan Institute of Virology, based 20 miles away from the wildlife market, carried out its experiments on horseshoe bats as part of a project funded by the US National Institutes of Health, which continues to licence the laboratory to receive American money for experiments.
More than 1,500 strains of deadly viruses are held at the laboratory, which specialises in researching the most dangerous pathogens… in particular viruses carried by bats.
The NIH is the primary agency of the United States government responsible for biomedical and public health research, with the Wuhan institute listing it as a partner along with several other American academic institutions including the University of Alabama, the University of North Texas, Harvard University and the National Wildlife Federation.
It's interesting to note that as early as 31 January evidence began to surface that the Covid19 strain of coronavirus had some anomalies, with a group of Indian researchers producing a preprint scientific manuscript suggesting it may have been deliberately engineered due to the presence of HIV traits in its make-up.
However, the paper was criticised by several sources, with Harvard University School of Public Health scientist Eric Feigl-Ding and Shi Zhengli, a Chinese virologist at the Wuhan institute and a member of a team that found the origin of the SARS virus in bats, among those who concluded the work lacked scientific merit.
The controversy resulted in the paper's authors withdrawing it from the bioRxiv preprint server on 2 February.
But the Wuhan laboratory is known to have been carrying out gain-of-function research, through which Shi's team study viruses and determine how they can be modified to make them more deadly or more easily transmissible. The theory being that this type of research can enable scientists to come up with countermeasures for viruses that could pose the biggest threats to humanity.
It's a highly controversial type of research that was banned in the US during Barack Obama's administration after a series of safety incidents showed just how dangerous it could be.
But, since the Indian research was withdrawn, the notion that Covid19 could have been created in a lab has gained traction with a study at Nankai University in Tianjin, China, and a paper by scientist Yuri Deigin, editor of the Open Longevity journal, both supporting this concept.
Deigin's paper made the case that the virus was an obvious chimera, or a combination of two or more pre-existing viruses.
Although it is based on an ancestral bat strain of coronavirus, its spike protein has a replaced receptor binding motif (RBM) that comes from a pangolin strain. It also has a sequence of four amino acids that create a furin cleavage site that gives the virus expanded power to penetrate cells.
This is exactly the type of research carried out at the Wuhan Institute of Virology, although Deigin conceded that if that were the source it could have been released accidentally and would not necessarily be an intentional attempt to infect mass populations.
If it was created in Wuhan, Deigin noted, there would not necessarily be any clear sign it had been engineered as tools used in modern genetic engineering can cut and paste genomic fragments without leaving traces.
While he conceded there was no way of knowing what really happened, there were clearly a "series of strange coincidences" that would have had to have taken place for the virus to have emerged naturally. Bat and pangolin strains would have needed to meet within the same cell of an animal in Wuhan, but because the market doesn't sell bats and the animals typically hibernate during the time of year in question, it did not seem likely this could have happened.
The Nankai University study alleges Covid19's ability to infect cells is up to 1,000 times more powerful than SARS, which enters the human body by binding with a protein called ACE2 that exists in human cell membranes.
The new coronavirus aims for an enzyme called furin, which Professor Ruan Jishou and his team say is the same enzyme attacked by HIV and ebola. This HIV-like mutation helps the virus bind with human cells at an extremely effective rate, the Chinese scientists have claimed.
This unique furin pathway could explain why the medical world has been turning to HIV antiviral drugs to treat the virus.
Remdesivir, an experimental antiviral made by Gilead Sciences, has been used in the US, China and Italy to treat Covid19 patients, but only on a "compassionate" basis, with it used outside clinical trials on critically ill patients.
It is said to work by knocking out a specific piece of machinery in the virus, known as "RNA polymerase", which many viruses use to replicate. Gilead was granted "orphan status" in the US for remdesivir on 23 March, which is usually reserved for development of drugs to treat "rare diseases or conditions" that affect less than 200,000 people.
The classification bestows a number of incentives on Gilead, including tax breaks and fee waivers and is designed to hasten the development process. It also prevents other generic competitors from selling the drug. However, on 25 March, Gilead asked for the status to be rescinded after facing a significant public backlash.
There have also been "encouraging" clinical trials involving the Japanese influenza drug favipiravir, which it is claimed shortens the course of the disease. The drug is manufactured by Fujifilm Toyama Chemical and is an antiviral designed to target RNA viruses, which include coronaviruses and influenza.
Another drug that has been floated as a potential treatment is chloroquine, which has been used to treat malaria for about 70 years. Chloroquine can block some viruses from binding to human cells and getting inside them to replicate, while also helping to stimulate the immune system. But it isn't without side effects, with headaches, diarrhoea, rashes, itching and muscle problems also associated with it.
Tesla and SpaceX CEO Elon Musk and US President Donald Trump have both touted chloroquine as a treatment candidate, with chloroquine phosphate widely available. Trump has claimed to have been taking a less toxic derivative of the drug, hydroxychloroquine, which is widely used to treat diseases such as rheumatoid arthritis.
Combining hydroxychloroquine with the antibiotic azithromycin has also been reported to have positive outcomes, although many experts question its legitimacy.
Prior to his coronavirus crusade, Gates was very much focused on HIV vaccines, with both University of Oxford professor Sir John Bell and England's chief medical officer and government advisor Chris Whitty being recipients of large sums of money from the Gates' foundation for projects they have been involved in.
In 2008, the London School of Hygiene & Tropical Medicine was awarded funding of more than $46 million by the Gates' foundation for research into the treatment and prevention of malaria, tuberculosis and HIV.
The largest portion of that funding went to the ACT Consortium, a body of research institutions around the world that conducted research into treatment for malaria and of which the London School of Hygiene & Tropical Medicine was a member. The ACT Consortium received around $40 million.
At the time Whitty was a director and principal investigator of the ACT Consortium, which according to its own website is an international research collaboration formed in November 2007 to answer key questions on malaria drug delivery in Africa and Asia.
"The ACT Consortium is funded by the Bill & Melinda Gates Foundation and has partners throughout Africa, Asia, Europe and the United States," the website says. "It is coordinated through the London School of Hygiene & Tropical Medicine."
Bell is the "Regius Professor" of Medicine at Oxford University, which over the last decade or so has received in the region of $250 million from the Gates' foundation, with the former Academy of Medical Sciences president being a member of its Scientific Advisory Committee.
Given the close associations both Bell and Whitty have with Gates-funded organisations, and the nature of their specialisations, is it hard to comprehend that there could be a whole lot more to this bogus pandemic than meets the eye?
While not the only vaccine currently undergoing tests worldwide, the University of Oxford is at the heart of British efforts to produce a vaccine which will be the focus of the next part of this examination of Gates' Covid19 quest.
But, on a further note, it seems that much of the policy that has been introduced to combat Covid19 has also been based on studies undertaken by organisations funded by Gates.
Both the Institute for Health Metrics and Evaluation (IHME), centred at the University of Washington, and Imperial College London are recipients of considerable Gates' foundation funding… each one producing wildly incorrect models for the coronavirus outbreak.
In 2017 the foundation provided a 10-year $279 million grant to IHME, while Imperial College London, whose model was spearheaded by Neil Ferguson who resigned as an advisor to the UK government when he was caught flaunting the lockdown rules his numbers inspired, "gets tens of millions of dollars in annual funding from the Bill & Melinda Gates Foundation" according to its website.
Of course, Gates could just be a really far-sighted person with mankind's best interests at heart… but that is not the side of his character that shone through during his time as head of Microsoft and in other business practices he has been involved in whilst accumulating his vast wealth.
Is there any reason to believe he is less focused on profit and clandestine goals in the projects he is now involved in? I believe it would be foolish to expect so!
About the Creator
From Covid to the Ukraine... nothing is as it seems in the world. Don't just accept the mainstream brainwashing, open your eyes to the bigger picture at the heart of these staged productions.
JOIN THE DOTS: http://not.wildaboutit.com
Reader insights
Be the first to share your insights about this piece.
Add your insights