'Covid' Ops: From New York to Kabbalah?
Reasons to be fearful: PART TWO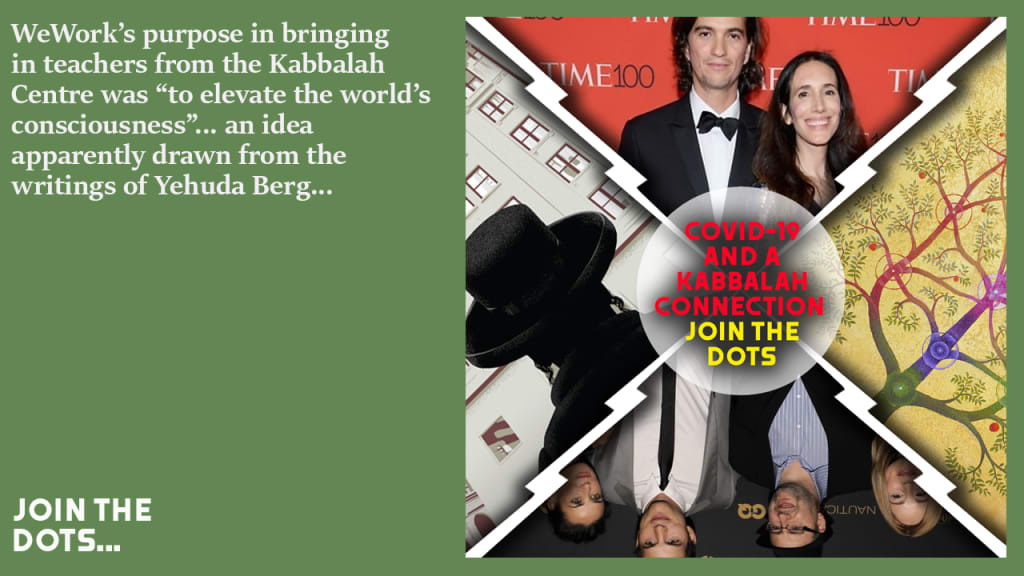 The paper trail from the incredibly-timed documentary series, Pandemic: How to Prevent an Outbreak, runs from Netflix to Zillow, to WeWork and onto the Los Angeles-based Kabbalah Centre.
Manhattan real estate developer Joel Schreiber, born into a Hasidic Jewish family in London, moved to New York in 2000 and, with the help of family and private investors, bought residential real estate in Brooklyn, upstate New York and New Jersey.
In 2004 he sold most of the residential portfolio to concentrate on commercial properties in Manhattan and in 2006 founded Waterbridge Capital as a vehicle for his investments.
WeWork was set up in 2010 by Israeli-born Adam Neumann and American-born Miguel McKelvey, with partial funding from Schreiber, who reportedly purchased a 33 per cent interest in the company for US$15 million.
As of 2014 WeWork investors included J P Morgan Chase & Co, T Rowe Price Associates, Wellington Management, Goldman Sachs Group, the Harvard Corporation, Benchmark, and former Boston Properties CEO Mortimer Zuckerman.
By January 2015 the firm had 51 co-working locations across the US, Europe and Israel... twice as many as it had at the end of 2014 with plans to expand globally by 2017.
In January 2019 it changed its legal name from WeWork to We Company and, according to an August 2019 company filing, the firm paid US$5.9m to license the name from an entity called We Holdings, owned by Neumann and additional WeWork founders.
WeWork secured an additional US$2 billion from investor SoftBank and on 29 April 2019 filed confidentially for an Initial Public Offering (IPO), with the Wall Street Journal reporting in late July that Neumann had liquidated US$700m of his WeWork stock. The company was looking to raise more than US$3.5bn as a result of its IPO.
In August 2019 the We Company submitted its paperwork to go public but media coverage highlighted heavy losses in its disclosures and on 17 September the IPO was postponed.
On 23 September The Washington Post reported the company's largest investor, SoftBank, wanted Neumann removed as chief executive and a day later he stepped down due to the backlash over the IPO process.
Neumann's exit package was valued at US$1.7bn, but he lost his special class of shares that just two months earlier were supposed to have given him 20 times other holders' voting rights; he surrendered his chief executive's role, his chairmanship and the corporate jet.
He also saw his wife and other relatives taken off the company payroll; abandoned plans to charge the company US$5.9m for the "We" brand; and saw his fortune plunge from a peak of about US$13bn.
But he did emerge a billionaire, having already sold hundreds of millions of dollars worth of stock before attempting to take WeWork public. The paperwork filed for its abortive IPO named Benchmark as its largest shareholder after Neumann and SoftBank.
With 32.6m shares, Benchmark fared better than most after leading the 2012 investment in WeWork when the company was valued at just under US$100m. In October last year at a tender price of US$19.19 per share, the initial Benchmark stake would have been worth US$626m, more than 40 times the original investment.
An enigmatic boss and a big follower of Jewish mysticism, Neumann was reported to have drawn heavily from the Los Angeles-based Kabbalah Centre, inviting representatives from the centre to company offices and retreats to teach executives.
A Wall Street Journal story from October last year detailed the extent to which contacts made through the centre helped provide early funding for WeWork, with some students at the centre being early funders of the company.
Neumann said WeWork's purpose in bringing in teachers from the centre was "to elevate the world's consciousness"... an idea apparently drawn from the writings of Yehuda Berg, a former director of the centre who left after being accused of sexual misconduct with a student.
Berg is another whose background makes interesting reading. The former co-director of the Kabbalah Centre, which was founded by his father Philip, stepped away from the organisation following allegations of sexual misconduct and offering drugs to one of his students.
In 2014 the former student at the centre alleged Berg had offered her alcohol and Vicodin while she visited him at his home and then made sexual advances toward her.
In November 2015 a Los Angeles Superior Court jury found he had acted with malice and was liable for intentional infliction of emotional distress and was ordered to pay US$135,000, which included punitive damages.
The Kabbalah Centre was also ordered to pay US$42,500 for being negligent in its supervision of Berg, although the incident did not occur at the centre. After Berg's departure the centre was re-organised, with his mother and brother as its leaders. His wife still teaches there.
An international speaker and author, Berg's books, The Power of Kabbalah and The 72 Names of God, are international best-sellers. More about the Kabbalah connection in part three.
About the Creator
From Covid to the Ukraine... nothing is as it seems in the world. Don't just accept the mainstream brainwashing, open your eyes to the bigger picture at the heart of these staged productions.
JOIN THE DOTS: http://not.wildaboutit.com
Reader insights
Be the first to share your insights about this piece.
Add your insights