Could History Repeat Itself In 2025
And, could an arrest be the key to victory for the Trumpster?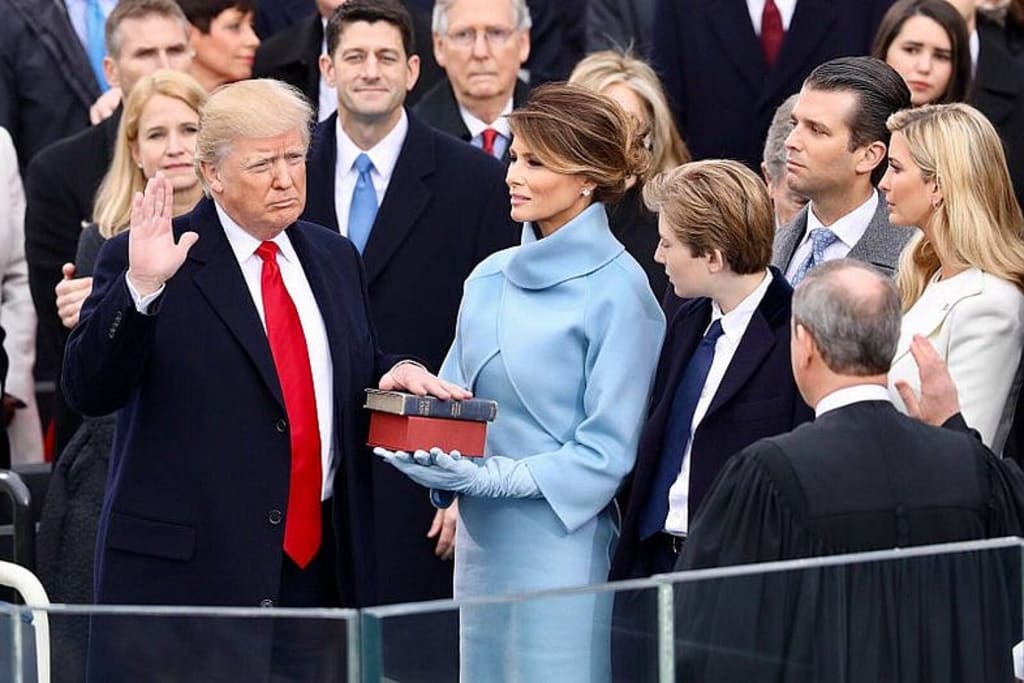 The White House, Public domain, via Wikimedia Commons/https://commons.wikimedia.org/wiki/File:Donald_Trump_swearing_in_ceremony.jpg
Could History Repeat Itself In January 2025
There is a lot of speculation about the week of March 20, 2023, as America, Donald Trump, and the world await what it appears even Trump views as his impending arrest. Amid the early days of his 2024 bid to return to the presidency, the New York DA has a grand jury that's been weighing evidence for a possible indictment against the former president.
Trump, via his social media account on Truth Social, reported Saturday Morning that he "Will be arrested on Tuesday of next week" and suggested there should be protests to "Take our nation back". His lead defense attorney, Susan Necheles, was quoted by Insider that Trump was, "basing this on press reports," and that, "This is a political prosecution and the DA leaks things to the press instead of communicating to the lawyers as they should."
For years Trump has denied any wrongdoing or that he slept with Stormy Daniels, a former porn star.
Is It Possible Trump's Arrest Would Be Politically Motivated
Trump's team will assert that this is a politically motivated effort by the Manhattan District Attorney's Office, presumably to keep him from running for office, or from winning. Is that a realistic possibility or the defense of a desperate man? Considering the alleged event that happened in 2016, Trump left office in 2021, long after the investigation was started, and it's now 2023, there are reasons to feel that it might be politically motivated.
Why wait to prosecute a crime? The idea of charging a seated U.S. President is hard to fathom. It would be even harder to try the case, especially in the case of such an overwhelmingly popular president. So, after Trump left office, why wasn't he charged then? Let's look at the timeline of events.
2006: Daniels reportedly met Trump at a golf tournament at Lake Tahoe, had dinner with him, and allegedly had sex with him. Daniels is 27 and Trump is 60 at the time.
2007 July: Trump allegedly asks Daniels to meet at the Beverly Hills Hotel in LA to discuss her coming on the spin-off show, Celebrity Apprentice. After a four-hour discussion, she leaves.
2007 August: Trump tells Daniels he couldn't get her on the show.
2011 May: Daniels is interviewed by In Touch magazine and shares her story about encounters with Trump for a 15,000 dollar fee. Two Intouch employees allegedly report to CBS News that the interview was never published because Trump's attorney, Michael Cohen, threatened legal action. Daniels reports she was never paid for the interview.
Daniels reports that weeks later she's threatened by someone in Las Vegas that warns her to drop the story and leave Trump alone.
2016 June: Karen McDougal attempts to sell her story of an alleged affair with Trump in 2006 and 2007.
2016 July: Trump becomes the Republican Party's nominee for president.
2016 August: The National Enquirer buys the rights to McDougal's story and never publishes it. Federal Prosecutors later report this was to prevent from influencing the election.
2016 August and September: Michael Cohen works out an agreement to secure the non-disclosure portion of the National Enquirer deal with McDougal. The deal is not completed but the Trump attorney kept a copy of the drafted agreement.
2016 October: After Daniels offers to go on record with the National enquirer Cohen makes a deal to pay Daniels $130,000 to secure her silence.
2016 November: Cohen receives the signed copies of the agreement between Trump's lawyer and Daniels.
2017: Cohen is paid by the Trump Organization. He receives a total of $420,000 over 12 months.
2017: Donald Trump is sworn in as the 45th president of the United States.
Multiple members of the Trump Organization and two Trump Organization businesses are investigated for the following five years. In 2023, things start to heat up around the former President.
2023 January: Former Trump attorney, Michael Cohen meets with investigators from the District Attorney's office.
2023 March: Kelleyanne Conway, senior counselor to President Trump in the White House, has a second meeting with the Manhattan prosecutors regarding the Stormy Daniels payment. Then on March 9th, approximately, Trump is invited to testify before the grand jury investigating the payment to Daniels.
Politically Motivated Witch Hunt Or Trump Illegally Paid Daniels
The matter at hand is whether Donald Trump orchestrated an illegal payment to Stormy Daniels to keep her quiet before the 2016 election. It's believed, due to reports to the public, that Michael Cohen was Trump's fixer and took a loan out to pay Daniels. He was then repaid three times the amount, through the Trump organization payments, and an additional amount.
It'll be arguable in court that Trump is intelligent enough to have understood the intricate details of paying off Stormy Daniels, and simply pushed for them to buy her silence. Trump did and still does have an army of "soldiers" that follow his every order and command. They are true believers.
What does ring true is that the Manhattan District Attorney has spent millions of dollars to hunt down proof that a man paid to silence his mistress close to the eve of his becoming the president of the United States. A married billionaire might have paid to keep the secret of an alleged extramarital affair from becoming public knowledge. They appear to have spared no expense in tying this directly to Trump, even though they've continually missed the mark and failed to hit the man behind the multi-billion dollar conglomerate that is the Trump Organization.
Whether you are a fan of Trump or can't stand him, as a great many people can't stand him, one thing he's good at doing is surrounding himself with people that are more talented and have more specialized skills than he does.
Why This Could Propel Trump To Political Victory
Let's not forget that the current state of affairs in the United States includes a great amount of distrust for the federal government. After years of hearing that an election was rigged, then the theories about government members in the United States being connected to the origins of Covid-19, and many other conspiracy theories, there are millions in the United States that are fed up with politicians. Trump was never a politician, he was never and political insider, and wasn't a member of the Washington establishment.
If Trump is arrested, considering it's after announcing his run for president in 2024, the act itself could be construed by millions as a politically motivated witch hunt. After all, we've been down this road, and each time the prosecutors have failed to find proof that Trump himself is guilty of a crime.
At the end of the day, when Bill Clinton had an affair with intern Monica Lewinsky, nobody cared. Clinton remained popular, even when he attempted to lie about the affair and be misleading about the events' nature. Perhaps that's why Elon Musk announced on Twitter that, "if this happens, Trump will be re-elected in a landslide victory."
Musk is no fan of Trumps, but he's certainly intelligent to follow the trends on social media and politics in the U.S. Musk himself went on record earlier this year saying that he didn't believe Trump should be president again and suggested that Trump should ride off into the sunset.
Takeaways On Trump's Arrest, Prosecution, And Campaign
While it's hard to see what Elon might see, it's arguable that this could in fact backfire on the democratic party and propel Trump into the Whitehouse. The constant investigations, the accusations that haven't been proven, and the discredited accusations against one man, have all served to aggravate and alienate a great many voters.
Trump still holds an incredible amount of sway over politicians in the Republican Party, business leaders, and with world leaders. As the current administration continues to fail to help the people of America, prices continue to remain higher than the growth of wages, and Biden is embroiled in one controversy after the other, Trump's arrest and prosecution could appear to people as another plan to protect the failed democratic president.
Yes, this could propel Donald Trump back into the Whitehouse in 2025. It's a very real possibility that this could be the catalyst of controversy and the battle cry the Trump campaign needs to regain its foothold on American voters, particularly those that are tired of the current state of affairs in America. This might not be the right time to indict Trump and arrest him over an affair in 2006 and a payoff agreement that doesn't have his signature on the document.
While a grand jury indictment will give them probable cause to arrest Trump, don't expect him to spend any time in jail. Not one night will be spent in jail, and, if they fail to secure a conviction, then definitely expect Donald Trump to be the 47th president of the United States. God help us all…
About the Creator
I have always enjoyed writing and exploring new ideas, new beliefs, and the dreams that rattle around inside my head. I have enjoyed the current state of science, human progress, fantasy and existence and write about them when I can.
Reader insights
Be the first to share your insights about this piece.
Add your insights