Clean Energy Toolkit Released
Local Ways to Fight Climate Change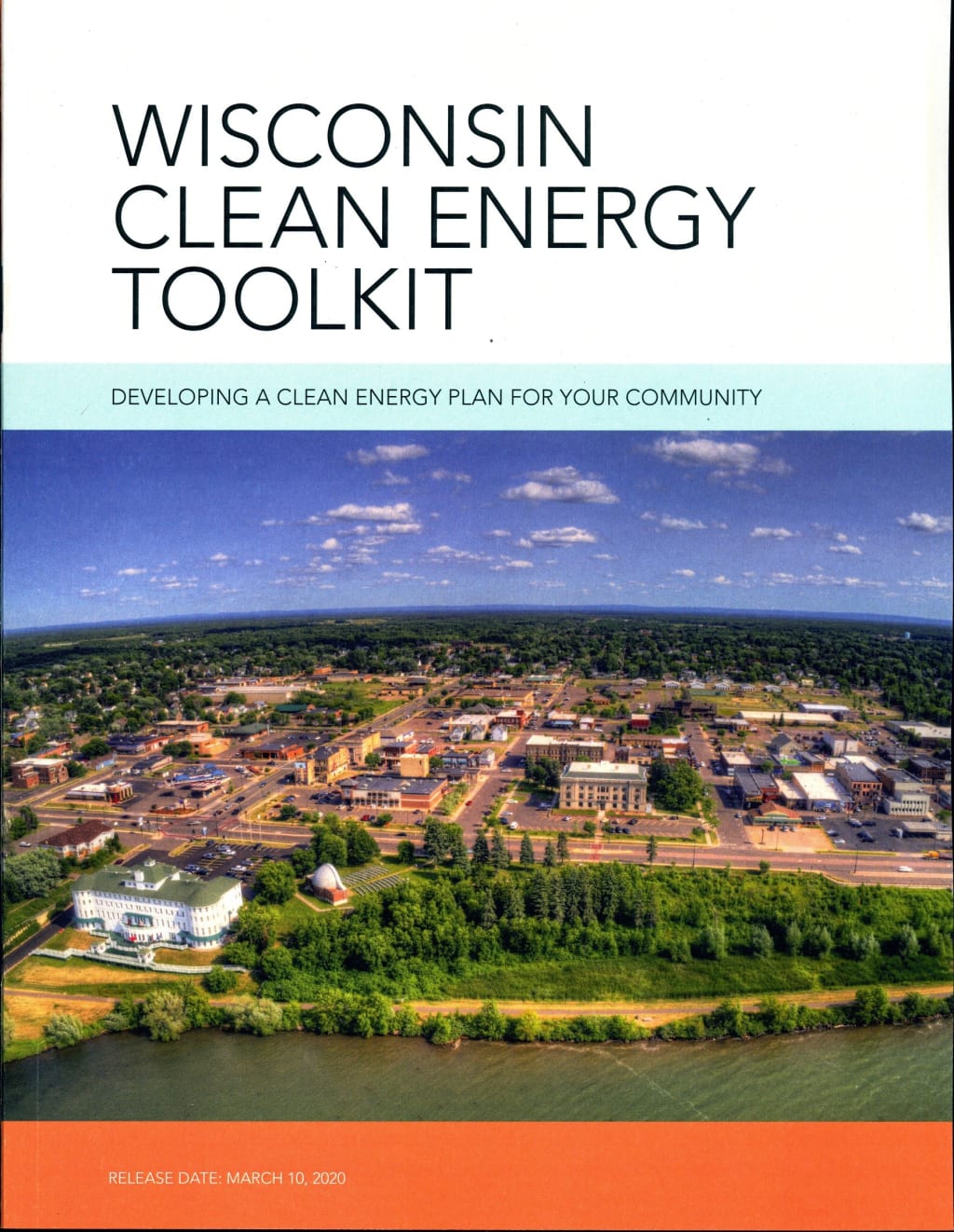 Racine, WI -- Local elected officials seeking to mitigate the impact of climate change on their communities have a new resource available. Wisconsin Conservation Voters, along with the Sierra Club and RENEW Wisconsin, have just released the "Wisconsin Clean Energy Toolkit: Developing a Clean Energy Plan for Your Community." The workbook provides local elected officials with information and resources about ways to make their communities more sustainable.
Ariana Hones of Wisconsin Conservation Voters was joined by several local elected officials at the Racine Public Library on Wednesday, March 12 to roll out the tool kit. "People think sustainability is something that happens in places like New York or San Francisco," said Hones. "But it can happen even in small towns. Wisconsin is well placed to be a national leader on sustainability issues."
David Rhodes of Greening Greater Racine noted that the government was going to great lengths to deal with the coronavirus pandemic. "We are seeing disruptions in our lives because of the virus. But those disruptions are minor compared to the potential disruptions caused by climate change." Rhodes warned. "Why are we not making the same efforts on climate change as we are on the coronavirus?"
Supervisor Nick Demske noted that climate change has both global and local implications. He told of meeting a man from the Pacific island nation of Kirbati, which is slowly vanishing due to rising ocean levels. "Mike, from Kiribati, told me it was too late for his nation, but that the fate of Kiribati should serve as a warning for other nations," said Demske. On a local level, Demske noted recent storms which caused several million dollars in damage along Racine's lakefront and severe flooding in Burlington, both symptoms of dramatic environmental changes which have occurred over the few last decades.
"This very building, the library, has to close down because the waves were getting so close. The soccer field was flooded, and our brand new electric doors wouldn't close because of the wind," stated Demske.
Cara Pratt on Racine's Sustainability Office, spoke of the city's efforts to provide solar panels to low income households, which earned the city a SolSmart Bronze award. Pratt is hoping to move up to silver and eventually gold for the city, noting the equity is a key component of the city's sustainability efforts. Pratt called the toolkit "a tremendous asset for local governments."
Professor Ross Astoria of UW-Parkside has the students in his environmental policy class work with local elected officials to design policy. He views the toolkit as a valuable guide for both his students and the officials they work with. Astoria thanked Wisconsin Conservation Voters for moving the state forward.
Racine Alderperson Natalia Taft, who alsoi teaches at Parkside, notes that climate change is frequently brought up by her students. "One of the reasons I ran for city council was to work to make Racine more sustainable," said Taft. "Climate change is a serious threat to our future. But I am hopeful that we can make strides on the issue."
State Representative Greta Neubauer closed by speaking about meeting students at the "See Your Future Expo" sponsored by Racine Unified School District and how they frequently cited climate change as a fear they have about the future. "They are looking to the government to take action, and they don't see us moving fast enough," stated Neubauer. She praised the toolkit for giving local elected officials resources for taking action, when the state legislature in Madison is dragging its feet. She urged voters to put pressure on Madison "so that we can catch up with our local communities."
For more information about the toolkit, or your own copy of the plan, visit conservationvoters.org.