Bryan Watch: Week One April
Voting Against Equal Pay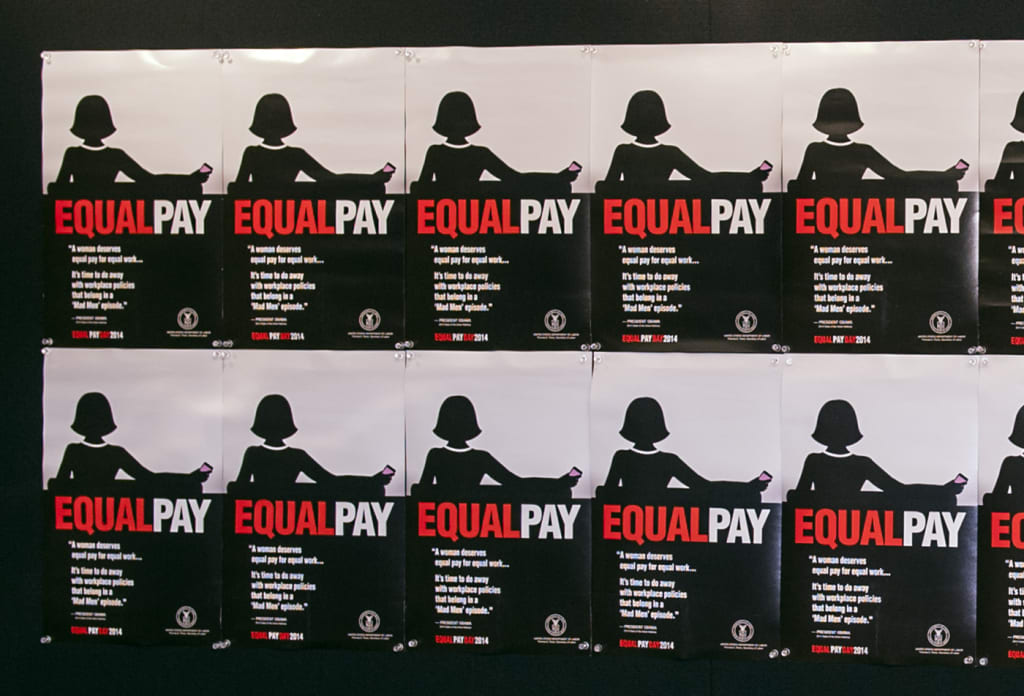 Paycheck Fairness was on the agenda last week
It's Friday again, so let's take a look back at what Congress has been up to this last week or so. Since March 27, the House has cast 27 votes. 9 were non-party-line, 9 were procedural, and 9 were party line votes of some substance. Bryan Steil voted with the Republicans, 13 of 18 times (with 3 of those dissents being votes on the journal: RC 136, 139 and 143).
The biggest issue the House dealt with during the first week of April was HR 1585; the Violence Against Women Reauthorization Act. To his credit, Steil did vote to support the VAWA on final passage (RC 156, April 4). He was one of only 33 Republicans to vote for it. And he was one of the 23 Republicans to support efforts by Maxine Waters (D-CA) to create grants to help college campuses prevent violent crime (RC 149, Apr 3). That's two good votes this week.
But before that, he did vote for a motion to recommit by Elise Stefanik (R-NY) that would undercut many of the provisions of HR 1585 (RC 155, Apr 4).
On the substantial stuff, Steil voted consistently with President Trump. He voted against removing US forces from Yemen (RC 153, Apr 4, SJ Res 7). Steil also supported a motion to recommit by Michael McCaul (R-TX) condemning the Boycott, Divestment and Sanctions movement seeking to pressure the government of Israel (RC 152, Apr 4).
Steil also backed Trump on his efforts to take away healthcare from millions of Americans (RC 146, Apr 3, H Res 271), and supported Trump's efforts to prevent transgender individuals from serving in the armed forces (RC 135, Mar 28, H Res 124). Congratulations to Republicans Brian Fitzpatrick (PA), Trey Hollingsworth (IN), Will Hurd (Texas), John Katko (NY) and Tom Reed (NY) for voting against bigotry.
And last, but hardly least, Steil voted against the Paycheck Fairness Act (HR 7, RC 134, March 27). And he voted for an amendment by Virginia Foxx (Crackpot-NC) that would discourage attorneys from taking pay discrimination cases (RC 133, Foxx motion to recommit, March 27).
Steil, along with all other Republicans, voted against considering the Violence Against Women Act (RC 144 and 145, Apr 3), against considering the resolution on Yemen (RC 140 and 141, Apr 2), and against considering the Paycheck Fairness Act (RC 130 and 131, March 27).
The Non Party Line stuff is pretty routine. Two post offices in New York [Mastic and Fairport] getting renamed (RC 151, Apr 4; RC 142, Apr 2).
There was the Coordinating and Leveraging Activities for School Security Act, which creates a council of national security officials focused on preventing terrorist attacks on schools (HR 1593, RC 137, April 1). Eighteen Republicans actually voted against protecting school children from terrorists–pretty much the usual crazy caucus.
Next is HR 1590, the Terrorist and Foreign Fighter Travel Exercise Act, which helps the Department of Homeland Security keep track of terrorists entering the country (RC 138, Apr 1).
There were several non-controversial amendments to the Violence Against Women Act; two dealt with sex trafficking (RC 154, Torres Small amendment, Apr 4; RC 150, Wagner Amendment, April 3; RC 148, Scanlon Amendment, Apr 3).
In one of the stranger votes around the VAWA, Rep. Hakeem Jefferies of New York put forth an amendment to make information for victims of violence available in languages other than English. A majority of Republicans supported this, but 67 voted against it (RC 147, April 3, Jeffries Amendment, Amdt 117).
The vote that established the crazy caucus for the week was RC 132 on March 27. Rep. Don Beyer (D_VA) wanted to ease the reporting requirements on small businesses [under 100 employees]. Incredibly, 23 Republicans voted against helping small businesses, because they opposed he idea of requiring employers to pay fair wages. Even Justin Amash (MI) and Louie Gohmert (TX) voted for Beyer's amendment, showing just how far out the opponents were.