Bryan Watch: Oct 22-25
Steil Does Photo Op With Pence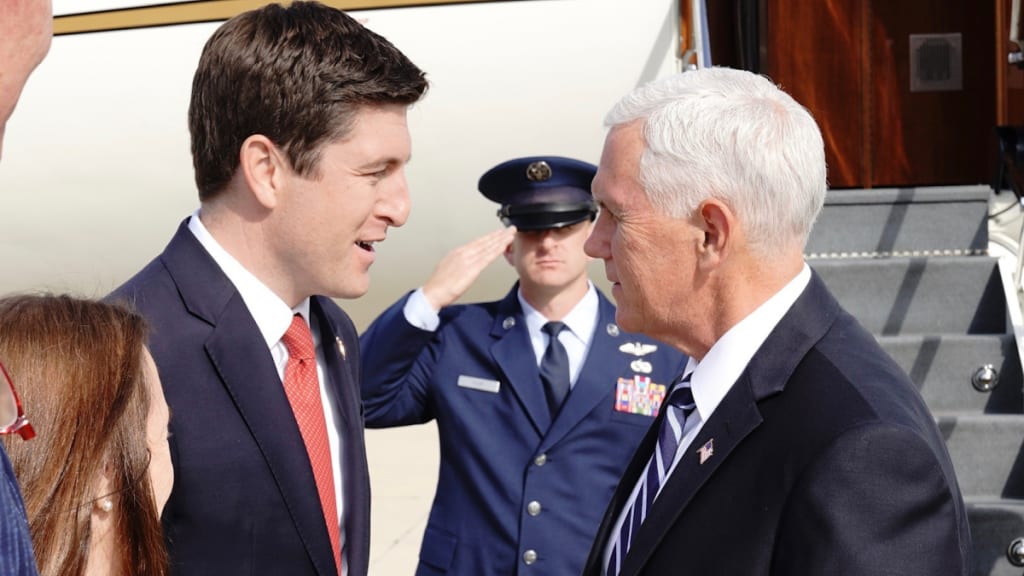 This Wednesday, while the rest of Congressional Republicans were busy voting when they weren't obstructing justice, Rep. Steil had a photo opportunity with Vice President Mike Pence. As a result, Steil missed votes on a bill to protect the 2020 elections against interference by foreign governments.
To start off the week, Rep. Andy Biggs of Arizona, who is a hardcore member of the Crazy Caucus, jumped on the Donald Trump Fantasy Train. Biggs introduced a resolution containing all of Trump's usual wild-eyed accusations about Rep. Adam Schiff and then called on the House to censure Schiff. Steny Hoyer once again killed the Trumpian craziness, with every Democrat voting to table Biggs' resolution, and every Republican supporting Trump. (RC 568, Oct 21, H Res 647)
Monday opened with two low-key bills that passed without much debate. HR 4407 by Rep. Kevin Hern of Oklahoma makes improvements to the Senior Corps of Retired Executives program, which has helped provide assistance to small business owners for the last 50 years. For some mysterious reason, 7 members voted against the SCORE program (RC 570, Oct 21). They were Justin Amash (naturally), Biggs, Mo Brooks (AL), Ken Buck (CO), Paul Gosar (AZ), Morgan Griffith (VA), Tom Massie (KY) and Chip Roy (TX).
The second bill passed on Monday was HR 4406, the Small Business Development Centers Improvement Act by Rep. Jared Golden, a freshman from Maine. The bill does pretty much what the title says; the SBDC program has helped thousands of small businesses all across the country. For reasons passing any understanding, 23 Republicans and Justin Amash voted against the bill. (RC 569, Oct 21)
As usual, Republicans voted against consideration of HR 2513, the Corporate Transparency Act (RC 571 and 572, Oct 22). The bill by Representative Carolyn Maloney would help eliminate shady criminal businesses by identifying exactly who was creating a corporate entity. Currently, US law allows drug traffickers, crime syndicates and terrorist groups to form shadowy entities to launder money. Only 25 Republicans voted in favor of greater openness for corporations; Rep. Steil was not one of them. The rest of the Republicans sided with drug dealers and corrupt foreign dictators. (RC 577, Oct 22).
Steil did vote in a favor of a motion to recommit by Warren Davidson (R-OH) that would actually make it harder for law enforcement officials to investigate corrupt businesses (RC 576, Warren motion to recommit, Oct 22). Steil also sided with Davidson on an amendment that would effectively gut the sections of the bill that make it effective (RC 575, Davidson Amdt 637) .
A vast majority of Congress, 395 to 23, supported an amendment by Rep. Michael Burgess (R-TX) that would simply require the Treasury Department to send aggregate statistics on beneficial ownership to Congress (RC 573, Burgess Amdt 633, Oct 22). Democrats supported an amendment by Rep. Maloney that would allow the IRS to warn financial institutions and the public about possible criminal trends involving shady corporations; only 6 Republicans voted in favor and Steil was not one of them. (RC 574, Maloney amdt, Oct 22)
The House also passed HR 2426, the Copyright Alternative in Small Claims Enforcement Act, a fairly non-controversial bill that only five Republicans voted against (RC 578, Oct 22) .
On Wednesday, while Steil was in Pleasant Prairie, the House was debating HR 4617, the Stopping Harmful Interference in Elections for a Lasting Democracy (SHIELD) Act. No thanks to Congressional Republicans, who voted against consideration twice (RC 579, 580).
The SHIELD Act would require federal candidates to notify the FEC when their campaigns interact with operatives from foreign governments. It is an attempt to prevent the type of interference we saw in the 2016 election, in order to strengthen democracy. Republicans unanimously voted against greater accountability for federal candidates and cleaner elections (RC 583, Oct 23) .
Republicans also supported an amendment by Rep. Debbie Lesko that would make it harder for the US Justice Department to coordinate efforts with local officials to fight misinformation in elections (RC 581, Oct 23). And they supported a motion to recommit by Rodney Davis (R-IL) that would replace HR 4617 with a much weaker bill that does little to combat foreign interference in elections (RC 582, Oct 23) .
Last but not least, the Debbie Smith Reauthorization Act (HR 777), which helps local government reduce backlogs in DNA testing in sexual assault cases, passed with only vote against—Justin Amash. (RC 584, Oct 23)
Scorecard Week of Oct 22-25
Votes: 17 , Party Line: 12 (Steil 6-1; absent 5), NPL: 5 (569,570,573,578, 584)