Bryan Watch: May Week 3
Steil votes against LGBTQ Equality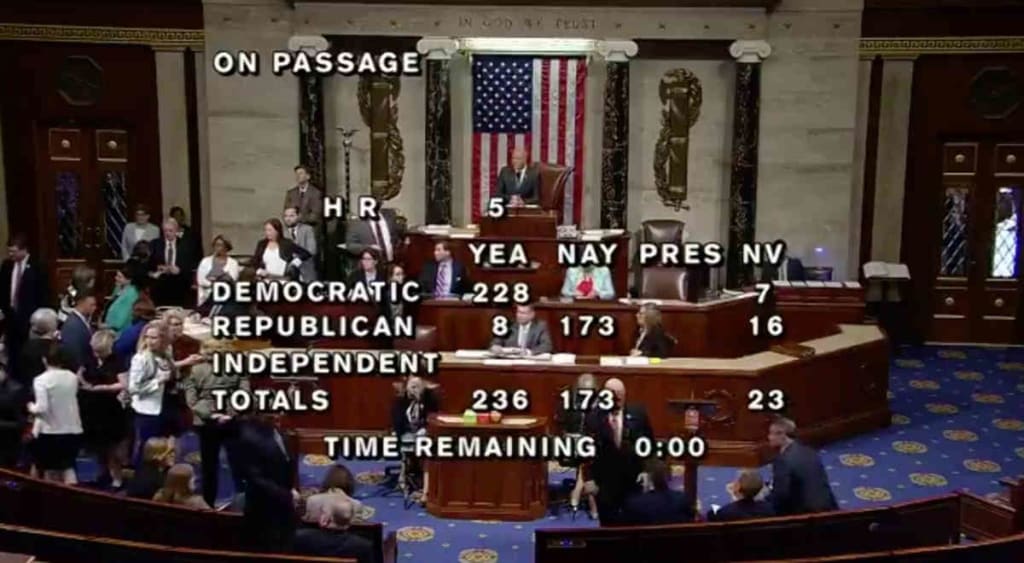 Only eight Republicans voted in favor of equal rights.
There were two major issues this week in the House: Equality for LGBTQ citizens, and expanding access to health care.
The week closed with the House passing HR 5, The Equality Act, just in time for Gay Pride month in June. Steil joined with most Republicans in voting against it (RC 217, May 17).
This bill prohibits discrimination based on sex, sexual orientation, and gender identity in a wide range of areas including public accommodations and facilities, education, federal funding, employment, housing, credit, and the jury system. The bill also defines and includes sex, sexual orientation, and gender identity among the prohibited categories of discrimination or segregation.
Only eight Republicans voted for HR 5: Susan Brooks (IN), Mario Diaz-Balart (FL), Brian Fitzpatrick (PA), Will Hurd (TX), John Katko (NY), Tom Reed (NY), Elise Stefanik (NY) and Greg Walden (OR).
Rep. Greg Steube (R-FL) introduced an absurd motion to recommit regarding transgender athletes under Title IX. "This Motion to Recommit is an army of words marching in search of an issue that doesn't exist," stated Rep. Chris Pappas (D-NH). The MTR failed, with all Republicans supporting it with the exception of uber conservative, Thomas Massie of Kentucky. (RC 216, May 17, Steube motion to recommit).
On Thursday, the House passed HR 987, the MORE Health Education Act. The bill would provide funding so that states could provide consumers more information about health care exchanges. Republicans, including Steil, overwhelmingly opposed giving consumers more information about their health care options. (RC 214, May 16)
Steil also supported a move by Rep. Greg Walden to gut HR 987 and replace the bill's language with weaker language (RC 213, May 16).
Only five Republicans voted for HR 987: Brian Fitzpatrick (PA), Jaime Herrera Beutler (WA), John Katko (NY), Christopher Smith (NJ) and Fred Upton (MI).
There were three amendment to HR 987 that the House voted on. Steil and almost every Republican voted against an amendment by Rep. Jennifer Wexton (D-VA) that criticized the Trump administration for supporting junk insurance plans. (RC 212, May 16).
In his best vote of the week, Steil voted for an amendment by Rep. Josh Harder (D-CA) to provide navigators [individuals who counsel consumers on health care options] with training on opioid health care treatment. (RC 211, May 16, Harder Amendment). Only 12 Republicans supported Harder's amendment.
One of Steil's worst votes of the week was supporting efforts by Rep. David McKinley of West Virginia to eliminate measures to stabilize health place marketplaces, which are proven to lower health care costs (RC 210, May 16, McKinley amendment).
The other partisan fight of the week was over HR 312, the Mashpee Wampanoag Tribe Reservation Reaffirmation Act. The Mashpee Wampanoag are part of the earliest history of the United States. They welcomed the Pilgrims to Massachusetts and celebrated the first Thanksgiving. The bill would help make the tribe financially secure.
In September 2018, the Trump administration ruled against an Obama administration decision giving land to the Mashpee Wampanoag. Because Obama. House Republicans voted with Trump and against the Native Americans 47 to 144, including Steil.
Steil joined with all other Republicans against considering the Equality Act, the Mashpee Wampanoag bill, and the Strengthening Health Care and Lowering Prescription Drug Costs Act (HR 987) (RC 205 and 206, May 15).
The May 17 vote on approving the journal was technically a party line vote, with most Republicans voting against. Steil voted to approve the journal (RC 215).
While HR 375 technically passed on a non-partisan basis, a substantial number of Republicans (88) did vote against it. The bill clarifies the rights of Native American tribes in regards to land being placed in trust by the Department of the Interior. Steil voted to pass the bill (RC 208, May 15).
Winner for strangest vote of the week goes to Roll Call 204 on May 14. The vote was on reauthorizing the Bulletproof Vest Partnership Grant Program (HR 2379), which has provided thousands of police departments all across the country the opportunity to obtain bulletproof vests. The bill passed 400 to 9, with Steil voting for it. The following nine Republicans voted against providing police officers with body armor: Justin Amash (MI), Jodey Arrington (TX), Andy Biggs (AZ), Jeff Duncan (SC), Louie Gohmert (TX), Morgan Griffith (VA), Andy Harris (MD), Tom McClintock (CA) and Chip Roy (TX).
Two bills passed unanimously: HR 1892, Quadrennial Homeland Security Review Technical Corrections Act (RC 209, May 15), and HR 299, the Blue Water Navy Vietnam Veterans Act (RC 203, May 14).
There were 15 votes during the third week of May, 11 party line, and four non partisan. Steil voted with the Republicans nine out of 11 times, 82 percent of the time.