Bryan Watch: Late July
Steil Rejects Humanitarian Treatment of Detainees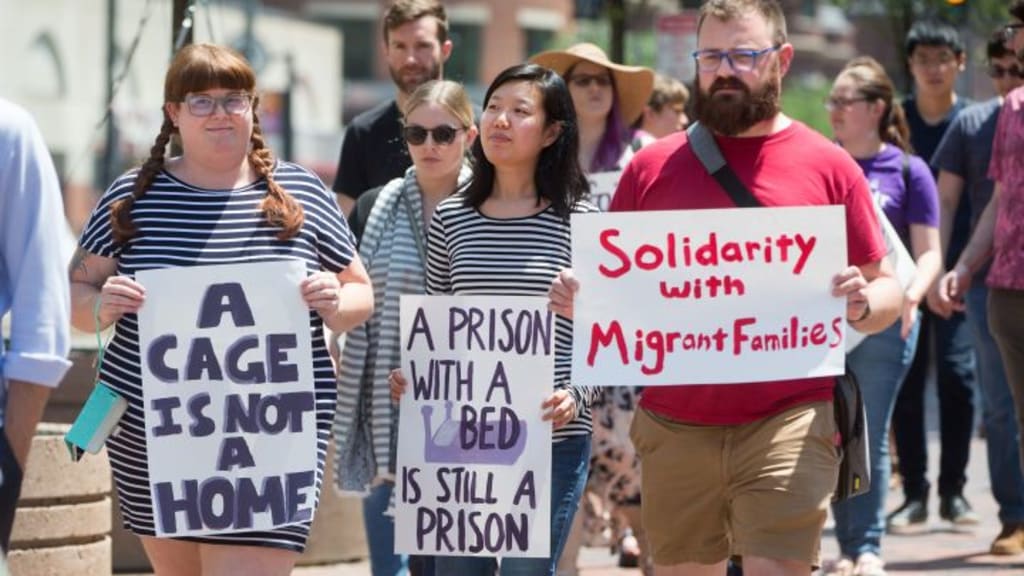 It was a relatively slow week in Congress. And it will be even slower in coming weeks, as Congress is on vacation until September.
Since I am usually bashing Rep. Steil, a shout out to his two good votes this week. He supported HR 549, which provides temporary protected status to refugees from Venezuela (RC 498, July 23; RC 514, July 25).
On the negative side, Steil did vote for a motion to recommit by Guy Reschenthaler (R-PA) stating "the economic, humanitarian, security, and refugee crisis is a direct result of years of socialist policies implemented by the regimes of Hugo Chavez and Nicolas Maduro." This incendiary and simply wrong language only failed on a 215 to 217 vote (RC 513, July 25).
The most interesting vote may have been the Resolution on the Boycott, Divest, Sanctions movement against the government of Israel. Lawmakers on both sides rejected BDS by a margin of 398 to 17. Of that 17, sixteen were Democrats (RC 497, July 23).
In another anti-worker vote, Republicans voted against the interest of people whose pensions had been raided. Democrats brought forth HR 397, the Rehabilitation for Multiemployer Pensions Act, which creates the Pension Rehabilitation Administration at the Treasury Department. It also establishes a trust fund to bail out failed pension plans (RC 505, July 24). Only 29 Republicans voted on the side of pensioners; Steil was not one of them.
Rep. David Roe of Tennessee attempted to jack up the interest rates that the Pension Rehabilitation Administration would have to pay. Fortunately, his efforts failed, although almost all Republicans, including Steil, sided with him. Shout out to Glenn Grothman for being one of the eleven to vote against the Roe amendment (Roe amendment, RC 503, July 24).
Brian Mast of Florida attempted to tack a BDS provision onto the pensions bill, but his motion to recommit failed (Mast MTR, RC 504, July 24).
Republicans voted against HR 3239, the Humanitarian Standards for Individuals in Customs and Border Protection Custody Act, by a margin of 1 to 194. Don Young of Alaska was the only Republican to vote for it (RC 507, July 24).
Adam Kinzinger (R-IL) put up a ludicrous motion to recommit, seeking to praise the US Border Patrol for carrying out their duties in a professional manner. It actually passed, with 41 Democrats voting for it (Kinzinger MTR, RC 506, Passed 239-191).
In business as usual, Republicans voted against considering the pensions bill or the humanitarian standards bill (RC 500 and 501, July 24). Republicans also voted against considering the Bipartisan Budget Act and the Venezuela TPS Act (RCC 508, 509, July 25).
While HR 3877 was called the "Bipartisan Budget Act" it only passed with about a third of Republicans supporting it. Steil was not one of them (RC 511, July 25). The bill extends the debt ceiling through July 2021. Hopefully giving the new president time to fix the budget mess that Trump has created.
Thomas Massie is ordinarily one of the craziest people in Congress; you do have to admire his chutzpah for attempting to rename HR 3877 as "A bill to kick the can down the road." Most of his colleagues did not appreciate Massie's humor, and his amendment failed 47 to 384. Steil voted no (RC 512, Massie amendment, HR 3877, July 25).
In probably the most overlooked vote of the week, the House passed the "U.S. Senator Joseph D. Tydings Memorial Prevent All Soring Tactics Act of 2019" (HR 693, RC 510, July 25). The bill creates new regulations to prevent the mistreatment of horses. The Republican caucus was split 100 to 95; Steil to his credit voted to protect horses.
The crazy caucus vote of the week goes to RC 502, on HR 3375, the Stopping Bad Robocalls Act. It passed 429 to 3, with only Justin Amash (MI), Andy Biggs (AZ) and Thomas Massie (KY) voting against it (RC 502, July 24).
Scorecard: 18 Votes, 13 party line (Steil 11-13, 84 percent), five non party line.
This will be the last Bryan Watch until September. See you in the fall!