Bryan Watch: July 2021
Steil Against Consumers, Environment (Again)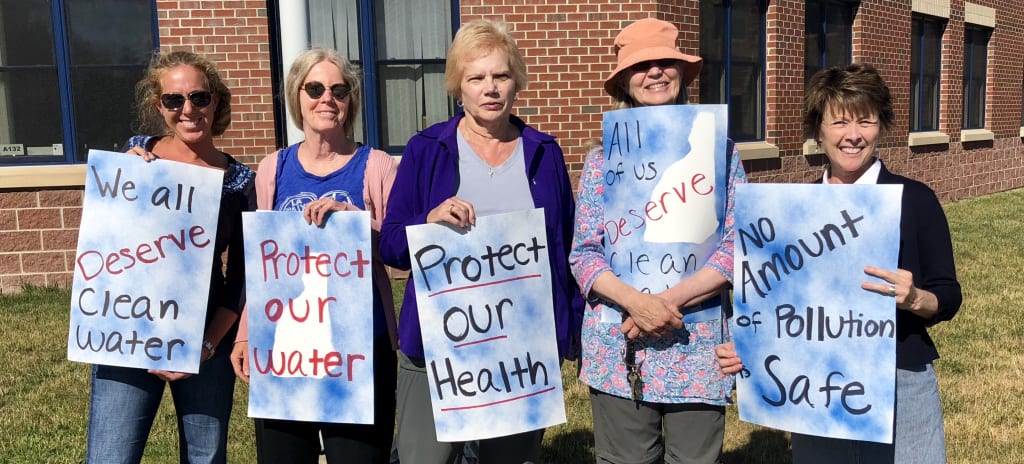 Republicans voted against protecting people from "Forever Chemicals"
Ten votes in Congress this week after the House came back from vacation. Eight were party line, and as usual, Rep. Steil always answered at his party's call.
The big news this week is the House sought to blunt the impact of an April 22 ruling by the Supreme Court that would prohibit the Federal Trade Commission from seeking monetary damages for consumers who are ripped off by false advertising and fraud.
HR 2668, the Consumer Protection and Recovery Act, would explicitly give the FTC the power to seek monetary damages against crooked corporations. No surprise, Republicans sided with greedy corporations by a margin of 2 to 205. The only two voting for consumers were Matt Gaetz (yes, the one from Florida) and Jeff Van Drew (NJ). Steil and every other Republicans said consumers shouldn't have legal recourse if they are ripped off by false advertising or fraud. (RC 214, July 20)
Steil and the rest of the Republicans supported a move by Rodney Davis (IL) to send HR 2668 back to the Energy and Commerce Committee (RC 213, July 20)
This week the House took action on the issue of perfluoroalkyl and polyfluoroalkyl chemicals, popularly called "Forever Chemicals." HR 2467, the PFAS Action Act, passed 241 to 183, with 23 Republicans voting for it. Rep. Steil was not one of them. The bill would require the EPA to define PFAS as hazardous substances, therefore freeing up federal funding to deal with remediation of toxic waste sites.
It is no surprise that the vast majority of Republicans sided with the chemical industry, including supporting a motion by Dan Crenshaw (Texas) to send the PFAS bill back to the Energy and Commerce Committee (RC 216, July 21). Republicans also voted against a set of ten amendments proposed by Rep. Tonko (NY) that would have improved HR 2467 (RC 215, July 21). Only eight Republicans voted for it.
There were two non-party line bills passed this week. HR 3985, the Allies Act, passed by a broad margin of 407 to 16. (RC 218, July 22). The Allies Act would provide additional visas to allow Afghani nationals who assisted the United States military during the almost 20 year long war to seek refuge. The only ones against it were the Crazy Caucus, including Boebert, Green, Massie and Roy, Apparently even immigrants who helped protect the lives of US military personnel are not good enough for the Crazy Caucus.
And HR 826, the Divided Families Reunification Act, passed 415 to 0 (RC 209, July 19). The bill seeks to help Korea Americans searching for family remembers who had been kidnaped by the People's Democratic Republic of Korea (North Korea).
And as usual, Republicans voted against even considering Democratic legislation, in this case HR 2467, HR 2668 and HR 3985 (RC 210 and 211, July 20).
Also as usual, the House passed an omnibus bill containing a variety of relatively non-controversial bills. The package passed 319 to 105, with the Republicans voting 100 to 105 against. Steil was part the of the half of the caucus that voted against a package of bills designed to improve the security of the United States (RC 212, July 20). The following 23 bills were sent to the Senate:
H.R. 678 Preserving Home and Office Numbers in Emergenceis (PHONE)
H.R. 1036 Bassam Barabandi Rewards of Justice Act
H.R. 1079 Desert Locust Control Act
H.R. 1158 Refugee Sanitation Facility Safety Act
H.R. 1250 Emergency Reporting Act
H.R. 1754 Measuring the Economics Driving Investments and Access of Diversity Act (MEDIA Diversity Act)
H.R. 1833 DHS Industrial Control Systems Capabilities Enhancement Act
H.R. 1850 Supporting Research and Development for First Responders Act
H.R. 1871 Transportation Security Transparency Improvement Act
H.R. 1877 Security Screening During COVID-19 Act
H.R. 1893 Transportation Security Preparedness Act
H.R. 1895 Transportation Security Public Health Threat Preparedness
H.R. 2118 Securing America From Epidemics Act
H.R. 2795 DHS Blue Campaign Enhancement Act
H.R. 2928 Cyber Sense Act
H.R. 2980 Cybersecurity Vulnerability Remediation Act
H.R. 3003 Promoting United States Wireless Leadership Act
H.R. 3138 State and Local Cybersecurity Improvement Act
H.R. 3223 CISA Cyber Exercise Act
H.R. 3263 DHS Medical Countermeasures Act
H.R. 3264 Domains Critical to Homeland Security Act
H. Res. 277 Reaffirming Commitment to Media Diversity
H. Res. 294 Encouraging Reunions of Divided Korean-American Families
Scorecard
Total Votes: 10, Party Line: 8 (8-8, 100%)
Non Party Line: 212, 218