Bernie Sanders: Loses the Nomination, Wins the Internet
Who doesn't love a quality meme to bring the nation together?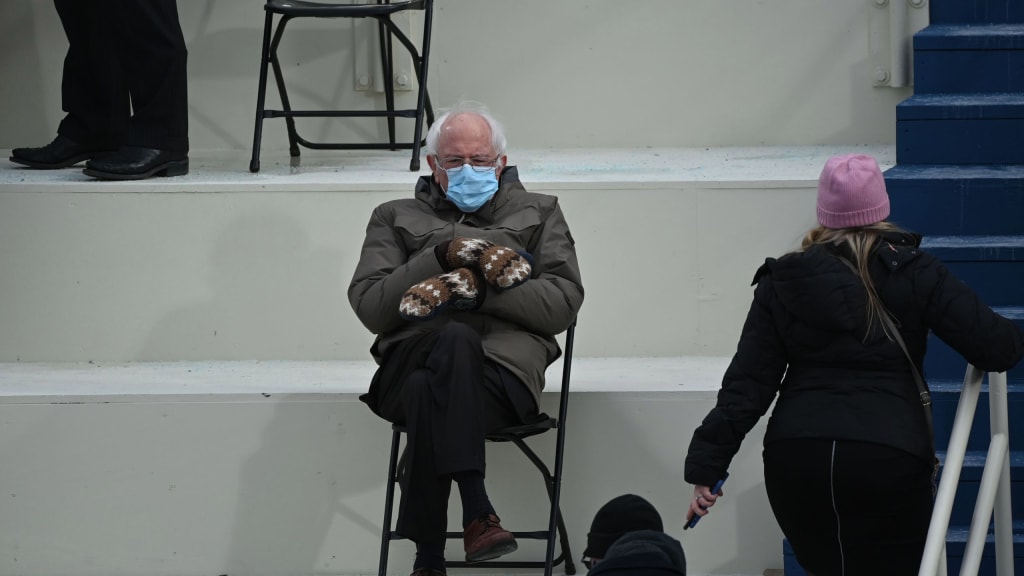 Courtesy of KXAN
God bless America, land that I love.
Land of the free, home of the brave, unhinged social media users that take a traditionally monumental occasion and add a little... spice.
Yesterday, January 20, 2021, truly was a day to be remembered. We proudly welcomed our first female, first black, and first Asian-American Vice President to the White House. Madam Vice President Kamala Harris and her girl gang arrived to the occasion donning remarkably cohesive jewel-toned pant suits (obsessed btw). Lady Gaga kicked things off with an emotional rendition of our National Anthem. Cheers and applause rang loud and proud through the air and in homes across the nation. At the forefront of all the festivities and jubilee, our 46th President Joe Biden and First Lady Dr. Jill Biden. While Joe may have won the presidency, the true winner on Inauguration Day this year is the internet, Bernie Sanders & his adorable mittens carrying the team on their backs.
Humble Beginnings
No one can definitively say just what was fluttering through Senator Sanders' head at the moment the above photo was being captured, but if I were to guess, it probably didn't involve his very likeness being at the center of memes spreading across the internet like wildfire. Or maybe that's exactly what he was hoping for because, ya know, Bernie's a pretty hip guy up with the trends (and also this wouldn't be the first time he's blossomed into an overnight sensation within the digital sphere).
Memes have previously circulated of Bernie seated at a computer, on websites such as Webkinz and making wildly inappropriate Google searches. A number of photos were transformed of Bernie writing on and pointing to an easel, inscribing a number of pop culture referencing artworks and messages onto a massive sketch pad. Then at the beginning of 2020 (may it rest in pieces), Bernie this time completely transcended mere political fame when social media caught wind of his tweet in which he was "once again asking for your financial support" at the end of 2019.
Resulting example meme, case in point:
From Rags to Riches
Following such widespread meme success early on, it's wild to think anyone could top it. But, by god, he's gone and done it, and I mean really done it this time— this time on politics' biggest stage. Below are some of my personal favorite highlights of, as we'll refer to him, Inauguration Bernie sending shockwaves across the Twitterverse. There truly is an Inauguration Bernie for us all.
For my fellow theatre kids:
Who knew Bernie was one of the 6 Merry Murderesses of the Cook County Jail? I heard he does a mean cell block tango.
For those who love a good entanglement:
Even politicians love having their tea served piping hot at that infamous red table. Oh what I would do to have been in Bernie's position that day.
For Star Wars fans all over the galaxy:
Hm, this episode of The Mandalorian looks a bit different than how I remember it. Ugh, little Grogu has grown up so fast.
For those who appreciate good art when they see it:
Not sure this is how Marina Abramovic intended for her art at the MoMA to be received, but any publicity is good publicity, ay? Hang this photo in The Louvre!
For those who love a good story all about how one's life got twist-turned upside down:
We'll tell you how he became the prince of a town called "that chair."
For the kids at heart:
"Put that thing back where it came from or so help me!" Now that's one trip to Disney World he'll never forget.
For true Beliebers who have been around since the very beginning:
It's so hard watching someone else live out your dream. However, I can sleep peacefully at night knowing there's "one less lonely girl" out there in the world if that "one less lonely girl" is Bernie Sanders.
For the socially conscious & pet lovers everywhere:
Off in the distance you can hear "Angel" by Sarah McLachlan faintly echoing through the Capitol speakers, members of the crowd shedding a singular tear.
& It comes full circle for those who love a classic but with a modern twist:
How beautiful to witness "Once again asking you" Bernie passing the almighty meme torch to Inauguration Bernie. Isn't that what Inauguration Day is all about?
Even celebrities joined in on the fun:
Inauguration Day 2021 truly was a day of epic proportions. After such an arduous 2020, it's nice to escape to the collective bubble that is the internet and share a good laugh with your fellow man. While sometimes social media can be dangerous and draining, there are remarkable moments that remind us how its powers can be used for good.
All jokes aside, no matter what party you side with or where you stand politically, there is hope to be found in tomorrow and unity to be salvaged and restored. As with all new political beginnings and major changes in life, this is a chance for us to be brand new and continue working together towards a better tomorrow. And if that's not enough of a consolation for you, just remember: elections, presidents, politicians will come and go, but memes are forever.