Baraboo High School (WI): Modern Racism and Nazi Culture
A Wisconsin High School. A viral prom photo. A troubling past and present uncovered.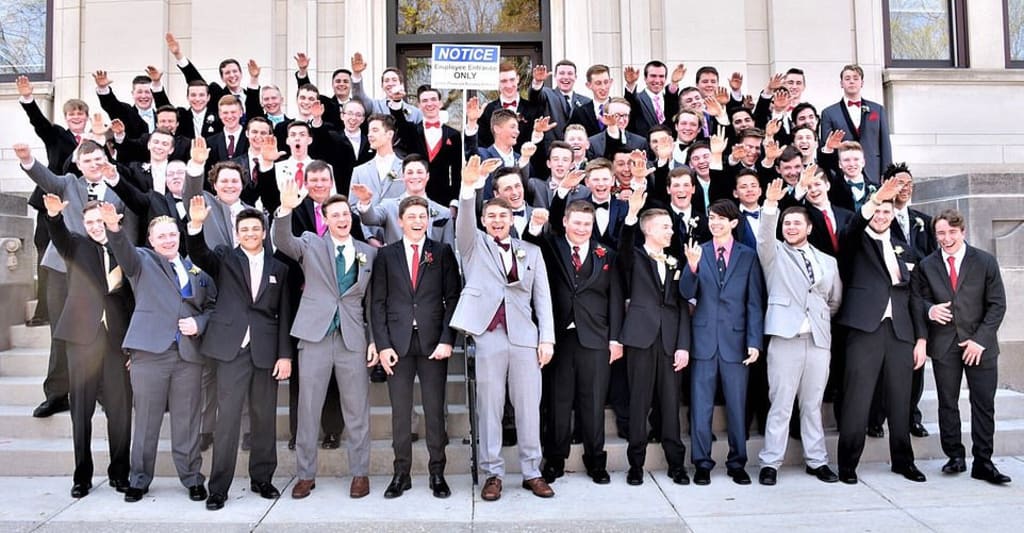 The internet has absolutely exploded this past Monday, understandably so, as the photo shown above surfaced on Twitter and began to circulate rapidly. In the photo, a group of high-school Junior-aged boys join each other in a prom photo 'posing' with a "Sieg Heil" stance—the victory salute that was used infamously by Nazis at political rallies—which in name roughly translates to "Hail, my leader!" or "Hail, victory!" in English.
As if this wasn't bad enough, the original caption (before the photo was later made private due to heavy backlash) was "We even got the black kid to throw it up #barabooproud"—utilizing the hashtag of Baraboo High School (Baraboo, Wisconsin) that is primarily used for praising students for exhibiting academic excellence and outstanding school spirit.
The photo itself was taken, with parents standing idly around, by photographer Peter Gust. In an interview with one of the students pictured, Jordan Blue, it has become evident that Gust encouraged students to hold this pose for the photo to which the majority of the boys obliged. Gust has since responded oddly to the circulation of this photo, as he removed the BHS Prom Photo Collection from his website and has instead replaced it with the following riddled, frantically-typed statement: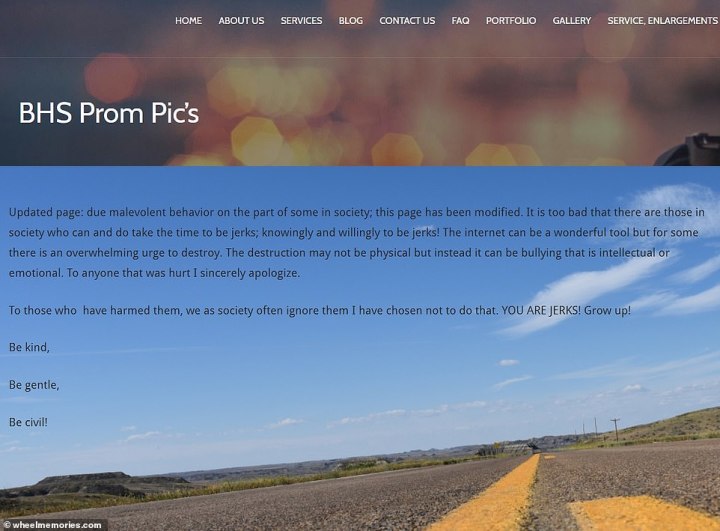 Jordan Blue, himself, is pictured in the prom photo on the top row and all the way to the far right, not holding the pose like his peers, but rather wearing an obviously uncomfortable expression across his face. Outraged Twitter occupants have taken Blue under their wing, comparing his refusal to pose with his class to that of August Landmesser amongst actual Nazi soldiers as can be seen in the photo below; resulting in praise for Blue in this act of protest against his classmates' utter ignorance.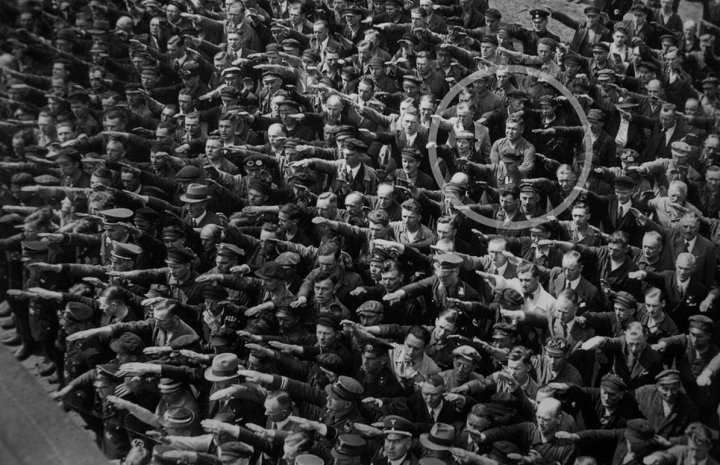 The Auschwitz Memorial in Poland, a landmark commemorating the lives of all victims of Nazi concentration camps during World War II, has also issued a statement regarding the photo and expressing their disgust via their official Twitter account.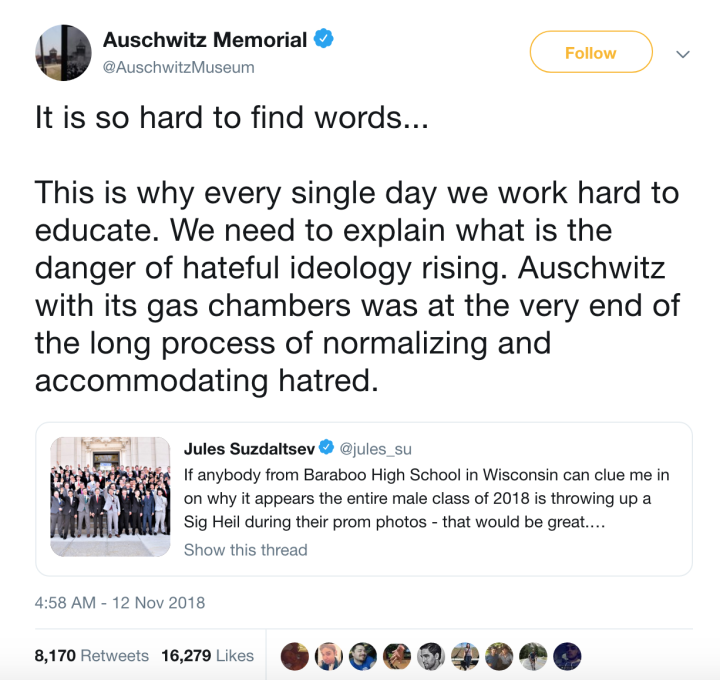 The Baraboo Police Department shared the following statement via their Twitter page:
"The Baraboo Police Department is aware of a controversial photo of a group of high school students that has been posted to social media. Officers are assisting the Baraboo School District with their investigation into this matter."
As far as a response from the school goes, Baraboo School District Administrator Lori M. Mueller warranted the following response, also via Twitter, "The photo of students posted to #BarabooProud is not reflective of the educational values and beliefs of the School District of Baraboo. The District will pursue any and all available and appropriate actions, including legal, to address."
Later in the day, the two following letters that were sent out to parents were reposted on the Official Baraboo School District Twitter page: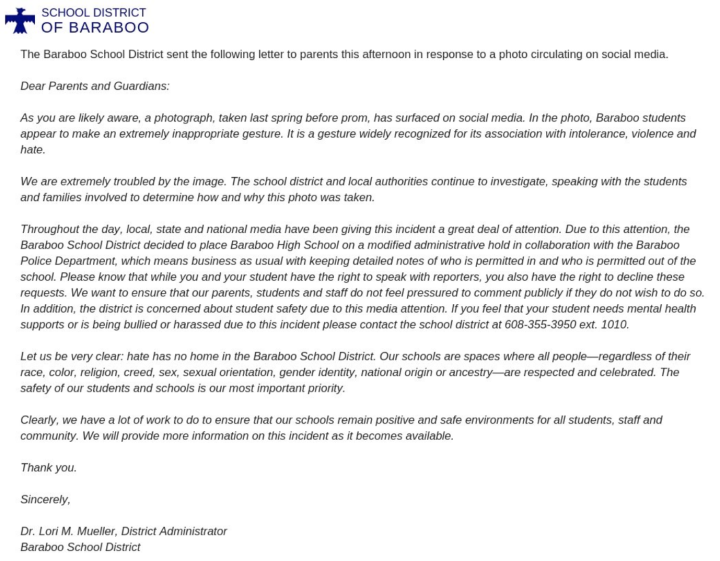 The situation is currently pending any further response from the school and school district at this moment. Mueller is not replying to or accepting any calls or emails regarding further comments for the time being.
Baraboo High School Principal Glenn Bildsten and School Board President Kevin Vodak have not yet commented.
Now, the story doesn't stop here. It gets even worse. As this photo began to appear on the Twitter feeds of actual Baraboo High School Students and Alumni alike, this narrative of racism, Nazi-like behavior, and overall ignorance expanded. Current and former Baraboo students have started to come forward with their own testimonies and stories of experienced and witnessed hate crimes, bullying, and other malevolent behavior demonstrated within the school and the surrounding community.
Many of these stories can be found in the Twitter thread below, via the Twitter account of producer and writer, Jules Suzdaltsev, whom was bombarded with replies concerning the societal illiteracy at Baraboo after sharing the original Baraboo prom photo.