Australia's News Media: An Anglo-Celtic Panopticon
A lack of diversity in Australian newsrooms remains a stubborn feature of modern life. For me, this not academic: it is lived experience.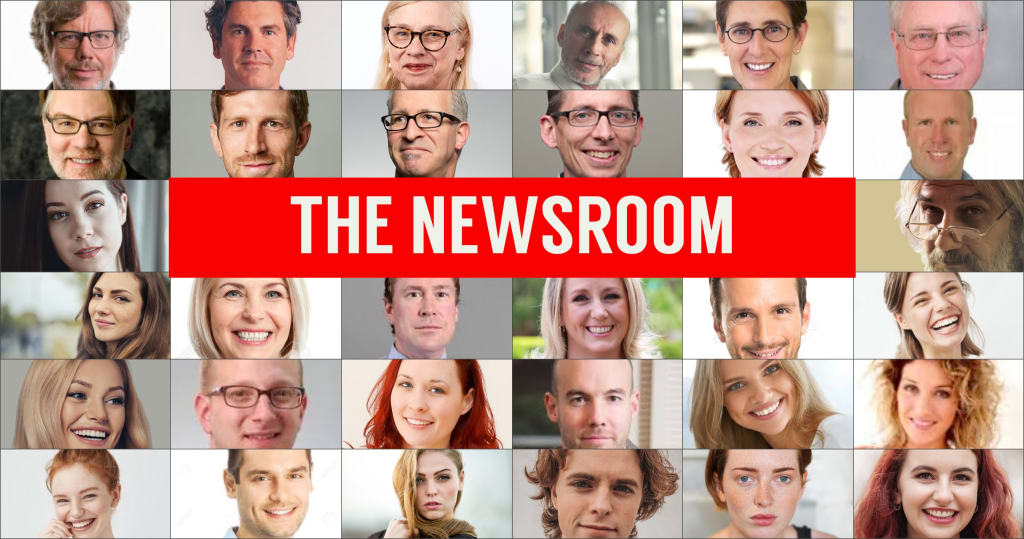 HOW'S DIVERSITY coming along in the Australian news media? Not so much.
A study by the non-profit Media Diversity Australia, entitled Who Gets to Tell Australian Stories? and released August 2020, details just how white Anglo-Celtic the Australian news media is. But it was not surprising — not for someone from a non-English speaking background who's been a journalist in Australia for 34 years: everywhere I've worked in the country, it's been a wall of white Anglos as far as the eye could see.
The key metric in the study was a person's ethnicity and ancestral background, relying on methodology used by the Australian Human Rights Commission, such as an individual's name and its origins, their place of birth and a visual observation of their ethnicity, as well as publicly available biographical information. Presenters, commentators and reporters presenting news were placed into one of four categories: Anglo-Celtic, European, non-European or Indigenous (in Australia, that's either Aboriginal or Torres Strait Islander).
Australia has four national TV networks: three are commercial (Networks 7, 9 and 10) and two are public broadcasters (ABC and SBS), and there's a scattering of regional networks. Most of the nightly news bulletins from major cities have their own anchors and presenters, as does the ABC for its metropolitan bulletins, while SBS has a single nightly news program broadcast nationally.
The study's authors examined 81 TV news programs across Australia over two weeks in June 2019, or about 19,000 news and current affairs broadcasts; and then categorised the 270 people who appeared. It found that 75.6% had an Anglo-Celtic ethnicity, 13% were European, 9.3% non-European and 2.1% Indigenous.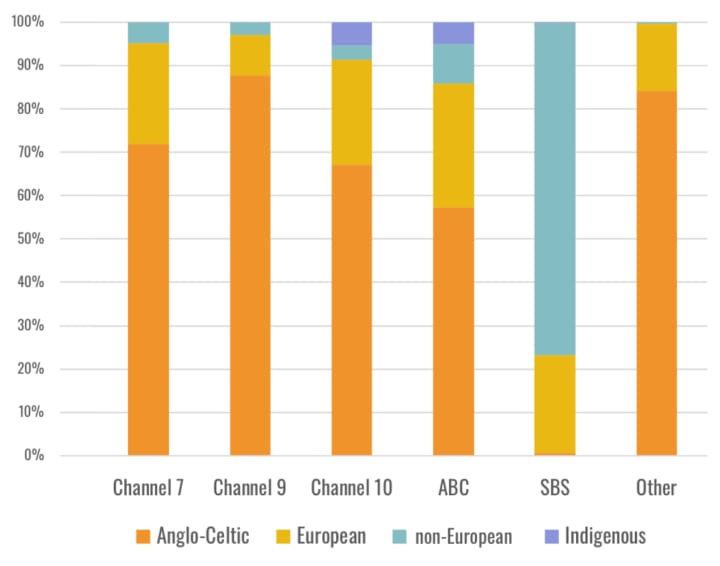 The 9 Network had, by far, the highest proportion of Anglo-Celtic representation on air (87.8%), and none of the commercial networks (7, 9 and 10) had more than 5% of presenters, commentators or reporters identified as having a non-European background. SBS was a notable exception: but then, the Special Broadcasting Service was originally founded as a multicultural broadcaster.
Below is the line-up of presenters for the nightly news bulletins in Melbourne, Australia's second-largest city, from each of the commercial networks: 7, 9 and 10.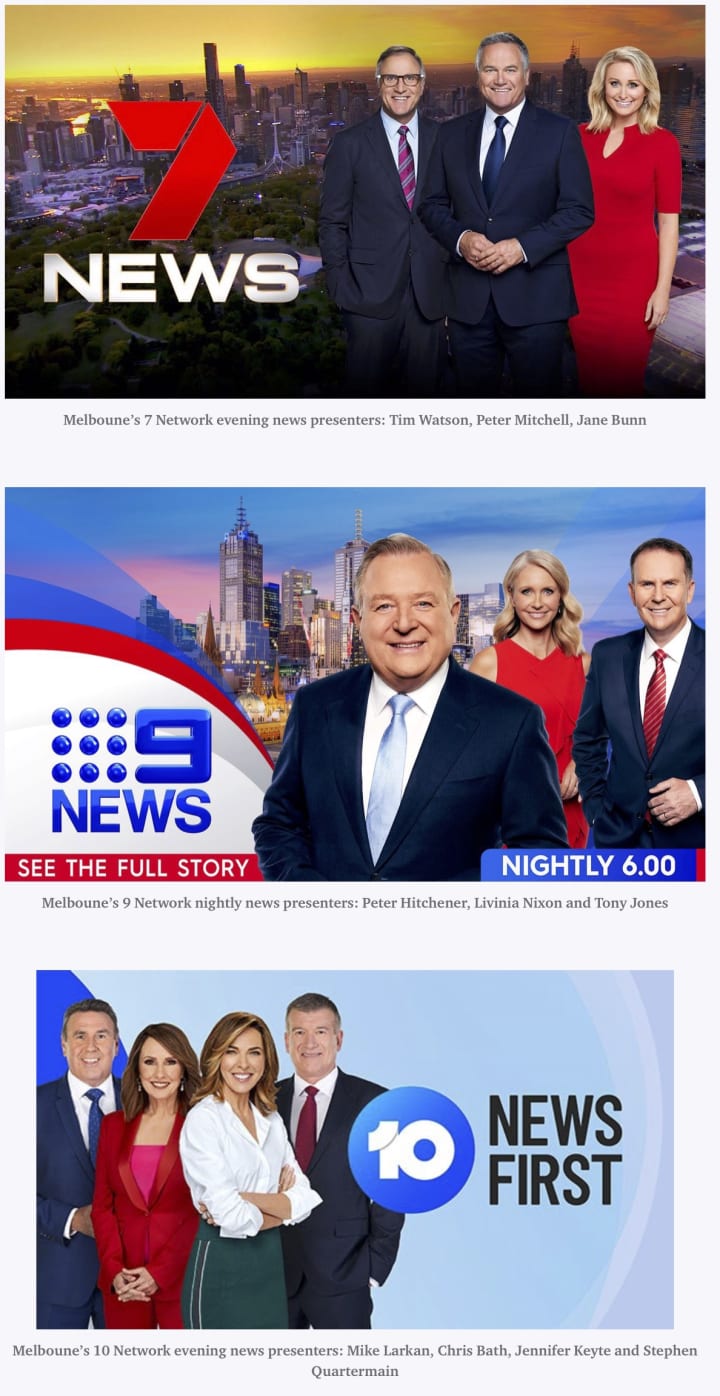 Clearly, as the study found, the line-up of on-air presenters in Australian TV news in 2020 does not reflect Australia today, where 58% of Australians have Anglo-Celtic background, 18% are European, 21% non-European and 3% Indigenous.
And yet, four in every five Australians support greater ethnic diversity: in 2016, 80.4% agreed that it is a good thing for a society to be made up of different cultures, compared with 4.4% who disagreed and 15.3% who neither agreed nor disagreed, according to Western Sydney University's Challenging Racism Project.
But television, and the media generally, has always been thus — based on my experience at least. When I joined the newsroom of The Sydney Morning Herald as a cadet journalist in 1986, I was acutely aware that my ethnicity — having been born in Brazil to Portuguese parents, and having only arrived in Australia at the age of nine — was 'exotic'.
My five fellow cadets that year were Mary Boson, Jenny Chater, Danielle Cook, Damon Frith and Helen Pitt — all solid Anglo-Celtic surnames. And on the crowded fifth floor newsroom brimming with hundreds of journalists, folk like me were a rarity. The people I worked with didn't reflect the multi-ethnic school I'd attended, nor the community I lived with in Sydney's largely working-class multicultural western suburbs.
The surnames of new colleagues I met were inexhaustibly Anglo-Celtic, as were the bylines in the paper. Same with the photographers. One of the few exceptions was Luis Garcia, a state political reporter of Cuban heritage who worked at the New South Wales Parliamentary Press Gallery, and occasionally visited the office; another was Alicia Larriera, who had joined as a cadet reporter the year before and was of Uruguayan heritage.
When colleagues in the newsroom asked about my surname, or my 'nationality' — which they frequently did — they invariably marvelled: "You don't have an accent."
Diversity was also lacking in other newsrooms at the time, I soon discovered. Attending my first lunch at the old Journalists Club with reporters from other newsrooms around Sydney, I saw a sea of white faces. Across the table from us, the Sydney Morning Herald cadets, were those from Rupert Murdoch's News Corporation, and we introduced ourselves. They were all of Anglo-Celtic heritage. And all fair-haired.
When in 1989 I joined the Canadian bureau of the global newswire Reuters in Toronto, I did find more diversity. While Anglo-Celtic ancestry abounded, there were also journalists and photographers with surnames like Regenstreif or Hershorn, with Austrian and Russian roots; or the friendly but no-nonsense woman who hired me, bureau chief Solange De Santis, a New Yorker of Italian heritage.
However, when I was later posted back to Australia and arrived at the Sydney bureau, it was white Angloworld all over again: the surnames were Bradshaw, Kerr, Woodward, Gratton, Perry, West and so on. Search the ancestry of these surnames and you will find Old English or Middle English origins, from places like Derbyshire and Lancashire.
Meanwhile, my surname, da Silva, is literally the most common in the Portuguese-speaking world, used by 10.5% of Brazilians and 9.4% of Portuguese; it is also widespread in Spain, Africa and Asia, notably in India and Sri Lanka. Yet, I'm still one of the very few 'Silvas' in the Australian news media. And an annoying number of times, my name has been misspelt by the outlets which publish my work; or Anglicised as 'Da Silva' with a capital 'D'.
It was the same everywhere while I was growing up, and later working as a young reporter; all the newsreaders in Australia were Anglo-Celtic, and almost all the characters on Australian television dramas had Anglo-Celtic names.
Even today, 82% of the characters in Australian TV dramas are Anglo, according to a Screen Australia study in 2016, Seeing Ourselves: Reflections on Diversity in Australian TV Drama. It's such a feature of the industry that even when actors are themselves non-Anglo, they play Anglos. As an Indigenous friend once joked, the only place you can find an Anglo doctor in Sydney is on television dramas.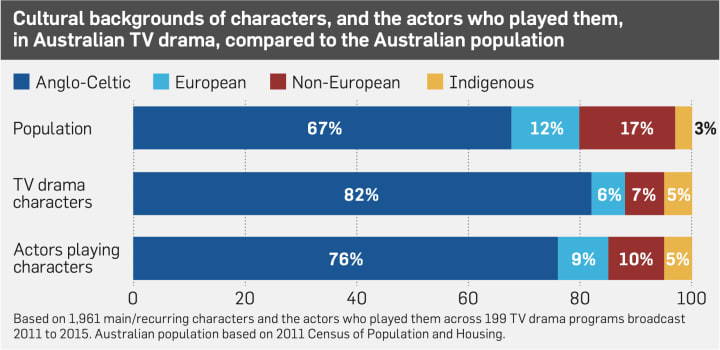 Take Neighbours, for example, the longest-running drama series on Australian television (first broadcast in 1985), which now plays in 60 countries and has been especially successful in the United Kingdom. It is set in the fictional Ramsay Street, a residential cul-de-sac in Melbourne. Its cast has long been famously Anglo-Celtic, despite being set in one of Australia's most cosmopolitan cities, with the largest Greek population outside Greece, and large communities of Italian, Turkish, Spanish and Chinese residents.
It's been the launching pad for many Australian actors, among them Liam Hemsworth (The Hunger Games), Nicky Whelan (Scrubs), Jesse Spencer (House, M.D.), Eliza Taylor Morley (The 100), Alan Dale (Dynasty), Guy Pearce (L.A. Confidential) and pop diva Kylie Minogue.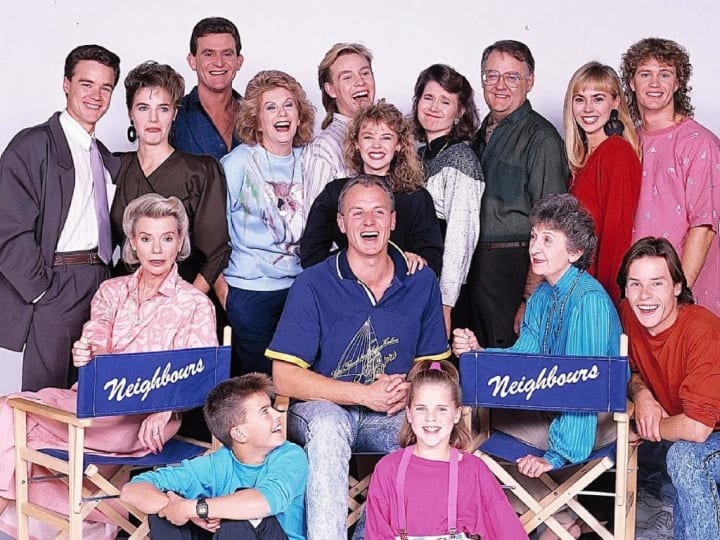 But non-Anglos rarely featured; one of the few was Dichen Lachman from 2005 to 2007, a Nepalese-Australian actress who went on to star in Dollhouse and Altered Carbon. Neighbours has tried to introduce diversity, recently appointing Richie Morris — an Australian of Nigerian and Lebanese heritage — as a recurring character. But few can forget an earlier foray, in the 1990s, when the fictional Chinese Lim family moved into Ramsay Street, and were promptly accused of eating a neighbour's dog.
This kind of experience changes the way you interact with people. To get along in this Anglo-Celtic world, you have to develop Anglo ways of talking and thinking. I recall an Anglo-Celtic friend describing living in Japan as being like a 'monkey in a suit walking the streets': strange and exotic, attracting the attention of all. He complained of an unspoken expectation among Japanese colleagues that his behaviour would always be seen as representative all Anglo-Celts.
That's what it often felt like being a non-Anglo in the news media in Australia. My words and actions would often be put through an ethnic/heritage/cultural lens. The same with my surname; countless times, people who only knew me by my byline would meet in person and quip, "I thought you'd be black". I never knew how to react to this: were they telling me they were disappointed, or relieved?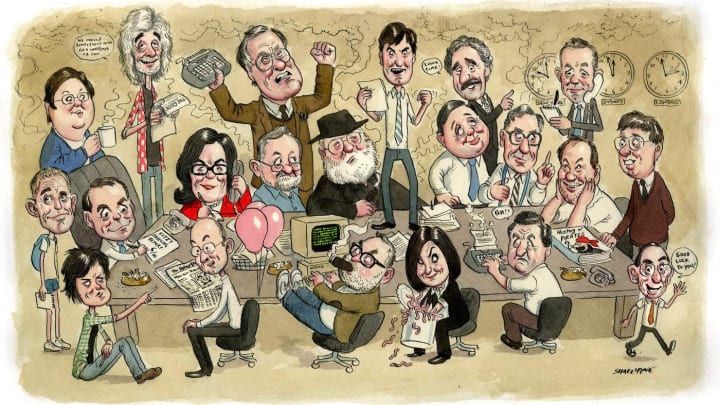 But the most extreme Anglo-Celtic bubble I ever encountered was the Australian Broadcasting Corp, which I took to jokingly calling the 'Anglo Broadcasting Corp' to friends. Working as a researcher for the Science Unit at the ABC's old Gore Hill headquarters in Sydney in 1997, the only people I saw like me were either working behind the canteen counter or cleaning the office after hours. Even the crèche was an eye-opener; not only were all the kids white, but almost all of them were blonde. It was like an Aryan dreamscape.
It brought to mind — for me at least — the 1957 science ficiton novel The Midwich Cuckoos by John Wyndham. In it, all the village women of child-bearing age suddenly become pregnant and later give birth on the same day, with the resulting children all being platinum blonde; they are, as it turns out, aliens who plan to colonise Earth. Unfair, I know — but that's the first image that popped into my head.
ABC TV was also where I first stood up for my ethnicity. The executive producer of the TV Science Unit, the late Joanne Finlay, was planning the line-up of on-air reporters for the 1998 season of the science show, Quantum. There were three existing reporters — two male, one female — and one slot vacant, for which I'd applied.
I'd passed camera tests, proposed stories and fronted an 8-minute trial story for the next season. She called me into her office and said, gingerly, that she was impressed with my work, but that at the end of the day, she had to be conscious of displaying diversity on screen, and really needed to appoint a female reporter.
I got a little hot under the collar. "Look, Joanne, I entirely agree that diversity on screen is important. But you're only thinking about gender diversity. What about ethnic diversity? There are no ethnics on screen on the network, and the whole of Gore Hill is completely whitebread. The only ethnics here serve you food or clean your office. Yes, two of the reporters are male; and I'm male as well, I can't help that. But all three of them are also Anglo."
To her credit, Finlay understood my point, and I joined the Quantum team. Did the fact that she was married to a man of Asian heritage contribute to this? I don't know. Nevertheless, when my half-hour documentary on antibiotic resistance aired as the 1998 season premiere in March, I briefly became the only non-Anglo face regularly on ABC TV — a status formerly held by newsreader Indira Naidoo until her departure for SBS TV a few months earlier.
In fairness, the ABC has made great strides since that time, and along with SBS, shows much more diversity — at least in front of the camera; people on screen now generally reflect the diversity of the country, as evidenced by the Media Diversity Australia study.
These days, I'm a science journalist. The same day the Media Diversity Australia study came out, NewSouth Books announced the line-up for The Best Australian Science Writing 2020, an annual anthology, of which I was delighted to be included. Nevertheless, I noticed that 17 of the 23 authors had Anglo-Celtic names. When you look back through the 10-year history of the series, Anglo-Celtic names make up an average of 85% of contributors.
Am I suggesting cultural bias? Not at all — editors of the series select the best available science writing, and four of the 11 editors had names with non-Anglo heritage. But it just shows how Anglo-Celtic ancestry is entrenched in the Australian media.
Reflecting on 34 years in the Australian news media, something else occurs to me. Most of my career breaks came from people who either had non-Anglo-Celtic heritage, or cultural diversity in their home lives. People with surnames like De Santis at Reuters; Dabkowski (Stephen, then business editor, The Sunday Age); van Niekerk (Mike, then computers editor, The Age) — either children of immigrants, or immigrants themselves. Or people whose partners were non-Anglo, like ABC's Finlay or William Fraser, former editor of the Australian Financial Review Magazine for whom I wrote many lengthy features, including two cover stories.
Was it just coincidence or were they more open-minded, due to their non-Anglo exposure, to hiring someone different? Was it a contributing factor when, in 2004, Melbourne-based philanthropists Alan and Elizabeth Finkel — children of Eastern European migrants — agreed to finance Cosmos, the science magazine we co-founded and ran together for nine years?
I don't think any of us will ever really know.
Like this story? Please click the ♥︎ below, or send me a tip. And thanks 😊
controversies
About the author
Wilson da Silva is a science journalist in Sydney | www.wilsondasilva.com | https://bit.ly/3kIF1SO
Reader insights
Be the first to share your insights about this piece.
Add your insights