Are you serious?
"Yeah, but maybe Harper wants to express something that's burning deep inside and he needs to get it out."

Image credit: Screenshot by me
In The Best Man Holiday, Quentin(Terrence Howard) says "Well, if they can get the word 'homo' banned, then we should be able to get the word 'nigga' banned. Seriously." as he talks to Candace(Regina Hall) and Julian(Harold Perrineau). This is pretentious and sadly hilarious as he instantly says, "Harp, my nigga! What's up, man? Merry Christmas." to greet Harper (Taye Diggs) approaching him. This is also a sign of obstruction to progress on important things, therefore blocking successes. This disappointment so to speak is noticeable through Julian's expression as well.
Also, feel free to follow me for my next posts and comment with your opinions.
When Harper asks Quentin about how he and brand management are, Q says, "I don't know why these white folks pay me to tell them what black people are thinking. Man, I'm light-skinned." which prompts Julian and Harper to laugh. Quentin is the only light-skinned man in the male friend group of 4. However, this showed his level of self-awareness because people of a darker hue face more troubles than those of a lighter hue. They encounter harsher cases of racism and colorism in society, so this recognition was important.
In The Best Man: The Final Chapters, Harper's agent Stan(Aaron Serotsky) advises him. He says, "Harpie, this new deal will make you set-your-family -up-for-life rich. I mean, are you really gonna leave that on the table?" after Harper talked about wanting to do more serious things despite being unsure how to start. Stan tells him his Bumper G series is being sought after for a great deal. He says "Dude, just crank it out. I mean, look, do you even have an idea for this serious opus of your's?"and Harper replied saying "It's a concept. Like a feeling. I'm still noodling around.".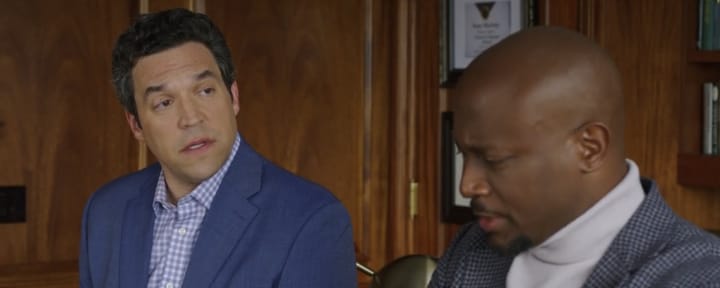 After he tells the guys, "I mean, between Robyn and my agent, it's like they got a brother feeling a little insecure about his shit. Look, I want to write… I want to write something that matters. Richard Wright. Baldwin. Look, is that so wrong?". Quentin tells him that if he wants to get the new house he's been talking about, he should keep doing what works. He said "I mean, those cats, they didn't make their money selling books in Costco" before Julian said, "Yeah, but maybe Harper wants to express something that's burning deep inside and he needs to get it out."
After Robyn's (Sanna Lathan) arrest, they argue but come to a resolution the next day. She finds his recent work on the notepad and she says "Harper, this is beautiful. You gotta keep going on this.". He appreciates it and says "Well, yeah, to be sure that you and Mia are safe and protected and provided for." after she asks if his worried words were the reason he wanted them to move. She said, "When you show your heart like this, all I want is to live wherever that energy is." before she said she wants to hear the rest of the story while accepting the move.
Rejuvenated afterwards, he calls Stan saying "Stan, listen up because I'm only going to say this once. My next book is going to be cultural, topical and meaningful to me. No more fluffy Costco reads. You understand me? Harper Stewart has something to say, and I'ma say it. Cool? Thank you. It's been a good talk. Bye.". He goes on to work on this less and less until two years after his divorce when he is awarded for his work called Pieces of Us.
This was originally written in my "The Best Man: The Final Chapters tackles racial issues." write-up.
If you enjoyed this, for more of my articles:
About the Creator
I write on various things: social issues, well-being, cinema and out of curiosity. For contact and all other things, click this. Inactive.
Reader insights
Be the first to share your insights about this piece.
Add your insights