Are We Getting Our Money's Worth Amusing Trump?
His golf outings break all records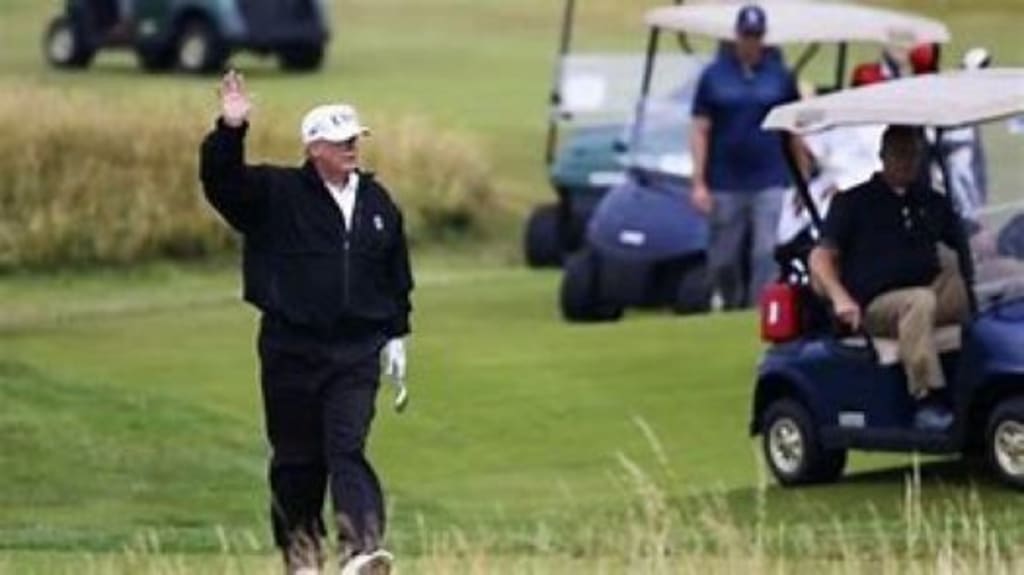 In the modern era, all presidents have taken vacations and weekend trips to escape the stress of the job. FDR frequented a spa in Georgia; Truman returned to Missouri; Eisenhower visited Fraser, Colorado; JFK returned to his home in Hyannis Port; Reagan frequented his ranch in California; Carter went home to Plains, Georgia; G.W. Bush frequented his ranch in Texas; and Obama Christmased Hawaii, where he was actually born. No president in history, however, has spent as much time and money on "relaxation" as the current occupant of the White House, Donald J. Trump.
Trump's visit to his course in West Palm Beach day before Thanksgiving was his 223rd day at one of his own golf courses since being sworn in ― two and a half times as many as Obama at the same time in his first term. This is ironic, because Trump criticized Obama for his golf outings, promising voters he would be too busy to golf. How soon we forget.
It is very difficult to know precisely how much taxpayer money is being spent on Trump's golf outings, mostly to resorts he owns, because the White House refuses to say. The conservative publication, Judicial Watch, tried to find out in the second year of Trump's presidency. After two lawsuits, Judicial Watch was able to get partial records for the period December 22, 2017, and September, 2018.
Judicial Watch reported on Sept 21, 2018, that in that 9-month period, Trump made seven trips to his golf course at Mar-a-Largo, FL; a trip to Atlanta for the NCAA Championship game, and two campaign trips. A separate lawsuit revealed, Trump also made two trips to his golf resort in Bedminster, NJ, and four campaign rallies. Trump's travel expenses for that period totaled $17,224, 938.
That $17 million, however, is just the tip of the iceberg. The Huffington Post reported on Nov. 27th this year that Trump's golf outings and travel have now cost taxpayers a total of $115 million dollars.
This lavish spending sends the wrong signal at a time when our infrastructure is crumbling, schools need funding, and cuts are being made to Social Security and Medicare. The real problem, however, is that a large portion of this money has gone into the cash registers in resorts Trump owns. In other words, he is enriching himself at taxpayer expense. Put a different way, he is taking your hard-earned money and putting it in his pocket.
You might say Trump owns those resorts so it costs nothing for him to stay there. If he went to another resort, taxpayers would have to pay for his stay, so he is saving us money. That is not the case. First of all, Trump bills us more than most other comparable resort would. Secondly, taxpayers pay for all the rooms of his staff, guests, Secret Service agents, and others that accompany him on every trip. And he gets top dollar. Mara-Largo charges us $546 per room per night. That is three times allowed by federal rules. Other quality hotels in the vicinity charge far less than Trump between $195 and $300 a night. He gets away with it because he is president
His staff has been known to exploit the situation as well. An article published by ProPublica reported that in just one night during a Trump visit, 24 staffers ran up a bar tab on their government credit cards over $1,000 on over-priced top shelf liquor. Yet, Trump cut SNAP benefits so a poor mother has a harder time feeding her children. "Let them eat cake" is the message being sent here.
This spending and this amount of time away from his duties as President of the United States are alarming. Are taxpayers getting their money's worth?
The economy is booming, but in reality, the boom is a continuation of the recovery under Obama. Unemployment is low, but it has been dropping since the second year of Obama's presidency. Taxes have been cut, but most of the cuts benefited the top 1% of all taxpayers. Those in the middle barely see the difference. On the other hand, deficits are at record highs, adding a trillion dollars to the national debt Trump promised to pay off by the end of his first term.
Are these so-called benefits worth the high cost of amusing the president? We will find out in less than a year.