Apple introduces iOS 16.5 with enhancing Sports News accessibility
Apple's latest release, iOS 16.5, designed to enhance accessibility to sports news, making it easier than ever to stay updated on your favorite teams and events.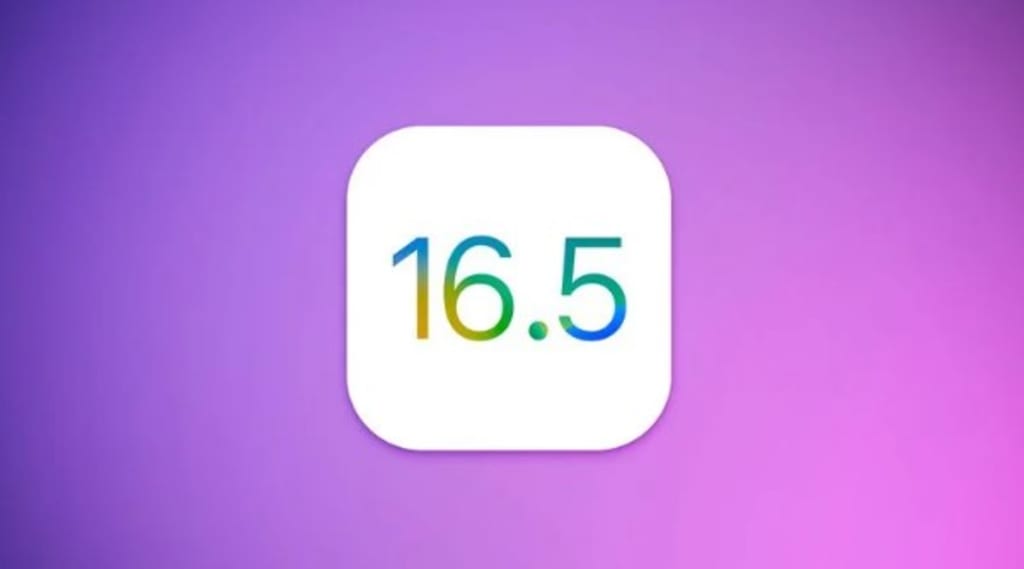 iOS 16.5
Apple has once again raised the bar with its latest software update, iOS 16.5, which introduces an array of innovative features designed to revolutionize the way users consume sports news. This update, along with iPadOS 16.5 and macOS 13.4, is set to be a game-changer for sports enthusiasts and avid news consumers alike.
One of the standout features of iOS 16.5 is the dedicated Apple News section exclusively tailored to sports. Gone are the days of endlessly scrolling through unrelated articles to find the latest scores or highlights. With iOS 16.5, users can now effortlessly keep up with rankings, scores, and captivating sports stories, all in one convenient location.
Navigating through the sports section has never been easier, thanks to the inclusion of score and schedule cards. These cards act as shortcuts, allowing users to jump directly to the pages dedicated to specific games. Whether it's a thrilling baseball match or a heated MLS Season Pass encounter, iOS 16.5 ensures you never miss a beat.
Apple TV 4K users are in for a treat with the introduction of the multi-view feature. Imagine watching up to four sports streams simultaneously within the TV app. This exciting addition means you can keep an eye on Friday Night Baseball games while catching the latest MLS matches. It's a sports lover's dream come true, all within the convenience of a single screen.
While the sports news enhancements steal the spotlight, iOS 16.5 doesn't stop there. This update also brings several other noteworthy improvements to the table. For instance, both iOS 16.5 and watchOS 9.5 introduce new Pride wallpaper and watch face options, allowing users to personalize their devices and show support for inclusivity.
Bug fixes have also been addressed, targeting various issues that users may have encountered. Problems with CarPlay and Spotlight on iOS, as well as Screen Time syncing across multiple platforms, have been resolved, delivering a smoother and more seamless user experience.
It's worth noting that this may not be the final substantial update preceding iOS 17. Reports suggest that Apple is already privately testing iOS 16.6, hinting at ongoing efforts to refine and enhance their software further. If rumors hold true, we might even see a public beta release in the near future. Undoubtedly, Apple is dedicated to pushing boundaries and delivering major updates later this year.
As Apple continues to innovate and refine its software, iOS 16.5 stands out as a significant step towards enhancing sports news accessibility. By providing a dedicated section, streamlined navigation, and multi-view capabilities, Apple empowers users to immerse themselves in their favorite sports with ease.
Whether you're a die-hard baseball fan, a soccer enthusiast, or simply enjoy staying informed about the latest sports happenings, iOS 16.5 has something for everyone. Stay ahead of the game and experience a new level of sports news accessibility with Apple's groundbreaking update.
FAQ
Q: What does iOS user mean?
An iOS user refers to someone who uses a device running on Apple's iOS operating system. iOS is the software that powers iPhones, iPads, and iPod Touch devices.
Q: How to download iOS 16?
To download iOS 16, you need to ensure that your device is eligible for the update. When iOS 16 becomes available, you can download it by going to your device's Settings, selecting "General," and then tapping on "Software Update." If iOS 16 is available for your device, you will see an option to download and install it.
Q: How do I update from iOS 12.5.5 to iOS 14?
Updating from iOS 12.5.5 to iOS 14 requires a few steps. First, make sure your device is compatible with iOS 14 by checking the list of supported devices. If your device is eligible, go to Settings, select "General," and then tap on "Software Update." If iOS 14 is available, follow the on-screen instructions to download and install the update.
Q: What is my iOS version?
To check your iOS version, go to your device's Settings, tap on "General," and then select "About." Scroll down to find the "Version" or "Software Version" section, which will display the current iOS version installed on your device.
Q: Does iOS mean Android?
No, iOS and Android are two separate operating systems developed by different companies. iOS is developed by Apple and is exclusive to Apple devices, while Android is developed by Google and is used by various manufacturers for their smartphones and tablets.
Q: How does iOS work?
iOS is a mobile operating system that manages the hardware and software of Apple devices. It provides a user-friendly interface, supports various apps and services, and ensures smooth performance and security for the device. iOS utilizes a combination of gestures, icons, and menus to navigate through the system and run applications.
About the Creator
I'm Indra, a tech enthusiast who follows the latest developments in the tech industry. I love keeping up with new trends and products, and always searching for the latest gadgets and services.
Reader insights
Be the first to share your insights about this piece.
Add your insights