America's Despot: Donald J. Trump -- The Tip of the Iceberg
Guest contributor Bashir Akinyele dissects the future American cost of today's political toxicity.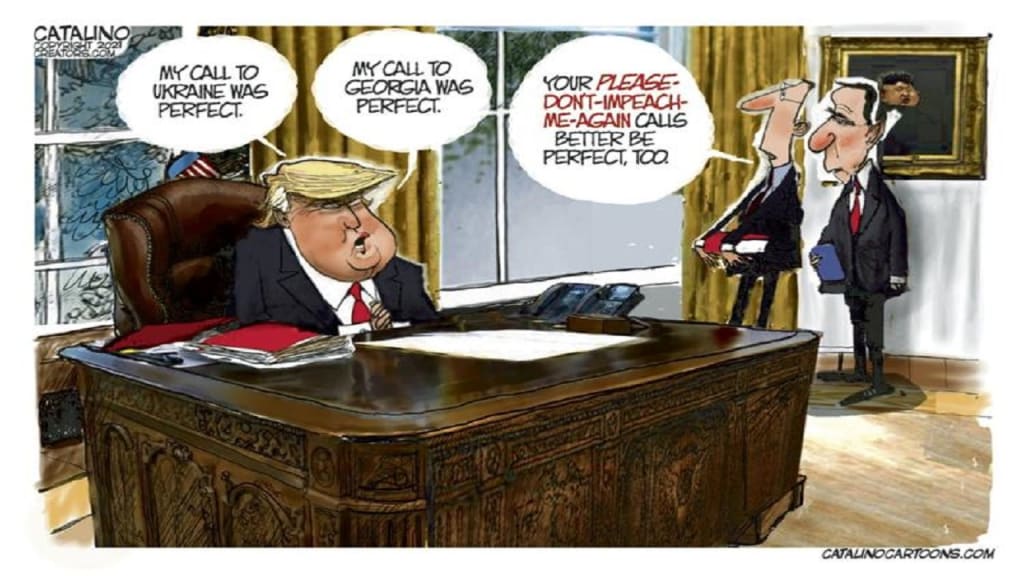 Catalino Creators © 2021
By Guest Contributor Bashir Muhammad Akinyele
"The cost of liberty is less than the price of repression."
—W.E.B. Du Bois
Donald J. Trump, the duly elected 45th President of the United States of America, helped to orchestrate a coup d'état to stop democracy on January 6, 2021.
Every four years, after the national US Presidential elections are over in November. Then the US government passes the electoral votes through the Senate in Congress to certify the winning presidential candidate as the official American President. This is America's democratic process for electing the executive branch of the US government. But Trump's supporters attempted to organize an American coup to stop this nation's democratic process. This happened in the new millennium. It was done in a country that boasts to the world as the bastion of the best democratic ideals on Earth.
Fascism manifested its ugly head in the US. The ideology behind it was white supremacy, and xenophobia. Human family (particularly my Black family), don't be shocked by the current turn of events. This is the America. The United States and Western culture have a very long history of tolerating white supremacy, systematic racism, despotic leaders, totalitarianism, and anti-democracy. Both Republicans and Democrats use racism to maintain white hegemony in America. The objective is to oppress and control the lives of Black and Brown people.
For ages, they've employed inhumanities to keep this control using tactics such as slavery, the enforcement of Jim Crow laws, lynchings, voter suppression, the usage of COINTELPRO (counter intelligence program) operations, mass incarceration, discrediting Afrikan history and culture, as well as persistently carrying on with non-payments of reparations. The correct analysis of American and world history will help us understand the deep racial and class divisions that exist in the US.
Unfortunately, these dehumanizing conditions are still being played out in America. These conditions catapulted Republican Donald J Trump to the office of the US Presidency in 2016. Although Trump lost his bid to be re-elected as president to Democratic President-Elect Joe Biden in 2020, Trumpism, a movement based upon white supremacy, xenophobia, and fascism, is in the land. His political base is not going anywhere in America. Remember, Trump received over 74,000,000 votes.
The Trump Republicans, his base supporters, conservative media outlets, conservative Democrats, and far-right ideologues are still here in America with us. They're promoting White supremacy, xenophobia, and anti-democratic worldviews. They have not disappeared. Many of them are everyday mothers, fathers, grandparents, uncles, aunts, barbers, coaches, landlords, neighbors, teachers, principals, lawyers, judges, military personnel members, police chiefs, rappers, artists, clergy members, professors, writers, and commentators.
These human instruments of hate can also be athletes, philosophers, philanthropists, and business CEOs. They have not gone anywhere. They will continue to organize people in America to promote an anti-inclusive and anti-democratic agenda. We as citizens in America must never let democracy be comprised by anyone or anything. All people in America must unite to protect the nation's democracy. But we as Black people, in unison with all other oppressed people of color, must always remember to work to defend democracy from America's versions of White supremacy.
Violent white supremacist terrorists (i.e. the Ku Klux Klan) have played a large role in justifying White hegemony and Black oppression in American history. Therefore, as Black people and as other people color, we must know that our human right to democracy and self-determination are directly tied to the struggle to maintain democracy in America.
About the Creator
Mr. Trammell is an award-winning digital media producer, freelance journalist, and author. Formerly, he wrote national radio content for the Michael Baisden Show. He also served as Senior Editor at the Your Black World online news network.
Reader insights
Be the first to share your insights about this piece.
Add your insights