Acknowledging Victories
Environmental activists in Cudahy force charter school to abandon plans to build on a toxic site. Public school defenders keep Pio Pico open.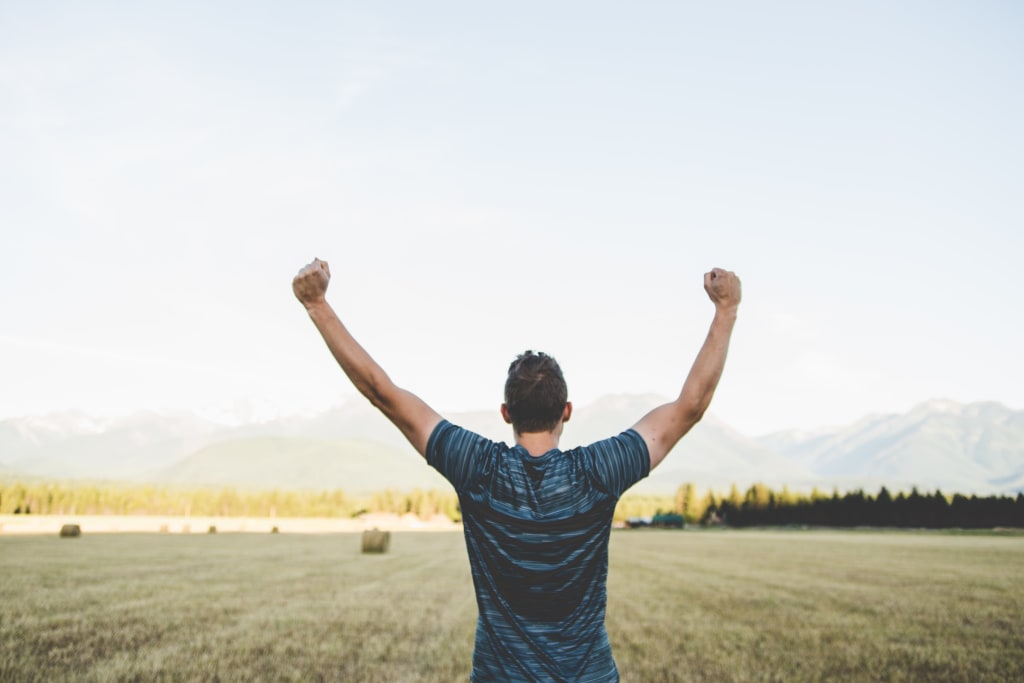 Photo by Japheth Mast on Unsplash
"This was a David and Goliath situation, a battle between corporate big money and community grassroots organizing powered by pupusa sales, donations, and a group of dedicated, unwavering activists."

- Susie de Santiago, parent and community activist
The fight to protect public education from encroachment by the charter school industry is unrelenting. These publicly funded private schools are backed by those whose ultimate goal is to eliminate our public schools and they are willing to open their well-padded wallets to win at all costs. The family fortunes built by the successes of Walmart, NetFlix, KB Homes, and other corporations provide an almost endless source of funds to defeat anyone who dares to oppose them.
In order to take on a fight with such overwhelming odds against you, one has to be an optimist. It does not make sense to pursue the cause unless you have confidence that a win is possible, even if it is unlikely. That spark of hope is necessary in order to move from yelling at your computer screen to actively pursuing change.
In the past few weeks, there have been two examples of local activists winning fights against overwhelming odds. Let these stories serve as fuel to the fire for battles going on throughout Los Angeles, from those seeking to force a bigoted city council person from office to school communities trying to repel charter school parasites trying to steal space from public schools using PROP-39.
Cudahy Alliance for Justice (CAJ)
The train derailment in Palestine, Ohio has provided a recent, devastating example of the potential for disaster created by deregulation. When it comes to hazardous materials, the heavy hand of the government is a required counterweight to the profit-seeking motives of corporate capitalism.
The residents of neighborhoods in Southeast Los Angeles live with the effects of poorly regulated businesses. The shuttered Excide Battery Plant stands as a reminder to them of the arsenic and lead that was released into the environment during its operations. One of their elementary schools, Park Avenue, is built on "an old city dump site that contained contaminated soil with pockets of the toxic sludge". In 2020 their children had jet fuel dumped on them by a Delta Airlines plane as they played in their schoolyard.
Ignoring this history of environmental injustice, the KIPP nationwide network of charter schools convinced the City of Cudahy to allow it to build its latest franchise on property that was used "for approximately 90 years for manufacturing metal" and storing the resulting "hazardous materials". Despite the fact that the "site is contaminated with toxic gases" which "can cause cancer, cognitive and motor impairments, liver damage, kidney damage, and impair one's immune system, development, reproductive system, and fertility", the city waived the need to perform a full study under the California Environmental Quality Act (CEQA). Ignoring levels of arsenic that were "200 times the amount of arsenic that is identified as safe for human health by the state of California for school or residential areas", a full environmental review for the project would not be required.
Fortunately for the children who would attend this school and for the neighbors who would be assaulted by the toxins disturbed by construction, local activists took up the fight and sued the city to overturn the exemption for CEQA requirements. Last January, a judge ruled that these protocols would have to be followed.
After losing the ability to build the school on a "toxic lot" without a complete study of the hazards that are present, KIPP has decided to abandon its plans. This is a huge victory for the activists who took on the fight and for the 1,200 students who would have attended the school.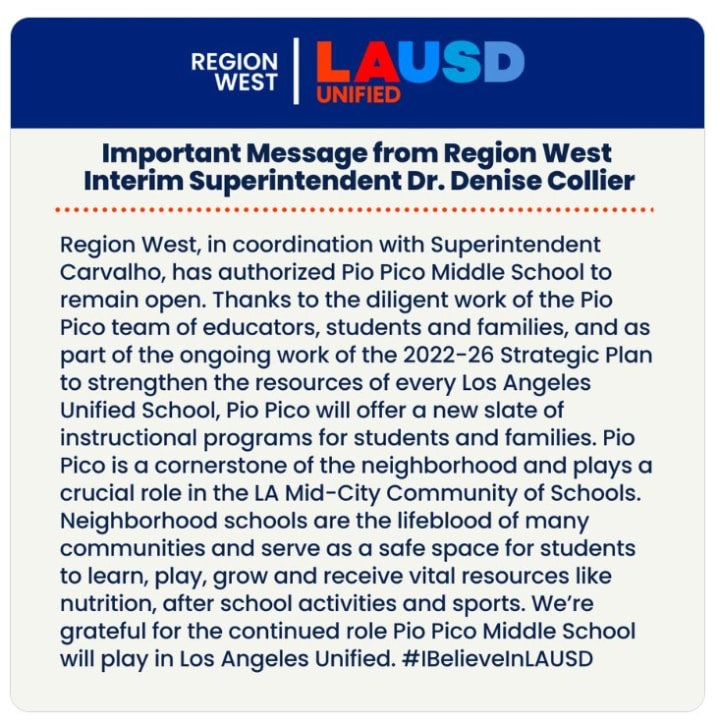 Pio Pico
During the 2021-22 school year, the community at Pio Pico Middle School was informed that their school would be closed down so that the Girls Academic Leadership Academy (GALA) could move onto the campus. This would disrupt a special education program and force students out of their neighborhood school.
When parents attended a Zoom meeting with district officials to plead their case for keeping the school open they were instead forced to listen to other middle schools in the area give marketing presentations as they competed Hunger Games style for the students who would soon be displaced.
Even with their death warrant signed the community continued to fight. This month their perseverance paid off when the LAUSD announced that they will allow the school to remain open.
Interestingly, the district now calls the school that they were prepared to throw away "a cornerstone of the neighborhood" that "plays a crucial role in the LA Mid-City Community of Schools." Hopefully, the sudden realization that "neighborhood schools are the lifeblood of many communities" will mean that victories are possible for the Valley Oaks Center for Enriched Studies as the North Valley Military Institute tries to evict it from its campus and also for Orville Wright STEAM Magnet faces closure so that the WISH charter school can move in.
____________________________
Carl Petersen is a parent advocate for students with special education needs and public education. He was elected to the Northridge East Neighborhood Council and is the Education Chair. As a Green Party candidate in LAUSD's District 2 School Board race, he was endorsed by Network for Public Education (NPE) Action. Dr. Diane Ravitch has called him "a valiant fighter for public schools in Los Angeles." For links to his blogs, please visit www.ChangeTheLAUSD.com. Opinions are his own.
About the Creator
Carl Petersen is a parent advocate for students with SpEd needs and public education. As a Green Party candidate in LAUSD's District 2 School Board race, he was endorsed by Network for Public Education (NPE) Action. Opinions are his own.
Reader insights
Be the first to share your insights about this piece.
Add your insights