A Reading List for #BlackoutTuesday
What you can do to help fight white supremacy and institutional racism

Like so many across the nation, I have been lost this week. Lost in hurt and anger and confusion for so many of my friends. I must begin by acknowledging my privilege. I am a white woman of middle-class. I have never been pulled over with the fear, This is how I die.
I am burdened by the relentless inundation of social media outrage. I am horrified by the posts and comments lacking empathy or any inkling of awareness. The endless blame shifting and arguing. "Not all cops..." "But the looting..." "All lives matter..." "The President..."
No.
I have black friends who have removed their social media accounts because their posts have led people to believe they are anti-white and anti-cop. I know elementary school teachers who are in the streets alongside their students--any of whom could grow up to be George Floyd. I know first responders and sheriffs who are marching with their communities and who are mortified at the image that has been portrayed of them, at the idea that anyone could be afraid of them.
I have friends who are struggling to explain to their children what is happening, in a time where everything so far this year in 2020 has been a nightmare to have to explain to a child.
I am not here to argue what should be common sense. We are seeing history repeat itself. The Civil Rights movement never ended. And one of the reasons is something that has somehow increased exponentially despite the rise and affordances of technology.
Education.
Everyone seems to have an opinion, but based on what? Social media, in all likelihood. The dwindling ability to vet resources and fact-check has caused more problems than can ever be resolved. The likelihood of picking up a book written by someone or about a group of people who is different has fallen. And as education falls, ignorance increases. Daily.
It has to start somewhere. You can easily search twitter right now for lists of resources being shared, such as this one. The list I will share here is far from being all-inclusive. I challenge you. I beg you. Commit to reading one of these texts. Read it with an open mind and heart. Read it in expectation of empathy.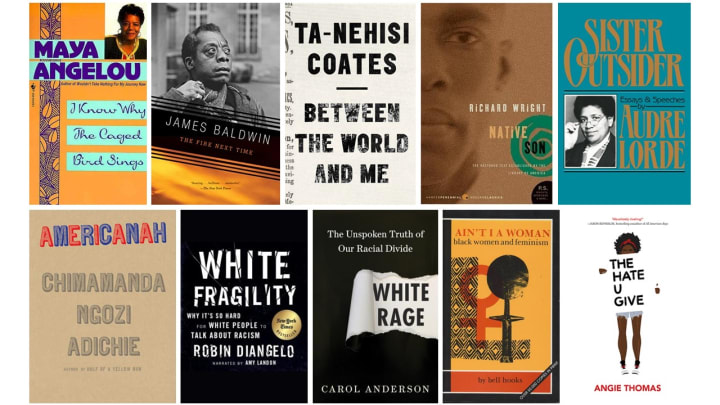 This google doc put together by scholar and researcher Victoria Alexander includes everything you need to get started:
First...
Read through what implicit bias means and how it happens so easily through stereotypes. Begin challenging yourself to be mindful of your behavior. Be aware of the first thing that pops into your head when you see a person of color walking down the street. Be aware of how you respond when you hear a stereotypical joke that isn't funny.
Then...
Pick from one of these ten literature books or nonfiction works--some of which you or your children may have read in high school. Think about that for a minute...
1. I Know Why the Caged Bird Sings by Maya Angelou
2. The Fire Next Time by James Baldwin
3. Between the World and Me by Te-Nehisi Coates
4. White Fragility: Why Its So Hard for White People to Talk About Race by Robin DiAngelo
5. Ain't I a Woman: Black Women and Feminism by Bell Hooks
6. The Hate U Give by Angie Thomas (you can also watch the 2018 film)
7. Americanah by Chimamanda Ngozi Adichie
8. Native Son by Richard Wright
9. Sister Outsider: Essays and Speeches by Audre Lorde
10. White Rage: The Unspoken Truth of Our Racial Divide by Carol Anderson
A few extra must-reads include, Beloved by Toni Morrison, Things Fall Apart by Chinua Achebe, The Color Purple by Alice Walker, Invisible Man by Ralph Ellison, and Their Eyes Were Watching God by Zora Neale Hurston
If you are looking for even more, Goodreads even has its own list of Books White People Need to Read, which includes works like Dee Brown's Bury My Heart at Wounded Knee and Maxine Hong Kingston's The Woman Warrior.
Reading the words of others has never been more important. It might be difficult. It should be. But we are never more human than when we are listening to someone else and sharing in their lives: their heartaches, their joys, their injustices.
And if you really want to know where to begin, go back to Harper Lee's To Kill a Mockingbird and remember this line:
list
English major who never left college. Lover of Victorian novels, Ravenclaw, and Rivendell. Teaching applications at Hogwarts and Starfleet Academy still pending. Find me on Instagram @coffeenerd.writer and Twitter @bryanafern