2020 Presidential Candidates Tip Sheet
Election season can be confusing. I partnered up with Know Your Vote to put together a guide to help you navigate it.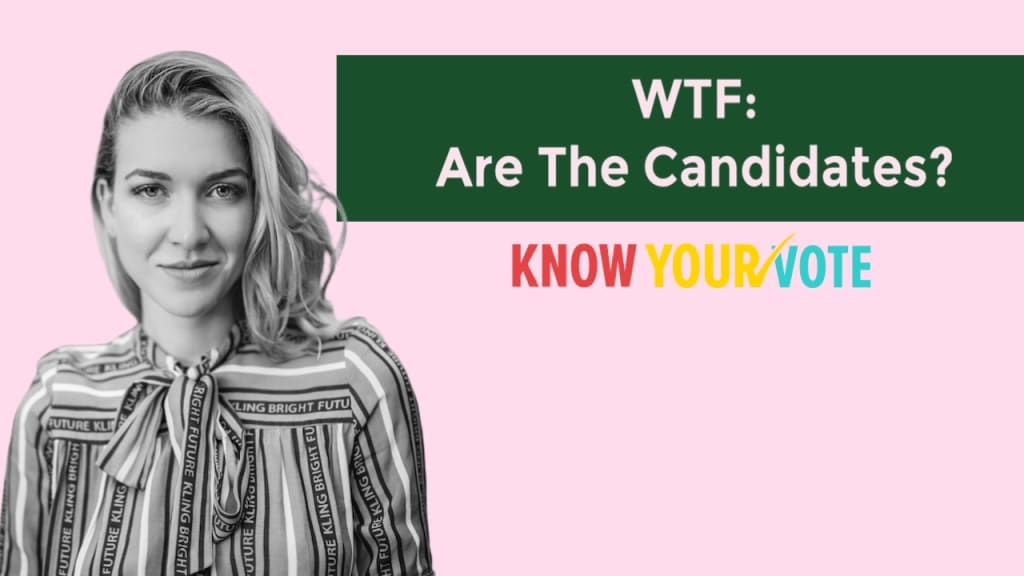 Election season can be really confusing. I wanted to learn who some of the top candidates are so we can all be better informed when placing our votes. So, I partnered up with Know Your Vote for an extra special episode of my IGTV Series, "Who The F*** Are The Candidates". Know Your Vote is a platform that aggregates publicly available candidate data, so you don't have to go looking for it. They helped me put together this tip sheet of --simple, non partisan facts about some of the top candidates and some of their top policies. I compiled their notes into this easy to read tip sheet , but I recommend you go check out their website for more information and to see where each candidate stands on the issues that are most important to you.
Democratic Candidates:
Bernie Sanders
Bernie is a Senator from Vermont and has held this office for 13 years.
He is generally regarded as the "furthest left" of the Democratic candidates (insert liberal-conservative scale). He is a proponent of Democ loits and disadvantages individuals. Bernie wants to drive towards a more "fair" society for everyone. His platform emphasizes social issues, Medicare for All, and it includes substantial increases in corporate and individual taxes to pay for related programs.
Issues:
Healthcare: Medicare for All is Bernie's flagship platform. Under his plan, private healthcare insurance would cease to exist, and there would be only a public option, which would be available to everyone. (insert as text: Medicare for All is a single-payer, national health insurance program to provide everyone in America with free, comprehensive health care coverage.) Medicare coverage will be expanded and improved to include: dental, hearing, vision, and home- and community-based long-term care, in-patient and out-patient services, mental health and substance abuse treatment, reproductive and maternity care, prescription drugs, and more.
Environment: Bernie is an adamant advocate of protecting the environment. Specifically, Bernie wants to implement the Green New Deal, which would enable America to reach 100% renewable energy for electricity and transportation by no later than 2030. Bernie wants to declare the climate crisis a national emergency and plans to end unemployment by creating 20 million jobs to solve the climate crisis. These jobs will be union jobs with strong benefits and safety standards.
Education: He believes we should cancel all student debt and make college free for everyone, programs he would fund by increasing corporate and individual taxes.
Foreign Policy: Lastly, Bernie wants to "end endless wars." He has consistently voted against U.S. military intervention abroad and wants to end U.S. support for the Saudi-led intervention in Yemen.
Elizabeth Warren
Warren is a senator from Massachusetts. She has held this office for the past 7 years. She is generally regarded as one of the more "progressive" 2020 candidates (insert liberal-conservative scale).
Warren's platform emphasizes social issues, comprehensive immigration reform, healthcare, and online privacy.
Issues:
Civil Rights: Warren is a huge advocate of human rights and equality. She has made racial, gender, and sexual orientation equality a key tenet of her campaign. She advocates for Universal Child Care to help combat systemic discrimination against women of color. She supports passing the Equality Act to guarantee that the LGTBQ population is not discriminated against, and plans to take executive action to combat workplace discrimination and ban conversion therapy.
Immigration: Warren advocates for comprehensive Immigration reform. She wants to expand legal immigration, raise the refugee cap, decriminalize migration, and remake CBP and ICE.
Healthcare: Like Bernie, Warren also believes in Medicare for All which she would pay for in-part with an Ultra-Millionaire Tax. This tax would tax the wealth of households with a net worth of $50 million or more—the top 0.1% of U.S. households. These households would pay an annual 2% tax on every dollar of net worth above $50 million and a 6% tax on every dollar of net worth above $1 billion. She estimates this tax will bring in $3.75 trillion in revenue over a ten-year period.
"Big Tech": Of all the candidates, Warren has come out the strongest against Big Tech companies like Facebook, which she says are not doing enough to protect user privacy. She also believes large tech platforms that offer a public marketplace, such as Facebook and Amazon, should be designated as platform utilities, in order to encourage entrepreneurs and small businesses to compete against the existing giants.
Pete Buttigieg
Pete is the Mayor of South Bend, IN
Pete is generally regarded as one of the "Moderate" candidates in the 2020 election. His policies are socially liberal, but generally do not go as far to the left as those of Bernie or Warren.
Issues:
Healthcare: His stance on healthcare is a big differentiator between him and the more progressive candidates. Buttigieg proposes a healthcare plan called Medicare for All Who Want It. This plan guarantees universal coverage, but also maintains the existing system of private insurance companies. His plan caps premiums and out-of-pocket costs, and emphasizes mental health care and substance abuse programs. His plan decriminalizes mental illness and addiction through diversion, treatment, and re-entry programs. His plan also emphasizes women's health and safeguards the constitutional right to abortion.
Immigration: Create a path to citizenship for the approximately 11 million undocumented people living in the United States who call this country home.
Business: Buttigieg plans to invest in entrepreneurship, while also supporting workers' rights. He plans to enable under-represented communities and students to become entrepreneurs, as well as create a Mandatory National Service program, which will spur the creation of millions of jobs. At the same time, Buttieieg believes in protecting the American worker: He wants to ensure 12 weeks of paid family leave, support unions, and raise the federal minimum wage to $15/hr. He also wants to create a Mandatory National Service program, which will spur the creation of millions of jobs.
Amy Klobuchar
Amy Klobuchar is a senator from Minnesota. She has held this office for 13 years.
She is considered one of the "moderate" candidates in the race (insert liberal-conservative scale). Her policies are socially liberal, but do not go as far to the left as those of Warren or Sanders. She does not support Medicare for All, but rather proposes improving and expanding upon the Affordable Care Act (aka Obamacare).
Issues:
Healthcare: Klobuchar does not support Medicare for All and instead wants to improve the Affordable Care Act (insert text Obamacare), bringing down the cost of healthcare for everyone by putting a non-profit public option in place. This would allow people to buy into affordable health insurance coverage through Medicare or Medicaid. She wants to help drive down costs by expanding premium subsidies and providing cost sharing reductions to lower out of pocket costs. Her plan addresses mental health and substance abuse issues, emphasizing prevention and early intervention and increasing coverage for these issues. To pay for her plan, Amy will hold opioid manufacturers responsible for their role in the opioid crisis.
Infrastructure: Klobuchar advocates for improved infrastructure, including repairs to roads, highways, and bridges, providing protection against flooding, expanding public transit, rebuilding schools, and ensuring access to clean water, among others. To do this, she plans to boost federal infrastructure spending, issue more bonds, and implement corporate tax reform.
Business: She plans to protect the American worker by supporting labor unions and protecting the right to organize and collectively bargain. She plans to raise the minimum wage to $15/hr and guarantee up to 12 weeks of paid family leave. Her plan for early childcare is comprehensive: she wants to create a new federal-state partnership to cap the cost of childcare, ensure preschool for low-to-median income families, and incentivize employers to adopt child care and paid family leave policies.
Michael Bloomberg:
Mike Bloomberg is a businessman and former mayor of New York City. He is running as a moderate.
He declared his candidacy at the end of 2019, which is why you may not have seen much of him throughout the earlier debate season. He is personally financing his campaign, which has helped him rise quickly in the polls since the start of this year.
Issues:
Gun Control: One of the biggest issues he is running is gun control. He wants to push stronger background checks, to hold the gun industry accountable and tackle gun violence.
Climate Change: He wants to make climate change a top priority for US foreign policy, stop the expansion of coal and invest in clean energy
Healthcare: He wants to build on the ACA. The first step is to create a Medicare-like public option — health insurance that would be administered by the federal government but paid for by customer premiums. Tackling the opiod epidemic is also a major part of his healthcare policy.
And on the Republican side we have Donald Trump:
Donald Trump is the Republican incumbent (insert definition). He just started his fourth year as President of the United States. Donald Trump is running primarily on the successes of his first few years in office, which most notably include a strong economy. His platform emphasizes job creation, tax cuts, strong national defense, and conservative social values, such as protecting the right to life.
Issues:
Taxes: Trump's administration passed tax cuts for families. This was the first major tax cut in 30 years. This legislation also cut taxes for and small businesses. The Trump Administration emphasizes job creation. In the past few years, the U.S. economy has expanded and the unemployment rate has fallen to its lowest point in 50 years.
Foreign Policy/China: Trump emphasizes cracking down on China for "trade cheating." The Trump Administration has placed 25 percent tariffs on approximately $250 billion worth of products that are supported by China's trade policies.
Foreign Policy/Iran: Trump plans to confront Iran's aggression in the Middle East. The Trump Administration plans to focus on neutralizing the Government of Iran's destabilizing influence and He wants to focus on constraining Iran's aggression, particularly its su pport for terrorism and militants. The Trump administration has instituted an array of sanctions against Iran for its destabilizing activities and actions.
Abortion: Trump is a strong opponent of abortion. He plans to protect the sanctity of life at all stages. President Trump worked with Congress to sign a bill overturning an Obama regulation which prohibited States from defunding abortion service providers. Trump does not believe taxpayer dollars should support abortion coverage, and he signed a Congressional Review Act bill to allow states to restrict Planned Parenthood Funding.
This was adapted from my #WTF Video Series on IGTV.