2020: An Election with history made
2020, an election with 2 impeachment trials and a stunning defeat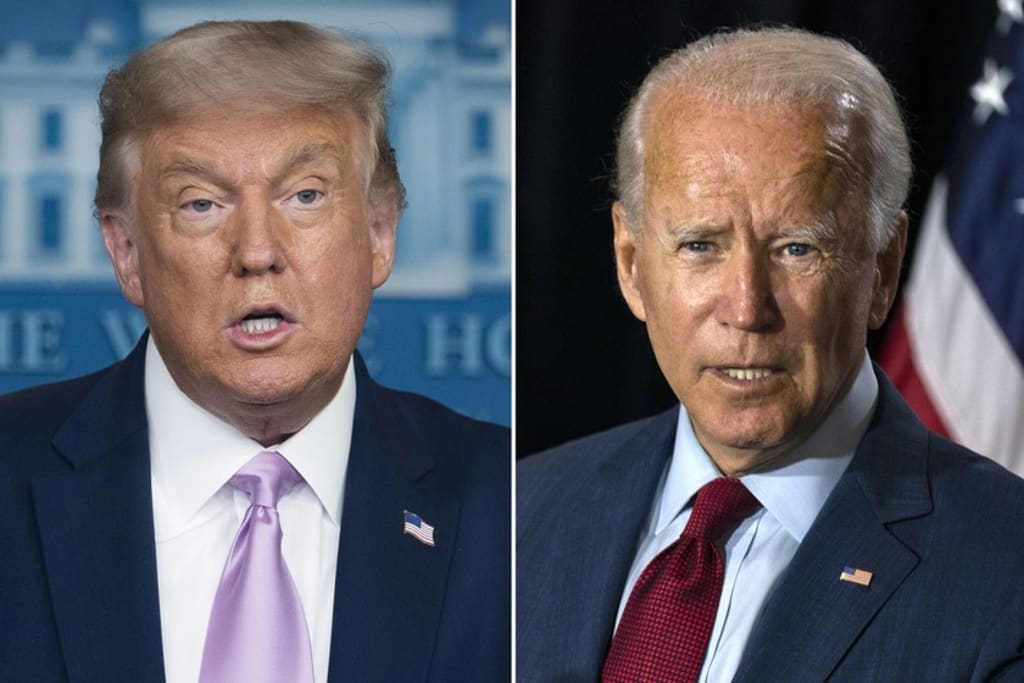 The 2020 election started in 2019 with the democrats holding primaries to determine which candidate would go up against President Donald Trump. Among the candidates were senators Kamala Harris, Bernie Sanders and Elizabeth Warren. To Donald Trump, Joe Biden, another candidate running seemed to be "the biggest threat" to his campaign and re-election bid. The primaries were still going on, and there was still a chance Trump might go up against a different candidate in the general election instead. On July 25 2019, Trump called the president of Ukraine the call started as a typical phone call between 2 world leaders but quickly made a drastic change from that. Earlier that year in Ukraine, Volodymyr Zelensky defeated the incumbent to become president of Ukraine. Trump started the phone call congratulating him on that, nothing wrong with that now right? Well you'd be right if you said there isn't anything wrong with saying that, but minutes later the phone call quickly made a turn with a single line from Trump: "I would like you to do us a favor though", what Trump said next according to a rough transcript released from the white house vividly described what would be an impeachable offense. In Trump's mind Joe Biden would be his likely opponent in the 2020 general election, and "biggest threat". So, Trump decided to ask Ukraine for dirt on his son Hunter Biden and according to the democratic controlled house along with white house officials, threatened to hold military aid until he got what he wanted.
Trump had this theory about Joe Biden that had to do with his son Hunter. Back in 2014, Hunter took a cushy job at a gas company in Ukraine. It turned out that the british were investigating the owner of that same company, for money laundering and they asked Ukraine's top prosecutor to pursue the case. Because investigating such was his job but the prosecutor ignored it and the owner was never prosecuted. This wasnt the first time the prosecutor ignored investigating a case, and the people of Ukraine by this point were fed up with it. Basically a lot of people wanted this prosecutor to go, including the Obama administration who sent vice president Biden to deal with it. But in the call with Ukraine, Trump hinted that the prosecutor was fired for a different reason and suggested that Joe Biden might have been behind his dismissal.
So what is the favor Trump is asking for? According to the transcript, it appears Trump was asking the Ukraine president for proof that Joe Biden pushed to have the prosecutor fired to protect hunter. Which in more ways than one doesn't make sense, because the prosecutor was fired for not investigating the owner of that gas company at all. But if Trump could make it look like Biden was doing something shady, it could help his re-election bid.
Several staffers wrote down what Trump was saying, that's normal. What isn't normal is instead of placing the call in an archive where more of the government could see it, they placed it in a classified computer system even though there was no reason for that. Multiple white house staff members were worried Trump had crossed the line, and they told a CIA officer who wrote to congress. This triggered an Impeachment Inquiry.
What is so different about this, is that Trump was intentionally asking a foreign leader directly to investigate his political opponent and influence the 2020 election in an effort to hold on to power. Then his staff tried to cover it up. On September 24 2019, speaker of the house Nancy Pelosi announced a formal Impeachment Inquiry into president Trump. In October 2019, three congressional committees deposed witnesses that testified that Trump wanted the Ukraine president to publicly announce an investigation in the Bidens. On December 10 2019, The House of Representatives announced 2 articles of impeachment Abuse Of Power & Obstruction Of Congress. Later that month, the house passed both articles.
Abuse of Power: 230 - 197
Obstruction of Congress: 229 - 198
The articles of Impeachment went straight to the United States Senate and on January 16 2020, the trial began. Chief Justice Roberts presided as required by the constitution, 7 were appointed by the house for the prosecution, among them Adam Schiff who led the case. Trump put together his own personal defense team prior to the trial, among them Pat Cipollone the white house counsel. Each side had 3 days to argue their case, to a senate made up of 47 democrats and 53 republicans. The house managers went first to present their case, but can 7 house democrats convince a republican controlled senate to find a republican president of the United States guilty? During their case, the house did their best to explain the Ukraine phone call, and made several references to a Quid-Quo-Pro. On the 3rd and final day they had for arguments they discussed how Trump's defense might respond and asked the senate to call witnesses.
Next Trump's defense team had 3 days to present their case, according to The Washington Post the defense team had prepared a case that they hoped would both sway the senate and undercut Trump's political opponent. They began there arguments with statements that there is a direct lack of evidence, wrongdoing and that the democrats were attempting to use impeachment to steal the 2020 election. The 3rd and final day of their arguments included Pat Philbin who argued that no one could get into the president's mind and decide what is or is not an "illicit motive".
Next came Q&A time, over a period of 2 days all 100 senators could ask either side questions, the side the question was for would have 5 minutes to answer and if the question was for both sides, they were to split the 5 minutes equally. The first day of the Q&A session focused primarily on procedural and evidentiary topics as well as questions Chief Justice Roberts would decline to allow such as the identity of the whistleblower. During the trial, the republican controlled senate voted to not allow witnesses in a 49-51 vote. Only 2 republicans voted for witnesses, 1 out of Utah the other out of Maine. Last came the vote on the impeachment articles, but did the house managers do enough to persuade enough senators to vote to convict? All 47 democrats voted to convict on both articles, only 1 republican Mitt Romney voted to convict.
Abuse of Power: 48 (guilty) 52 (not guilty)
Obstruction of Congress: 47 (guilty) 53 (not guilty)
Trump's acquittal meant that he was free to go through the rest of his term in office, and campaign for his re-election bid in the general election. For the democrats, this meant somebody who had the best chance of beating him needed to win the democratic nomination. Joe Biden, Bernie Sanders, Elizabeth Warren, Michael Bloomberg, Pete Buttigeg, and Amy Klobuchar were all in the top 6 in the primaries. On March 1 2020, Pete Butigeg dropped out, a day later Amy Klobuchar dropped out and they both endorsed Joe Biden at a rally in Texas. By March 6 2020, Joe Biden and Bernie Sanders are the only 2 candidates in the primaries, and by March 13 2020 the covid19 pandemic that had started earlier in the year consumed enough that the country shuts down. A debate that was scheduled to happen in Arizona, is moved to CNN's headquarters and is broadcasted with no audience present. On April 8 2020, Bernie Sanders drops out clearing the way for Biden to take on Trump in the general election.
On August 11 2020, Joe Biden announced that Kamala Harris will be his running mate in the general election. On August 17 2020, the democratic convention begins with Biden endorsements from Barack Obama and Michelle Obama, and ends with Biden accepting the nomination and attacks Trump for basically ignoring the pandemic. A week later there was the republican convention, it was held on the white house lawn. The primary difference between the 2 conventions was the republicans held theres with an audience, while the democrats did not out of an abundance of caution due to the pandemic. The first debate of the 2020 general election was held in Cleveland Ohio with moderator Chris Wallace. The debate consisted of Trump constantly either interrupting or talking over Biden, nearly refusing to ever allow him to speak. This caused the election committee to make a last minute change to the debate format afterwards, with the installation of a mute button that the sound crew would work to prevent such things from happening in the remaining debates.
Throughout the 2020 election, president Trump continued to ignore most if not all of the pandemic. Never taking it seriously according to some reports, during the 1st and 3rd debates everybody on Trump's side of the audience would be without face masks while everybody on Biden's would be wearing one. According to 1 report, at events Trump did he would intentionally have everybody in the audience in view of the cameras wearing face masks while everybody else would be without to make it appear he was taking it seriously. According to a study done by Stanford, 30,000 covid cases and 700 deaths have been tied directly to Trump rallies. On October 2 2020, Donald Trump himself even tested positive for the virus.
Trump's positive test raised the question in the eyes of the public of how many people throughout the country he may of infected and whether the remaining 2 debates with him and Biden should be cancelled. It was eventually decided to do the town hall and 3rd debates as planned, but Biden, Trump and the election committee could not come to an agreement on the town hall format immediately. The election committee wanted to do the town hall virtually with no audience present, but Trump refused to do the debate unless it is in person and Biden refused to do it in person due to Trump testing positive for covid some time prior. So Biden and Trump both did in person town hall debates individually at the same time but different locations. Trump's town hall debate was broadcasted on NBC, MSNBC, and CNBC while Biden was on just ABC. Despite being on multiple different channels Trump only drew 13 million viewers, Biden drew 13.9 million. If you think people were just straight up getting tired of Trump, these ratings certainly support that theory. A poll done during the election even revealed that most Americans preferred Biden over Trump.
On November 3rd 2020, it was finally election day but can a former vice president make history by defeating an incumbent president? Nobody has been able to do that since HW Bush took office. By the end of the night, the race was never called for either candidate many states including Wisconsin, Pennsylvania, North Carolina, Georgia, Arizona and Nevada considered the race "too close to call" due the large number of mail-in ballots. 4 days later, all 50 states have the results in. Joe Biden, did what no candidate since HW Bush had managed to do and defeat a sitting president.
Official 2020 election results:
Joe Biden: 306
Donald Trump: 232
The election loss infuriated Trump. Just hours after the election was called for Biden, Trump started a number of court cases in states he lost claiming "election fraud" happened. All his court cases were either dropped or dismissed due to a lack of evidence to support his claims. On Jan 2nd 2021, Trump even called Georgia and asked them directly to "find" 11,780 votes, the exact number he lost the state by plus 1. On January 6 2021, it was time for congress to certify Biden's win. Both houses of congress met in joint session to count and certify the electoral votes, meanwhile outside Trump according to some reports was egging his supporters on to raid the capital building. Trump's supporters walked to the capital, fought the security, and raided the building. Both houses of congress were in separate meetings due to an objection over the Arizona count at the time. When the protesters breached the building, the senate went to recess over safety concerns, the house continued on a while longer but eventually does the same. It took all day but eventually the national guard along with capital police are able to clear the building out of the intruders, the election results just hours later are fully certified.
The following day, Nancy Pelosi tells Mike Pence to either invoke the 25th amendment and remove Trump from office over the incitement or the house will impeach him for a 2nd time. On Jan 12, Pence responds by saying that he will not do it and a single article of impeachment is introduced the following day. The article of impeachment was created and voted on almost immediately by the house, due to the senate being at recess the article of impeachment would not be delivered for a number of days.
Incitement of Insurrection House Impeachment vote: 232- 197
Due to the senate at recess it isn't until Jan 25 2021 that the senate receives the impeachment article. Trump's term in office expired 5 days prior, raising the debate on whether or not an impeachment trial would even be constitutional. The senate voted that it is in a 56-44 vote, triggering a trial. But in the eyes of the senate Chief Justice Roberts does not even need to preside over the trial this time, because the constitution states that he has to for a "sitting president", Trump is no longer in office. Which raises the question to them, who should preside over the trial? Patrick Leahy, the senate pro-tempore was chosen to preside. This time the senate was at a 50-50 split, but plenty of republicans still needed to be persuaded to convict. 11 members of the house were selected for the prosecution, among them was Jamie Raskin who lead the case. Trump's defense team from the first impeachment trial all declined to represent him this time around, and Rudy Guliani Trump's personal lawyer could not do it either because he could be a potential witness in the case. So 4 completely different people were chosen to represent him.
For their case, the house managers knew everybody in the senate lived through what happened on Jan 6, but walked them all through what happened regardless. Showing security footage, and digital recordings of the incitement that day. Unlike the last trial, witnesses were allowed this time around, but with the senate at a 50-50 split each side not only had to be allowed witnesses but the same amount, if 1 side is allowed one witness the other needs to be too. Witnesses were not allowed to be there to testify in person, instead each side was allowed to read a single statement from a single witness. On February 13 2021, a very short Q&A session began with a senate vote the same day immediately after. 67 votes would be needed to convict, with the senate at a 50-50 split could the house managers persuade 17 republicans to vote? In the end not enough republicans voted to convict Trump, but enough voted to make history. 6 republicans voted guilty.
Incitement Of Insurrection: 56 (guilty) 44 (not guilty)