15 Minutes
Using my big mouth for the good of all.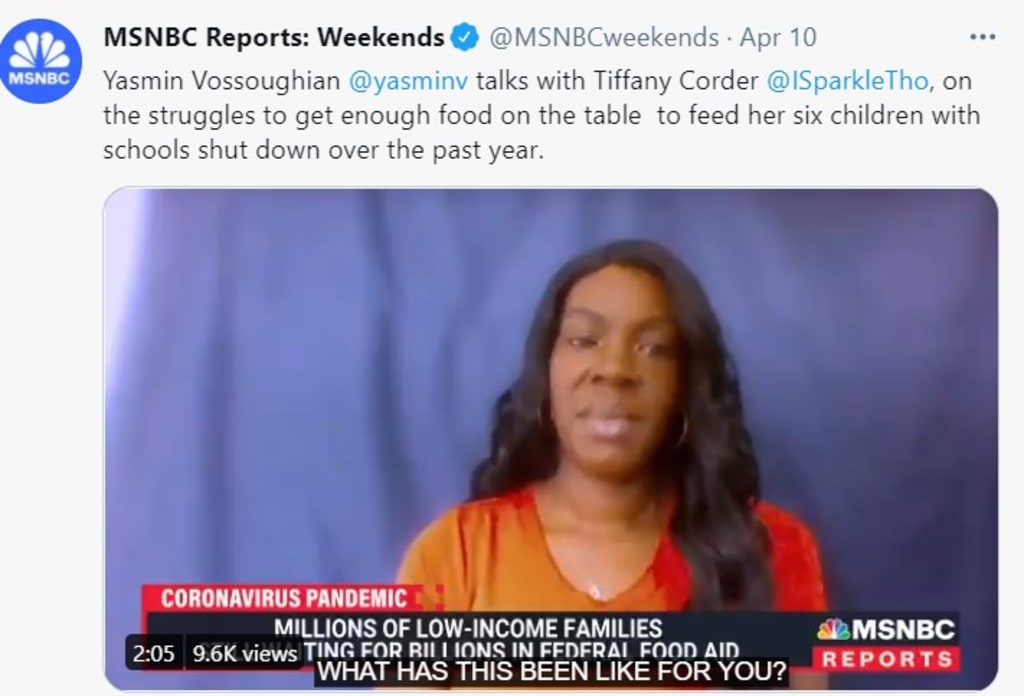 Video credit: MSNBC Weekends, Yasmin Vossoughian
It all started with a tweet...or several.
I have always had lots of things to say, even when I didn't have the right words or delivery. My mom saying "That may be true, Tiffany, but you can't just say it like that. The tact you need will come with age," still plays in my head as loudly as your favorite song on the radio. I have developed that tact, but it didn't quiet my voice.
The COVID-19 pandemic has brought the best and the worst out of everyone, from our neighbors to our doctors to our family members, on up to our politicians. In times of crisis, the logical, the loving, the right response is to come together and provide support, of whatever kind, to the ease the suffering and help make the grief a little more manageable. As a nation, we lost so much; not financially, but personally. Families lost patriarchs, matriarchs, their soulmates...their children. People lost their businesses and homes. Our kids lost an entire school year. We lost many of the freedoms we took for granted. In our great country, food shortages are a tragic byproduct of the pursuit of prosperity. Hungry children are the dirty norm. When coronavirus brought the world to a screeching halt, too many of us lost the ability to keep food on our tables.
Our government's response to the food crisis caused by the viral outbreak was the Pandemic EBT program, a food stamp benefit program (separate from traditional Supplemental Nutritional Assistance Program-SNAP benefits) that would designate a certain amount of money for school-age children in every state across this country, commensurate with the cost of feeding the children breakfast and lunch at school every day. The program was announced here in Tennessee along with the first stimulus package. It took a very long time for the cards to come in the mail. There was confusion with the school districts state-wide about distribution and more. It was a cluster-fiasco to put it mildly. Schools stayed closed and my children grew, exponentially, over the next 6 months.
In March, I started tweeting the Tennessee Department of Human Services and the governor about the missing benefits. The USDA posts the applications for each state on their website, so I could see that our state had been approved for months of benefits. I could also see that Governor Bill Lee did not consider the state's rising child hunger statistics a priority. Parents were: mislead with promises of benefit issuance in the near future, offered deflections of blame and many times, flat-out ignored. The aforementioned "near future" took almost 8 months. It made me angry; not just for my family but for other families that might be worse off than my own. Loved ones warned me against being so direct in voicing my concerns, but I live in the space between 'I wish a moth*****ker would' and 'I'm trying to get to Heaven'. The Tennessee Justice Center (Love Them!!) tweeted out regular updates, also being very vocal about the delays in getting Tennessee's kids what they needed and one of those threads lead me to my 15 minutes.
A few weeks ago, a nice journalist from Politico, Helena Bottemiller Evich reached out to ask if I would be willing to tell her about my experience with the program, contributing to her piece on the lack of movement on an issue as important as feeding our children. I agreed and in our correspondence I discovered that a large number of states have not even applied for the federally granted Pandemic EBT benefits designated to feed their school-aged child residents. Helena crafted a moving, informative and biting piece with the right blend of harsh facts and humanity. She shined a light on the thing that moves people, regardless of socioeconomic status; hunger.
Only days after the article was published, I was contacted by MSNBC about appearing on a weekend segment to discuss the article. I didn't tell anyone because people will fling poo at your parade and I'm not having that. It's been over 20 years since I did a tv spot and I was nervous. The producers were direct and polite. Yasmin is a very classy lady. She asked elaborative questions and was factually to the point. It was by far the coolest thing I've done in years (I'm ready for my show!). The response on Twitter wasn't enormous, but it was interesting. I was both lauded and insulted for being transparent. Because my livelihood is in no way related to what people think of me, I was unaffected by the hate but understand why Chrissy Teigen quit the platform. In my 15 minutes, I felt real empathy for celebrities. Twitter is a hard place to be if you lack a thick skin. In my 15 minutes, I used the mouth that so often gets me into trouble to bring some awareness to something that our state-level lawmakers seem to want to sweep under the rug . In my 15 minutes, I was reminded that to the outside world, being a mom of six and managing this life seems superhuman. Maybe it is. In my 15 minutes, my belief that, making enough of the right noise will reach the ears of the right people, was affirmed.
*Please note: At the time of the Politico article publication, P-EBT cards in Tennessee were arriving in mailboxes across the state. Check your state's P-EBT program. If the kids have yet to receive their benefits, start making noise!*
Thank you Universe for providing the platform and words to tell this story.
Thank you for spending the last few minutes with me.
social media
About the author
There's just so much swirling around in here.
Nearing official middle age, I am respectful of the lessons I have learned and confident that someone can learn something from every one of my stories.
No nonsense personal truth in every word.
Reader insights
Be the first to share your insights about this piece.
Add your insights