You Can Get Up To $2,606.64 Free With a Popular YouTube Channel and LBRY
LBC coin by LBRY: Content Freedom allows YouTube channels to sync, and get free cryptocurrency worth up to $2,606.64, and I've done it!

LBRY allows you to sync your channel, and airdrop coins based on your sub count!
(Step-By-Step guide below. If you don't want to read the story, it's not a scam I was 100 percent paid, and the cash hit my Bank account... it took 15 minutes)
My Story, and How I Discovered This Lifesaver
Recently, my YouTube channel, Vidello Productions, was the victim of demonetization, and removal from the YouTube Partner Program.
As you can probably imagine, after eight years of work, and countless hours of sitting creating content, this was heartbreaking.
I began to search twitter for other victims, and soon found many people also victims of the same "reused content" policy.
This, however, was not the only reason many are losing income on the platform, as many have also been hit with both "repetitive content," and "misleading content" policies resulting in demonetization of their channels.
In searching for updates from YouTube, I came across a post by a company called LBRY, and how they were inviting demonetized YouTube creators to link their channels to a new project on the blockchain.
Where I Found The Tweet

The tweet came directly from the LBRY twitter account, and asks you to download their desktop app.
Once downloaded, you can carry out a variety of activities, such as uploading videos, syncing your YouTube channel, and collecting a bunch of free rewards, paid in their cryptocurrency, LBC.
So, How Much Is This Worth?

As you can see from the picture above, LBC is actually worth quite a decent amount, and at the time of writing, it's still going up, rising on the price of a Bitcoin Bull market.
While I write this, you can get approximately $3.38 per 100 LBC, and $33.84 per 1000 LBC.
Considering LBRY are offering up to 75,000 LBC for the most popular channels, that's close to $2539 (£1,958) for channels with one million subscribers, simply for syncing your channel.
Earnings Per Level

As you can see from the image above, the almost instant airdrop you can claim is quite substantial, I had 85,000 subscribers, and claimed 12,500 LBC, which hit my LBRY account almost instantly.
I was then able to move the coins, directly from my LBRY account over to the best exchange for LBC, Poloniex, and convert them into Bitcoin.
From there I moved the Bitcoin over to my Coinbase account, and from there to PayPal, and then onto my Bank in the United Kingdom.
I literally used it to buy my groceries yesterday!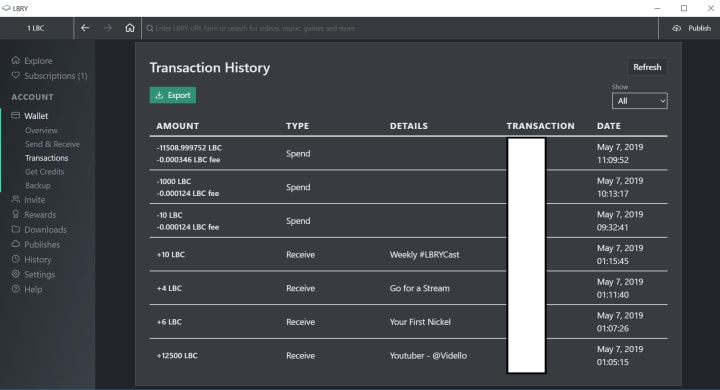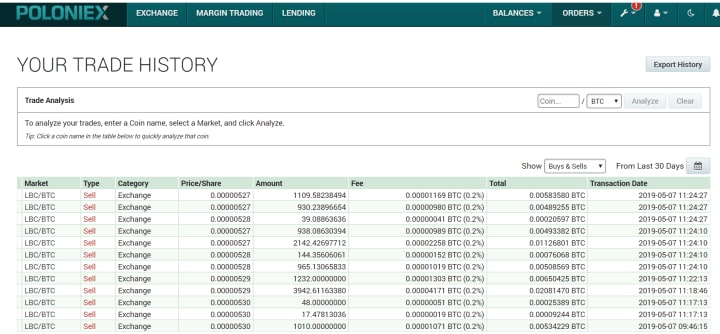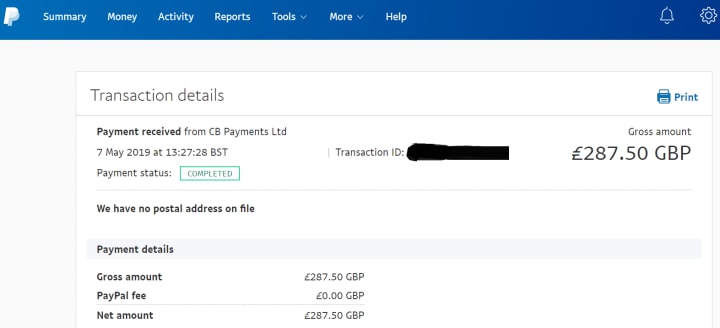 Step-By-Step Guide (11 Steps)
1. Click here to download the LBRY Desktop app, or get the Mobile application.
2. Sync your YouTube account via the menu on the left under rewards.
3. Once you have synced, wait for the LBC to arrive in your account.
4. Once it's in, register an account on Poloniex HERE.
5. Send your LBC over to Poloniex by clicking Wallet > Send and receive, and input the correct details.
6. Once the coins arrive in your Poloniex Account, convert them ALL to Bitcoin (BTC).
7. Setup an account on Coinbase HERE (its the most trusted).
8. Now you have the converted Bitcoin, and are verified on Poloniex, send your bitcoin over to Coinbase.
9. Once your Bitcoin arrives in Coinbase, you will need to convert it into your preferred FIAT currency ($ or £).
10. Send your payment to either your linked bank account, OR a Paypal account.
11. Subscribe to me on YouTube HERE as a thank you!
bitcoin
About the author
My name is William Jackson, I am a YouTube content creator and cryptocurrency enthusiast with over 127,000 Subscribers and I make videos that are focused on the lifestyles of Billionaires.
My content consists of top 10's / list videos
Reader insights
Be the first to share your insights about this piece.
Add your insights