XRP Crypto Currency and my views on it !
XRP Crypto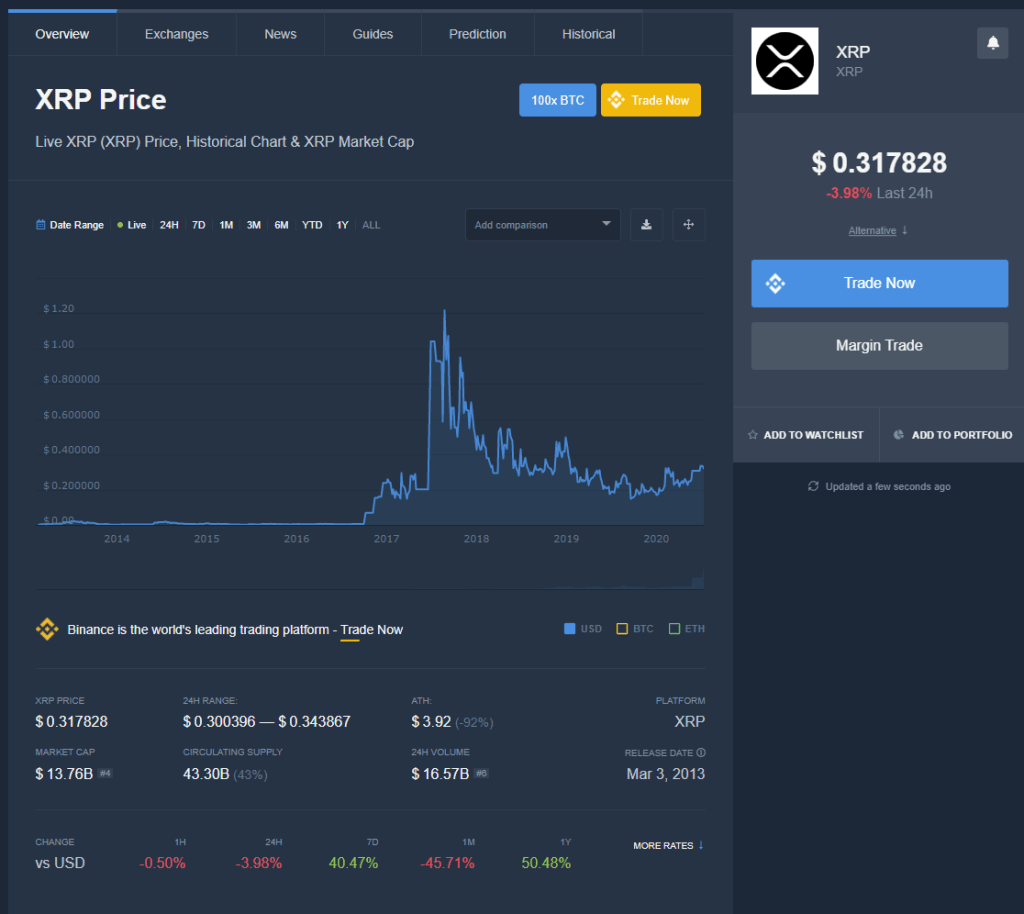 XRP
Hi there everyone,
This is my first story post so please be gentle.
I started with Crypto Currency in Jan 2020 and one of my first coins was XRP and at that time the price was just nice to buy and hold.
Do you hold any XRP? If yes then good.
From what the predictions are said to be it has the potential to reach from $1 to what some people say $588 when at the moment is only $0.30.
I managed to buy it when it was $0.14-$0.20
After I bought it it was quiet for some time until November when it exploded to nearly 1$
Recently XRP had some bad publicity because the Chairman from SEC had few more days on his mandate and he decided to make some noise and wrongfully accused XRP Coin of being a security.
Some 8 years ago FinTech Compliance inspected and declared XRP, not a security and SEC Chairman decided that now it is because he wanted to leave a mess behind him.
XRP CEO did say that he wants to stay a US Company but in case that the SEC doesn't want them around they have open doors to move to ASIA OR EUROPE.
That was in December 2020, since then XRP CEO came out and told everyone to wait for their reply, at the moment they have been silenced with what they can or can't say because they have an active lawsuit with the SEC.
Me personally I think this is all a tactic for the big companies and rich people to be able to buy XRP at a lower price than when all this is out of the way they will have a nice gain. I believe XRP has the potential to reach at least $5 after the lawsuit finishes and XRP comes in as winners because I don't see any other outcome. What do you think?
Additionally, some crypto exchanges have delisted the asset while others have halted, suspended, or disabled trading for XRP.
Crypto exchanges Bitstamp, Abra, and eToro along with crypto market maker B2C2 have suspended trading for XRP in the US only. Meanwhile, crypto exchange Stex has also disabled trading for XRP in the US only.
XRP investors file legal action against SEC
Crypto Briefing notes that a group of XRP holders are filing a petition for a writ against the SEC's acting chairman, Elad Roisman.
The petition alleges that the SEC harmed investors by declaring the token a security in its legal action against Ripple.
The world's fourth-largest cryptocurrency has found strong support in Japan where cryptocurrency exchanges have refused to delist XRP.
Finance Magnates reports that the lawsuit will have no impact on the status of XRP in Japan because the cryptocurrency does not fall under the category of security in the Asian country.
What Is The Role Of XRP?
Current cross-border transactions occur between technology systems that are siloed and are not connected to each other.
Ripple uses the Interledger protocol, which enables routing of payments through interconnected ledgers, to connect these systems.
Think of it as being similar to TCP/IP, the protocol that underpins Internet systems and enables disparate computers and systems to talk to each other. The ledgers that constitute this protocol can be a part of the financial institution's own network or they can be trusted nodes in a network that spans multiple entities. The overall system's technology is designed to increase transaction processing speed for cross-border transactions.
Ripple's products use XRP to ensure quick liquidity. xRapid, another Ripple product, uses XRP as a "bridge asset" or an asset that businesses and financial institutions can use as a bridge transfer between two different fiat currencies. In such a scenario, the financial institution can simply purchase an equivalent amount of XRP and send it through Ripple's network. Ripple refers to it as "Third-Party Liquidity Provisioning" and states that it is ideal for banks that do not have a correspondent relationship with each other.
What do you think about XRP?
This was me for now .. a short story regarding XRP!