Why Is Bitcoin Billionaire Such a Popular Game?
Bitcoin Billionaire has seen a meteoric rise in popularity over the past year, but what makes it such a polarizing game?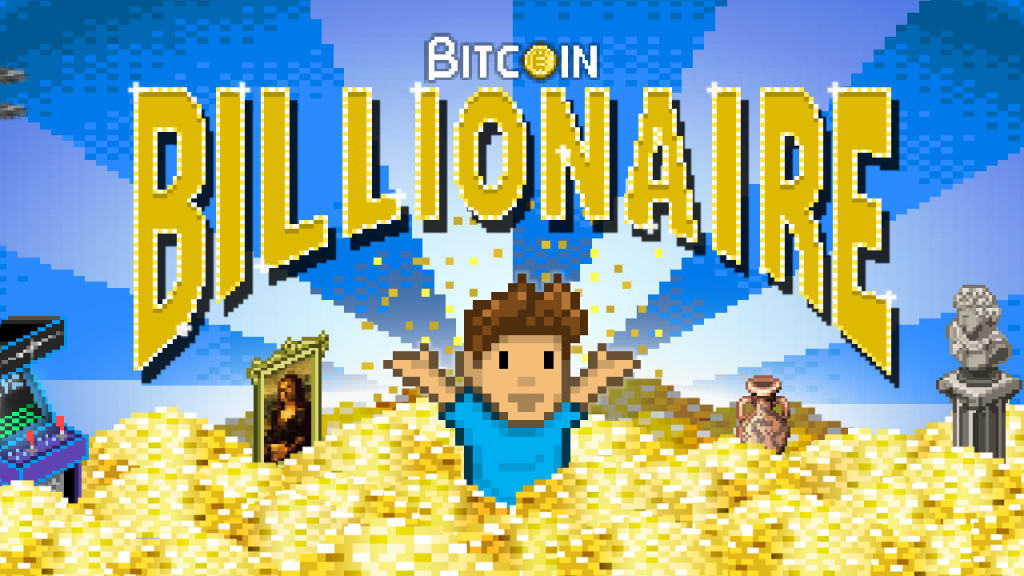 Despite waning in popularity over the last calendar year, the cryptocurrency craze is still hanging on by a thread—thanks largely in part to Bitcoin, the marquee cryptocurrency within the space.
Although Bitcoin isn't considered the cash cow it once was, it still has some major staying power—at least for those bullish on the cryptocurrency industry as a whole. While there are certainly Bitcoin alternatives for miners, it still remains the most popular (and most expensive) form of cryptocurrency out there.
One thing that has flexed its staying power within the industry is Bitcoin Billionaire—a free to play game available on iOS and Android. What is Bitcoin Billionaire exactly though, and how does it work? Well that's what I'm here for folks! After tinkering with the game for a bit, I wanted to express some of my thoughts—and what better way to do so then on Vocal?
Trick question alert—there is no better way!
So we'll start with the rudimentary question that everyone reading this clearly has on their mind—what the hell is Bitcoin Billionaire? The game, created by the relatively unknown NoodleCake Studios, lets users simulate the ins and outs of Bitcoin mining. If you're unfamiliar with mining, it's the process in which people (known as "miners") acquire the currency through a special software used to solve math problems. In short, once these problems are solved, miners are awarded Bitcoin for their troubles.
Anyway, back to the game. Once you start it up after downloading, a warning comes up on the screen:
NOTE: This is a game. The Bitcoins you mine here aren't real. But that intoxicating sense of euphoria when you make your first billion?Very real. ENJOY!
My first reaction to this message: no freaking duh. Of course it's not real. Clearly there are those out there that think Bitcoin mining can be done through the use of a phone game though, so I guess this disclaimer is necessary.
In Bitcoin Billionaire, you assume the role of a young millennial entrepreneur-turned Bitcoin miner whose ultimate goal is to become—you guessed it—a billionaire. Bitcoin Billionaire is an idle clicker game, so basically, you're just tapping the screen over and over again to mine Bitcoin. Mining basically sounds just as boring as in real life, but it's surprisingly super addicting.
Why is it so addicting?
If you were literally just tapping the screen over and over again, and that was the extent of the game, I wouldn't be writing this review. NoodleCake studios does a great job of keeping you engaged though, and the game is highly addicting once you start, especially once you start raking in Bitcoins.
For starters, your own personal growth, en route to a massive fortune, is what really makes it hard to put this game down.
Along the journey, there are a couple of outside factors that affect your quest for riches, such as Bitcoin's price rising, getting robbed, or even the Bitcoin enthusiasts nightmare—getting hacked.
So anyway, you're basically some dude at a rickety desk, working out of run down office. Once you start tapping that screen though, you can mine virtual Bitcoins and slowly increase your wealth. The "climb," so to speak, is what makes this game so enticing. Just like in real life, chasing wealth gives you an adrenaline rush, and its hard to put it down once you see your whole setup transform, converting your freshly-mined Bitcoin into office upgradables, lotto tickets, and a bunch of other cool (albeit, slightly random) stuff.
Capitalism at its finest.
There are some cons of Bitcoin Billionaire.
Well, considering it's an addicting phone game, there aren't many cons to the game. If there is one though, it's the fact that the amount of effort it takes to mine Bitcoins in the game does not correlate to the amount of time it takes in real life. Obviously it requires a great deal of skill in real life, while in the game, it's literally just tapping a screen.
Also, it would be nice if there was some actual Bitcoin integration into the game. Meaning, if there were some type of in-game purchases that could be purchased with actual Bitcoin, the game could serve as some sort of platform to further promote the cryptocurrency space as a whole. Unfortunately, that isn't the case, as no Bitcoin companies (to date) have offered to sponsor the increasingly popular game.
Sadly, you can't make real money on your investments either, but that should be expected from a free-to-play game made for your phone. If you want to learn how to actually make money, you should probably check some of these online cryptocurrency mining and trading courses.
Here are Bitcoin Billionaire tips and tricks for when you're tapping away.
Like any game, there are plenty of tips and tricks to facilitate the general "Bitcoins and building an empire" game premise.
Tap with more than one finger at a time. This is a pretty big no-brainer. You can choose to tap with only two fingers (boringggg) or you can be like me, and use four. Either way, you're raking in Bitcoins big time.
Make sure to upgrade your Bitminer once you are able to do so. You earn WAY more coins when you upgrade. There's a total of 75 Bitminer upgrades total. Plus, after you upgrade your miners, you will also get cool new stuff for your house, a new house entirely, or when you're super-duper rich, a private island. Upgrading your Bitminer is integral in building up a massive fortune and ultimately becoming a Bitcoin billionaire.
Purchase investments so that you will keep earning Bitcoins even when you're not tapping and even when you're not playing the game. If you're really lazy, make sure you acquire enough offline investments so that you can earn while you're literally sleeping. Just turn off the "auto sleep" feature, and earn while you snooze.
Every day, you get daily bonuses in the game, such as a daily spin on the Bitcoin roulette. Make sure you take advantage of all bonuses as much as possible. Again, this will simply make your meteoric rise that much more meteoric.
So there you have it, folks, a couple of reasons why this new Bitcoin Billionaire game is just so dang addicting. The only way for you to find out for yourself though is downloading the FREE game. I embedded it up top, but I'm going to go ahead and do it again down here, just because I don't trust that you're going to scroll back up.
It remains to be seen if or how Bitcoin will become valuable in our society, but at least in the interim, we can have fun with the craze while it lasts.
Either way, happy mining!