Why Do Crypto Traders Choose P2P Cryptocurrency Exchange Platforms For Trading?
why crypto traders often prefer p2p crypto exchange platforms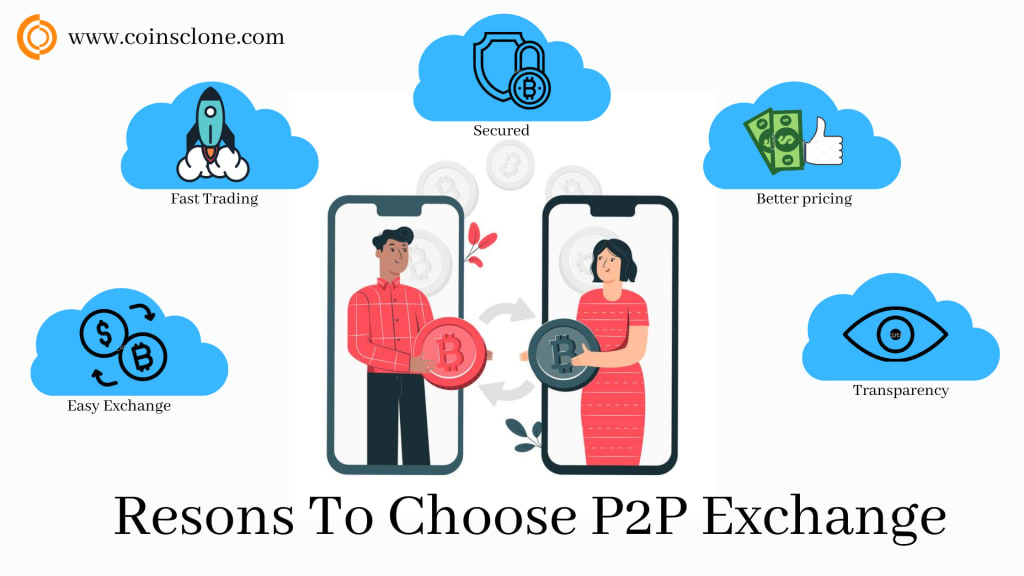 Reason to choose P2P Cryptocurrency Exchange Platforms
The term "Cryptocurrency" made a benchmark in the digital trading platforms across the globe in recent years. Since many people are emerging towards digital currencies, they are the most trustworthy ones to deal with. Moreover, the cryptocurrencies are digital, so one cannot touch or feel the currencies like fiat currencies. This intended many startups and investors to march towards popular cryptocurrency exchange services.
The P2P cryptocurrency exchange platform plays a crucial role in the blockchain industry. There are two types of cryptocurrency exchange platforms available in the crypto marketplace. Such as centralized crypto exchange and P2P cryptocurrency exchange. These two crypto exchanges are mostly used by startups, entrepreneurs, and business class people. Many of them know that Bitcoins and other major digital currencies have become more popular in recent years. This made many new cryptocurrency trading platforms to service online crypto traders.
Now you shall have a doubt, what is a cryptocurrency exchange platform. A Cryptocurrency Exchange platform is a trading platform that helps the users to exchange, buy, or sell all the major crypto coins in the marketplace. Such as bitcoin, EOS, dash, ripple, and litecoin. Usually, a cryptocurrency exchange platform supports more than 20+ crypto coins for trading.
Many popular crypto exchanges faced issues like cyber-attacks, loss of funds, and other security threats. It is due to the improper security aspects of traditional crypto exchanges. This made many people choose the P2P cryptocurrency exchange. In this blog, let us have a look at what is a P2P cryptocurrency exchange. Also, why crypto traders choose P2P crypto exchange for trading.
What is a P2P Cryptocurrency Exchange?
The P2P cryptocurrency exchange is a decentralized crypto trading platform. Here, the traders can buy, sell, and exchange a wide variety of digital currencies and digital assets. In this P2P trading platform, there will be no admin or middlemen to monitor your cryptocurrency transactions. So if you are a crypto trader, then you can process the safe and secure crypto transactions in this P2P trading platform. Here, crypto traders can directly match with other users for the trading process.
As for now, many entrepreneurs and business class people are marching towards starting a P2P crypto exchange platform. P2P cryptocurrency exchange does not hold any user. Moreover, now all the cryptocurrency trading platforms are having P2P exchange has a feature for their users. So their traders can safely trade Bitcoins and other digital currencies.
P2P cryptocurrency exchange protects funds, transparency, and other fraudulent activities. These types of cryptocurrency exchanges will include a high-level of security features to avoid cyber attacks and scams. But P2P crypto exchanges are less compared to other traditional crypto exchanges. Now let us figure out why online crypto traders choose P2P crypto trading platforms for trading.
Reason to choose P2P Cryptocurrency Exchange Platforms
Trust:
Currently, trust plays a very crucial role in any type of online business, this also fits with the P2P cryptocurrency exchange. One can not get the trust freely or easily, they must earn hard by their service. Loss of trust in centralized cryptocurrency exchange gave birth to blockchain technology for P2P crypto exchanges. Because the centralized crypto exchange is a traditional crypto exchange platform. so there will be an admin or third parties to monitor.
Also, crypto traders don't have control over their funds. So P2P cryptocurrency exchange is more trusted for traders than other types of crypto exchange platforms. Moreover, P2P crypto exchanges are completely developed using Decentralized blockchain technology with advanced security aspects.
Multiple ways to withdraw and deposit
Multiple ways of payment methods is a major benefit of P2P cryptocurrency exchange platforms. Most of the centralized crypto exchanges, only accept bank deposits and wire transfers. also, they can be quite slow when traders use bank transfers to make deposits or withdrawals from their wallets.
Also, the notable point is many banking sectors will not accept withdrawals or make deposits to, centralized cryptocurrency exchanges. However, in the P2P trading platform, you are transferring from bank accounts. Then the banks do not associate with cryptocurrency. so you won't experience this kind of problem on a P2P cryptocurrency exchange platform.
A P2P cryptocurrency exchange, like paxful, offers more than 300+ payment methods for their crypto traders. So this P2P exchange is simply connecting one trader with another trader to conduct the trading process.
Security
The main drawback of a centralized crypto exchange is they always hold a vast number of funds from the investors and traders. This will intend cyber attackers to steal their funds from the exchange platform. Many prominent crypto trading platforms like bitstamp, Mt. Gox lost their funds due to improper security aspects. In 2015, bitstamp was hacked by some anonymous cyber attackers. Those hackers have stolen more than 19k bitcoins from their exchange. It's worth about more than $5 million at that time.
So from this incident, we come to know that centralized crypto exchanges are more attractive for hackers to steal the trader's funds. But P2P crypto exchanges are user-friendly to the crypto-traders. Also, this P2P exchange provides high-level security to investors and traders funds.
Control over your Funds
Centralized crypto exchange platforms not only have cyberattacks or fraudulent activity issues. Here crypto traders can not have full control over their funds. So this might impact the loss of funds for investors or crypto traders. Even the centralized exchange can freeze the trader's funds. So they cannot withdraw any funds from their cryptocurrency wallet. This is the major drawback of a centralized crypto exchange. But in the P2P crypto exchange, traders can have control over their own funds. No third parties or intermediate can freeze the trader funds. This made many global crypto traders create an account in the P2P crypto exchange platform.
Privacy
Some experts in crypto space say that centralized exchanges are considered as Money Service Providers (MSPs) in many jurisdictions. So that crypto traders are required to cross KYC and AML verifications. however, traders will provide their private details to third party entities. only after providing those details, they will get their account verified for trading.
On the other hand, P2P crypto exchanges aren't under any central authority control. Therefore, there is no registration process required for buying, selling, or trading digital currencies. So the trader's privacy will be highly secured. So P2p crypto exchanges are the better option than centralized exchanges for crypto traders.
Some popular P2P crypto exchanges in 2020 are given below

Binance P2P
Localbitcoins
Wazirx
Giottus
Paxful
Remitano
Bitbns
CoinDCX and more
Summing up:
Currently, P2P crypto exchanges are slowly getting attention to investors and crypto traders. Already most of the startups started to build their own P2P crypto exchange platform with high-end security aspects. If you are planning to start a secured P2P cryptocurrency trading platform with advanced trading features. Then you can buy the first-rated Bitcoin exchange software from the top-notch cryptocurrency solution providers. So that they will guide you to build a secure P2P crypto exchange platform within a few days at a reasonable price.
alt coins
About the author
I am passionate to write about digital finance and the fintech sector. Yes, I am talking about the revolutionary currency - Cryptocurrency sector and blockchain. I would love to share the knowledge about those in this blog.
Reader insights
Be the first to share your insights about this piece.
Add your insights