Which Ecommerce Platform to use for your Online Business- BigCommerce vs Magento vs WooCommerce
BigCommerce vs Magento vs WooCommerce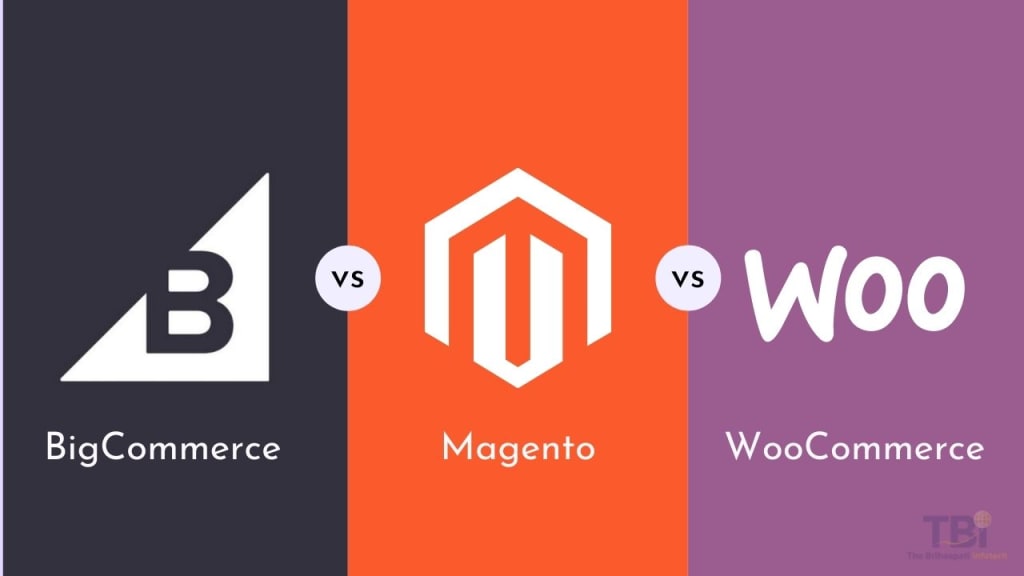 BigCommerce Vs Magento Vs WooCommerce
There is no denying the fact that the online industry is increasing and has become an integral aspect of many enterprises. With the recent research, an estimation is made that eCommerce will enable up to 95% of all shopping. To reach this point, you need to make an extra effort and with the help of an eCommerce website development company, you can set up your eCommerce website and make it run. However, to establish a website you will need to decide which eCommerce platform is best for the business.
So, in this blog, we have made a comparison of all the prominent eCommerce platforms. The eCommerce platforms are BigCommerce, Magento, and WooCommerce. All these platforms have different functionalities. Therefore, we have made a brief description of all the eCommerce websites development platforms to give you a precise idea of all the platforms.
List of Different online platforms for your eCommerce business
There is a list of eCommerce platforms that can help you select the particular platform to develop your online business.
BigCommerce
Magento
WooCommerce
You can get in touch with the eCommerce web development company to create your website from scratch. Hence, we have discussed in detail these eCommerce platforms. Let us have a look:
BigCommerce
BigCommerce is another user-friendly eCommerce platform that's fresh to the market. BigCommerce promotes itself as a cutting-edge e-commerce platform. This platform is used by a number of major brands for custom eCommerce website development. It's a subscription-based eCommerce platform as well as a CMS. It has all of the features required for eCommerce websites. Analytics, Reporting, and other built-in capabilities are just a few examples.
BigCommerce does away with the requirement for constant upgrades. It can also accept payments via PayPal and credit cards without incurring any transaction costs. It has drag-and-drop features for customizing web pages as well as a large number of website templates. So, why not take help from an eCommerce development company to develop your eCommerce website for your business.
Magento
Magento, Open Source is a free content management system. With the help of Magento, you can create Self-hosted online stores that require a domain, and web hosting. Magento Commerce is PaaS software, which stands for Platform as a Service. It comes with both hosting and a domain name.
Change languages and currencies, provide detailed reports, and add coupons with Magento eCommerce web development. Buyers also have the option of leaving reviews and ratings. Webmasters have a plethora of alternatives for optimizing their websites for search engine rankings. They can generate a sitemap that contains links to all of the website's pages. It allows the site's content to be crawled by the search bot.
This platform has a large number of extensions and templates to choose from. To get flawless websites, you can contact an eCommerce web development company. There are two versions of Magento
Magento Open Source
Magento Commerce
Multiple online stores can be created using this eCommerce website development framework. A single admin panel can be used to handle all of these stores. Magento is a mid-size business eCommerce platform that can accommodate engineering staff. It's also less straightforward for newbie users because it's touch code-heavy.
WooCommerce
It's not a full-featured content management system like the other eCommerce platforms. Instead, it's a WordPress plugin. However, this does not imply that it is less significant than other platforms. WooCommerce is the best tool for small businesses. WooCommerce is one of the most proficient, popular, and widely used eCommerce platforms. However, this eCommerce platform is used by a large number of online stores. As we all know, WordPress is one of the most popular content management systems, powering a vast number of websites. It is not free even if it is an open-source platform.
WooCommerce has features such as geolocation support, discount coupons, and an ajax shopping cart. With the premium version, you can obtain more advanced features.
Which eCommerce Web development platform to use?
All the eCommerce website development platforms mentioned above are the best and have their own features according to their functionalities. Comparing different eCommerce systems is like comparing two different fruits.
As a result, you must first determine your precise business requirements. And then determine which platform best meets those requirements. You should think about whether or not the platform interfaces with other products, such as shipping solutions. Whichever platform you select for your online business, just make sure that it is fulfilling all the basic needs to increase your sales.
Conclusion
So, this blog explains the features of the different eCommerce platforms that help them select the best platform to build their brand online. Are you also planning to create your brand? Then you must consult with the eCommerce website development company that has professional developers with years of experience in eCommerce development and can help you in building your platform.
blockchain
I am a full-stack web developer having 4+ years of working experience with different technologies. I am well versed in react js, angular js, designing UI/UX. If you are looking to hire react js developer, then I will be worth your time.
Receive stories by Hitesh Chauhan in

your feed