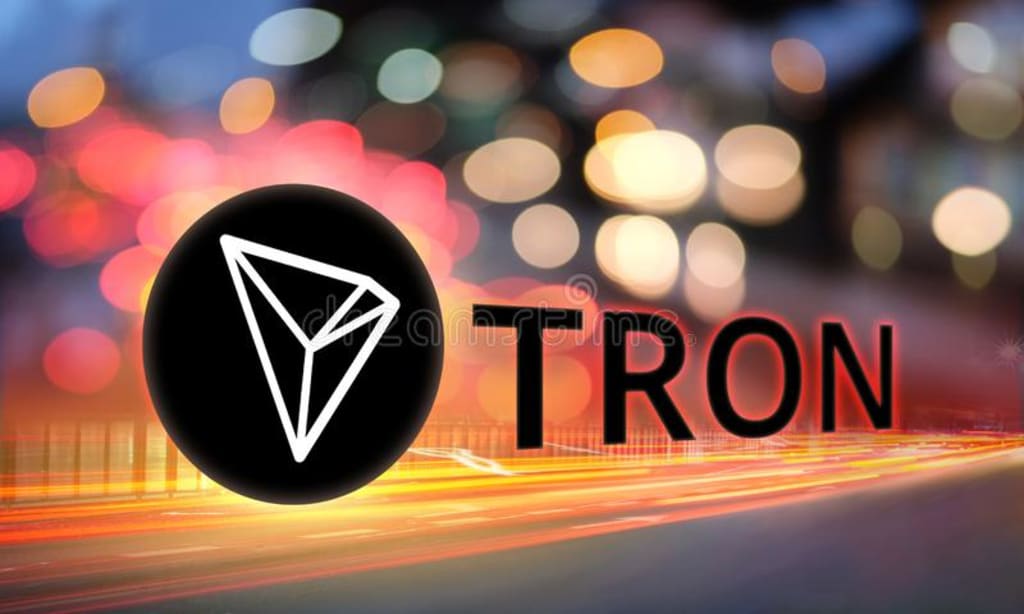 The tron cryptocurrency is much more than just a cryptocurrency. Tron is an operating system based on blockchain technology in which decentralized applications and multimedia content can be created. Therefore, the main purpose of the token is its use on the TRON network. Despite that, it can also be considered a store of value and can be traded on exchanges , therefore the tron ​​cryptocurrency can also be considered a virtual currency.
The Tron foundation took place in 2017 by Justin Sun. Originally, TRX were ERC-20 based tokens , backed by Ethereum , but in 2018 they split to become their own token .Tron acquired Bit Torrent, the largest file-sharing site on the Internet, in that same year, which was a necessary step in its journey to create the field of Internet media. TRX's highest price was reached in January 2018 when the Tron cryptocurrency traded at $ 0.30. Currently, its value is just $ 0.01. At the time of this writing, the cryptocurrency tron ​​is ranked 17th among the currencies with the highest market capitalization.
Why was the tron ​​cryptocurrency created?
The cryptocurrency Tron, and the operating system of the same name, were created with a clear purpose in mind: to help reward content creators for their efforts by sharing content on an entertainment platform. The way the media industry is structured right now is that some large companies (primarily social media or entertainment platforms) like YouTube, Facebook, and Apple have a disproportionate influence over the content that is viewed and published on their sites. Not only do they control what can be seen, but they also receive the vast majority of the money generated by the content. Content creators only receive a small portion of revenue for sharing content. Tron was conceived to correct this.
By removing the middle man, so to speak, Tron can allow viewers to directly reward content creators through the Tron network using TRX tokens . Therefore, the content belongs entirely to the creator and a large company does not profit from it.
How does the tron ​​cryptocurrency work and what technology is behind it?
All data on the network is free and not controlled by a central authority in the Tron network. Content creators can obtain digital assets by sharing content, in this case, the TRX token or other tokens backed by TRX.
As mentioned, it is possible for content creators to create their own coins or tokens that can be used within their own dApps on the network. These created tokens are backed by the main TRON token .
The final stages of the Tron Network development plan include support for online gaming. These would be fully decentralized and users could reward content creators directly if they enjoyed the game with their own digital assets.
Tron cryptocurrency: is it real money?
The tron ​​cryptocurrency (TRX) can be used as a store of value, as an investment or to be exchanged for other currencies. However, the main use of the token is on the network in the creation and interaction with dApps.
It is also possible to deposit the tokens to obtain a reward known as 'Tron Power'. This gives the holder voting rights over the decisions in the network and gives him a higher status. The longer the holder keeps their tokens deposited, the more TP they will receive for them.
Tron fees and commissions
There are no fees for transactions with the cryptocurrency tron ​​(TRX), a remarkable feat, and the network can support 2,000 of these commission-free transactions every second.
Buying the cryptocurrency tron ​​(TRX) is an exchange , and as such, you will incur some type of fee or commission for the use of the platform and the execution of the transaction. Especially since the cryptocurrency tron ​​can only be bought by being exchanged for other currencies such as bitcoin or ethereum. The two currencies used to carry out the transaction (tron plus the other chosen currency), is what is known as a currency pair . First you will have to contemplate the commissions generated by the purchase of these currencies and then the other fee for the exchange to TRX.
What are the benefits of the tron ​​cryptocurrency?
Commission-free : transactions on the network with the cryptocurrency tron ​​are commission-free.
Fast transactions: transactions with the tron ​​cryptocurrency are very fast, as the network can support up to 2000 per second. Such transaction capacity bodes well for Tron's scalable future and the network's potential to revolutionize online media. Compared to other currencies like ethereum (25 transactions) or bitcoin (3-6 transactions), it is clearly a competitive advantage.
Possibility to create dApps : you can create dApps on the network. By creating a dApp on the network and offering content on it, you can receive digital assets in return, which can be normal TRX tokens or a token that you have created and that is backed by TRX. As such, you can be rewarded for your efforts in creating the app and the content within it. If you are not interested in creating dApps, then the great variety that has already been created is available to use.
Ability to directly support content creators : Tron believes that it is important to support content creators more adequately and the Tron network development is a great way to do that. If you are using the internet today in 2020, you will likely enjoy watching or consuming entertainment content through online media. This is made possible by content creators, therefore it is only fair that they receive endorsement and support for their efforts.
Can Tron be used anonymously?
Transactions with the Tron operating system are anonymous, however, this only applies to the blockchain as such. When buying the tron ​​cryptocurrency, and the need to go through an exchange, you will have to verify your identity to buy the tokens in the first place. Once on the Tron network development, however, transactions can be made anonymously. On the other hand, you must bear in mind that all blockchains keep a record of the transactions carried out on the chain. As such, no transaction is truly anonymous.
How secure is the Tron network?
Tron has a good reputation for security in the crypto world. The company's spending on security and the staff it has hired are proof of this. Like other cryptocurrencies, as Tron is networked and decentralized, the individual has a great responsibility to be smart when it comes to taking care of their tokens . With regard to the network as a whole, so far it has not suffered any scandal related to its security.
What teams are working on developing Tron?
The Tron development hub : Tron is an open source project that encourages any developer to join in and contribute. This can be done through the Tron Development Hub. There you will find documentation about the protocol, how to configure nodes, smart contracts and how to develop dApps. The purpose of this team is to be able to guide someone, with relatively little experience or knowledge, through the steps of using the network and how to get involved to eventually shape it.
What financial institutions support or invest in Tron?
Referendum : It is a platform that allows players to earn TRX while broadcasting and viewers to earn rewards while watching. The partnership is in keeping with Tron's media focus and reflects the enormous potential that the integration of games and blockchain technology could have . The main thrust of their efforts is through the DLive streaming service, which Tron accessed thanks to BitTorrent's partnership with the service.
Metal Pay : Metal Pay is an online payment service to send money to everyone who has partnered with Tron. This means that millions of users can now buy tron ​​TRX easily through the Metal Pay website or its app. This helps break down one of the barriers to Tron adoption, which is the TRX acquisition process which for some people may have been very difficult prior to this alliance.
Samsung : Samsung has added Tron to its ' Blockch ain Keystore'. This means that Samsung users who have the latest versions of their mobile phones can now access Tron dApps through the Samsung app store. This is a momentous achievement for the blockchain , as new entertainment content creators can receive a reasonable amount of compensation for their efforts, but also their dApps are now exposed to one of the largest app markets in the world.
Tron mining
The cryptocurrency tron ​​cannot be mined, instead, you can obtain tokens by participating in the network and becoming a validator. By helping validate transactions, you will be paid a transaction or token creation fee. It should be noted that these paid digital assets are not being created, they already exist.
Wallet for Tron
A Tron-compatible wallet is software or hardware in which you can store TRX tokens . These wallets are available in different presentations and in fact there are a number of wallets for Tron created by the community itself, which are available on the Tron website. These are some of the options available:
Ledger Nano S: hardware wallet
Trezor: hardware wallet
Guarda wallet: desktop wallet
Atomic wallet: desktop wallet
Tronscan: web wallet
Tronlink: extension for Google Chrome
Any wallet that you choose will bring you certain benefits, but it will also have some other disadvantages. Some are more portable, while others offer more security. Make sure you do good research before making your decision.
Is the tron ​​cryptocurrency worth investing in?
If you are interested in the potential of the Tron network development and the future of online media, then Tron is a really interesting investment. The tokens TRX are a prerequisite to interact with the network, so in that sense, would be a good investment, especially if you're interested in creating entertainment content or just have a passion for media and would like to interact with all dApps on the network.
However, you should keep in mind that TRX is a cryptocurrency and is subject to fluctuations in price. With a value of only $ 0.01 per token , it is not the most expensive coin, but it is just as volatile as all cryptocurrencies. Do proper research before deciding to invest and never invest more than you are willing to lose.
Reader insights
Be the first to share your insights about this piece.
Add your insights