What is an Initial Coin Offering (ICO) and how does it function?
How does ICO Work?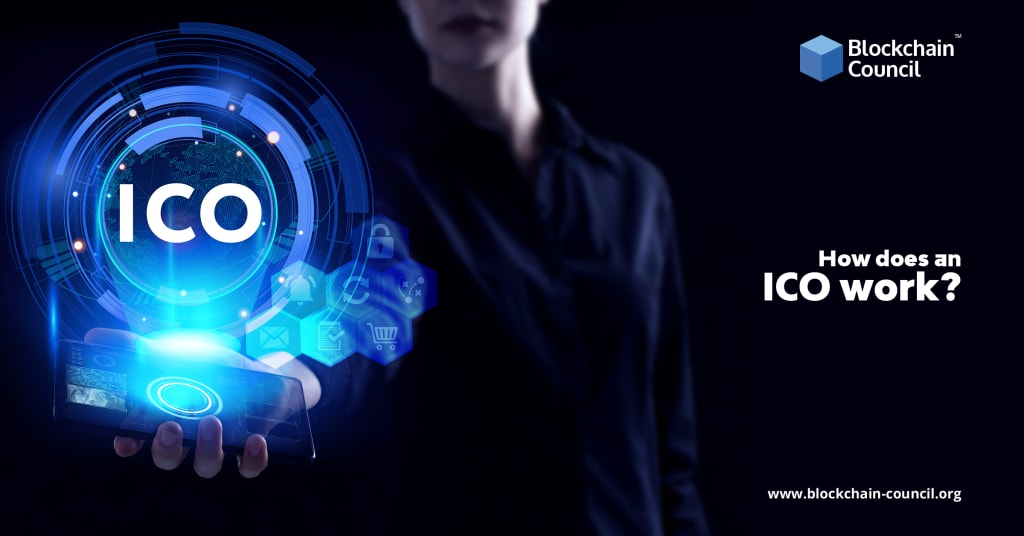 The rise of digital currency and cryptocurrency has reshaped the financial and banking industries. With the rise in bitcoin usage in the real world, Initial Coin Offerings (ICOs) have emerged. An initial coin offering (ICO) is a technique of generating funds for startups that use blockchain technology. ICOs are now used by all technological fields, particularly those related to blockchain, to raise cash for their enterprises. When a new blockchain project, like as an app or another technology that uses blockchain, is released into the open market, the adaptability of initial coin offerings increases rapidly. As a result, supporters of that project can buy the project's "token" with their digital currency or fiat money.
You can also launch your project and raise funds through an initial coin offering (ICO), but you'll need some technical knowledge to do it. You'll need to look at blockchain coursers for that. You can specialise in either blockchain development or crypto auditing, or you can do both. Knowledge has no boundaries. Check out the Blockchain Council for additional information on Blockchain certifications and courses.
What is an ICO (Initial Coin Offering)?
In July 2013, Mastercoin held its first initial coin offering (ICO). Initial Coin Offerings, or ICOs, are another sort of cryptocurrency that is used to fund blockchain initiatives. In addition, because investors will participate in the project, it will be used to improve service and product functionality. In a sense, it's similar to an initial public offering (IPO) on the stock market. ICOs, on the other hand, are not the same as IPOs in terms of functioning.
An investor can acquire an ICO token using their cryptocurrency, such as Bitcoin, Etherium, Binance coin, and others, that will provide them with service and profit after the project is live. The Token issuing company uses an initial coin offering (ICO) to raise funds for their project.
What Is an Initial Coin Offering (ICO) and How Does It Work?
ICO tokens are unusual in that they provide a trading mechanism for open-source software projects. As a result, investors will be able to fund blockchain-related projects. In contrast, if you want to learn about the concepts and how ICOs work, you won't be able to invest in a typical way.
To begin, one needs have a basic understanding of the ICO process, which includes technical, financial, and legal facts. The major goal of the ICO is to take use of blockchain technology's decentralised platform. The following tasks must be completed in order to successfully map the ICOs:
Identifying investment objectives
When launching an ICO, the company's goal must be clear. They determine the target audience for the campaigns. They also issue whitepapers to persuade investors. For an ICO to be launched, relevant information about the company must be presented.
Tokens are made.Because an ICO is based on tokens, it is now necessary to produce tokens. Because the tokens are represented as assets in blockchain technology, they will be unique to each organisation. Furthermore, the token is distinct from Cruprocurrency in that it is fungible and marketable.
A specific blockchain platform is required to create a token. Etherium, for example, offers a platform for the development of initial coin offerings (ICO) tokens.
Campaign for promotion
Companies run web campaigns to attract the largest possible audience while token generation is in progress, resulting in significant investors for the company.
Initial Public Offerings (IPO)
Finally, they round up the token and offer it to the investors. The company can then proceed to the step of launching the ICO and completing the process for the product's opening. Investors can only hope to benefit if the technologies and initiatives are successful. Then it's a win-win situation!
Last Thoughts
As previously said, ICOs are assuming the place of IPOs as technology continues to dominate every industry. However, before putting your money into a blockchain platform or cryptocurrency, it is critical to understand the entire situation. Obtain blockchain certification to learn everything about the work that goes into these technologically powered currencies. You can now develop your own token, but you must aim for the position of Crypto Auditor. For a better grasp of these principles, take a look at the Blockchain Council's complete technical Bockchain courses available online.