The Ultimate Crypto Companion: Solflare Wallet Takes Your Investments to New Heights!
Solflare Wallet is set to revolutionize the way you interact with the Solana blockchain.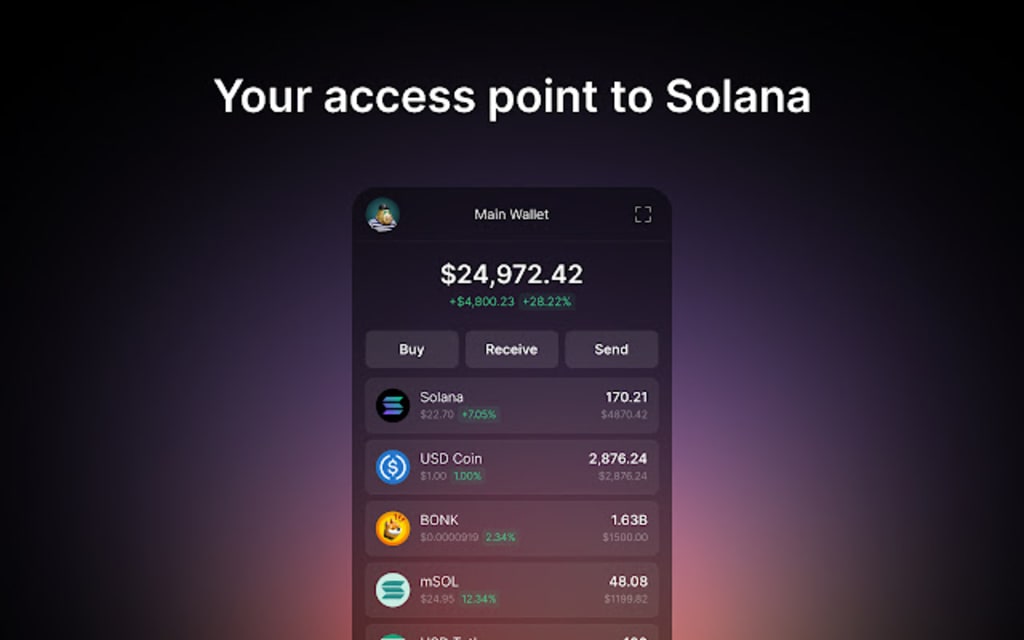 In the fast-paced world of cryptocurrency, having a reliable and secure wallet is crucial for managing your digital assets. If you're looking for a comprehensive solution that combines security, power, and ease of use, look no further than Solflare Wallet. With its robust features and user-friendly interface, Solflare Wallet is set to revolutionize the way you interact with the Solana blockchain.
Unveiling Solflare Wallet: The Safest Way to Explore Solana
Solflare Wallet prides itself on being a secure and powerful wallet designed specifically for Solana, one of the most promising and rapidly growing blockchain platforms. It offers a wide range of features that allow users to buy, store, swap tokens, and NFTs, as well as access Solana DeFi from both web and mobile platforms.
[1]
Unmatched Security and User Experience
When it comes to protecting your digital assets, Solflare Wallet leaves no stone unturned. The wallet's robust security measures ensure that your funds are safe from potential threats. With Solflare, you can have peace of mind knowing that your private keys are securely stored on your device, giving you full control over your funds.
Moreover, Solflare Wallet integrates seamlessly with hardware wallets like Ledger, providing an extra layer of security for your assets. This compatibility allows you to manage your Solana tokens directly from your preferred hardware wallet, adding an extra level of convenience and peace of mind.
Empowering Solana Users
Solflare Wallet empowers users to take full advantage of the Solana blockchain and its vibrant ecosystem. Whether you're a seasoned investor or a curious newcomer, Solflare offers a range of functionalities that cater to your needs.
1. Buy and Sell Solana Tokens with Ease
With Solflare Wallet, you can effortlessly buy, sell, and trade Solana tokens directly from your phone or web browser. The intuitive interface and seamless integration with popular exchanges provide a hassle-free experience, allowing you to take control of your investments without any unnecessary complications.
2. Stake Your Solana and Earn Rewards
If you're a believer in the Proof-of-Stake (PoS) consensus mechanism, Solflare Wallet offers you the opportunity to stake your Solana tokens and earn passive rewards. By delegating your stake to a validator of your choice, you contribute to the security and decentralization of the Solana network while being rewarded with additional SOL tokens [5].
3. Seamless DeFi Integration
Solflare Wallet seamlessly integrates with the world of decentralized finance (DeFi) on the Solana blockchain. You can access a variety of DeFi protocols and platforms directly from the wallet, opening up a realm of possibilities for yield farming, lending, borrowing, and more.
4. NFT Support and Enjoyment
For those captivated by the exciting world of non-fungible tokens (NFTs), Solflare Wallet provides a user-friendly solution to store, manage, and interact with your NFT collection. With support for multiple NFT formats, you can showcase your digital art or collectibles with ease [5].
5. Token Swapping Made Simple
Solflare Wallet incorporates an integrated token swapping feature, enabling you to effortlessly swap between different Solana-based tokens without the need for external exchanges. While the details of the swapping process could benefit from more transparency, the functionality itself is a welcome addition to the wallet's repertoire [5].
Solflare Wallet: Connecting You to the Solana Ecosystem
Solflare Wallet's impact extends beyond its core features. The wallet serves as a gateway to the broader Solana ecosystem, allowing users to explore a myriad of decentralized applications (dApps) built on the Solana blockchain. By seamlessly connecting to these dApps, Solflare provides an all-encompassing experience that empowers users to interact with the new internet built on Solana.
Industry Recognition and Integration
Solflare Wallet's rise to prominence is evident from its growing recognition and integration with key players in the cryptocurrency industry. It has already established partnerships with prominent cryptocurrency exchanges, such as FTX, expanding its accessibility and usability for investors [6].
Get Started with Solflare Wallet Today!
If you're ready to embark on an exceptional journey into the world of Solana, Solflare Wallet is your ultimate crypto companion. Experience the power, security, and convenience of this feature-rich wallet by visiting the official Solflare website and creating your account within minutes [3].
About the Creator
A secure and powerful Solana Wallet.
Solflare is the safest way to start exploring Solana. Buy, store, swap tokens & NFTs and access Solana DeFi from web or mobile...
Reader insights
Be the first to share your insights about this piece.
Add your insights