The Best Cryptocurrency Exchanges: [Most Comprehensive Guide List]
Check out this guide to the best cryptocurrency exchanges. Can't get enough of cryptocurrencies? Take our beginner course on crypto economics. So you want to start trading cryptocurrencies?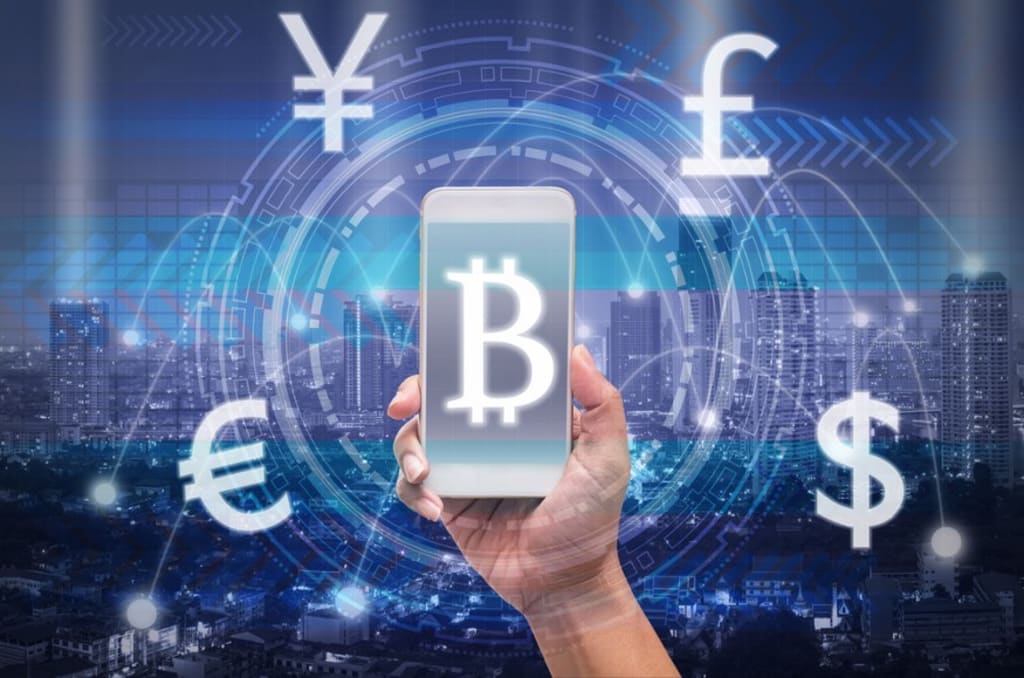 What is a cryptocurrency exchange?
Cryptocurrency exchanges are websites where you can buy, sell, or exchange cryptocurrencies for other digital currency or traditional currency like US dollars or Euro. For those that want to trade professionally and have access to fancy trading tools, you will likely need to use an exchange that requires you to verify your ID and open an account. If you just want to make the occasional, straightforward trade, there are also platforms that you can use that do not require an account.
Types of crypto exchanges
Trading Platforms — These are websites that connect buyers and sellers and take a fee from each transaction.
Direct Trading — These platforms offer direct person to person trading where individuals from different countries can exchange currency from their bank account. Direct trading exchanges don't have a fixed market price, instead, each seller sets their own exchange rate.
Brokers — These are websites that anyone can visit to buy cryptocurrencies at a price set by the broker. Cryptocurrency brokers are similar to foreign exchange dealers.
What to look out for before joining crypto exchanges
It's important to do a little homework before you start trading. Here are a few things you should check before making your first trade.
Reputation — The best way to find out about an exchange is to search through reviews from individual users and well-known industry websites. You can ask any questions you might have on forums like BitcoinTalk or Reddit.
Trading Fees — Most exchanges should have fee-related information on their websites. Before joining, make sure you understand deposit, transaction and withdrawal fees. Fees can differ substantially depending on the exchange you use.
Payment Methods — What payment methods are available on the exchange? Credit card? Debit card? Wire transfer through your bank account? PayPal? Can you trade with USD EUR? If an exchange has limited payment options then it may not be convenient for you to use it. Remember that purchasing cryptocurrencies with a credit card will always require identity verification and come with a premium price as there is a higher risk of fraud and higher transaction and processing fees. Purchasing cryptocurrency via wire transfer will take significantly longer as it takes time for banks to process.
Verification Requirements — The vast majority of the Bitcoin trading exchanges both in the US and the UK require some sort of ID verification in order to make deposits & withdrawals. Some exchanges will allow you to remain anonymous. Although verification, which can take up to a few days, might seem like a pain, it protects the exchange against all kinds of scams and money laundering.
Geographical Restrictions — Some specific user functions offered by exchanges are only accessible from certain countries. Make sure the exchange you want to join allows full access to all platform tools and functions in the country you currently live in.
Exchange Rate — Different exchanges have different rates. You will be surprised how much you can save if you shop around. It's not uncommon for rates to fluctuate up to 10% and even higher in some instances.
Which crypto exchanges are best to buy bitcoin?
Today there are a host of platforms to choose from, but not all exchanges are created equal. This list is based on user reviews as well as a host of other criteria such as user-friendliness, accessibility, fees, and security. Here are ten of the best crypto exchanges in no specific order.
Best cryptocurrency exchange list:
Bitbuy.ca
Bitbuy.ca is a Canadian owned and operated digital currency platform. Originally founded as InstaBT in 2013, the company's mission is to provide convenient, dependable and secure access to bitcoin and other digital currencies. Customer service, ease of use, and quick turnaround times for deposits and withdrawals are pillars of this platform. They cater to beginners as well as experienced traders, and are one of Canada's quickest growing buy/sell platforms. A great choice for users looking to buy and hold crypto, or users looking for a reliable on-ramp to turn their fiat into crypto quickly and easily.
Pros
Great customer service
Fast registration and verification
Quick processing of CAD deposits and withdrawals
Low fees
Cons
Only offers BTC, ETH, LTC, BCH
Only available to Canadians
OUR TOP PICK BELOW: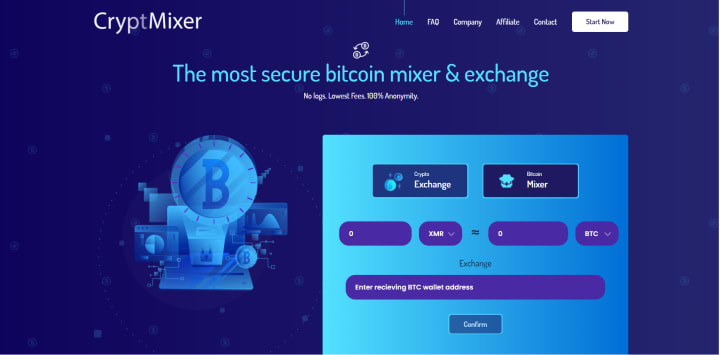 Cryptmixer is a registration-free instant cryptocurrency exchange platform for limitless crypto conversions. Cryptmixer has been on the market for more than 5 years now and has earned a reputation for reliable service with great rates. The exchange platform does not require account creation, processing fast transactions for more than 6 cryptos. Cryptmixer stays honest with its customers and collects no hidden or inflated fees. The timing of the transaction remains rather short. Depending on the transaction volume, the processing speed can take as little as 2 minutes.
Pros
Registration-free — no account needed
More than 6 cryptocurrency coins and tokens listed
No limits — no maximum exchange amount
24/7 support
Lowest Fee- 0.05%
Cons
No leverage. Cryptmixer does not offer leveraged trading on cryptocurrencies
No Fiat support
Coinjar
Established in 2013, CoinJar is the easiest way to buy, sell, store and spend cryptocurrency. CoinJar's iOS and Android apps allow users to trade cryptocurrencies on the go, while CoinJar Exchange and CoinJar OTC Trading Desk cater to professional traders, as well as individuals and institutions looking to make larger transactions.
Pros:
iOS & Android apps that let you trade
Free & fast bank transfers
Fees 1% depending on trading volumes
Established in 2013
Good customer support
Cons:
No leverage trading available.
ID verification is required in order to trade.
OKEx
OKEx.com is a cryptocurrency exchange that allows users to buy, sell, and trade Bitcoin, Ethereum, and
other cryptocurrencies safely and easily. The intuitive platform with sleek user-interface makes it easy to
do market buys, check cryptocurrency prices, and more. The exchange focuses not only on spot and
margin trading, but also has advanced features for derivatives like futures, perpetual swaps, and
options.
The Malta-based exchange operates in over 100 countries providing cryptocurrency liquidity and market
buying options to millions of users and supports hundreds of different trading pairs.
Pros:
● Free registration and easy to use
● Over 400 trading pairs with high liquidity
● Low fees with incentives for market makers
● Many different payment methods supported
● Great user-interface with sleek design
● Trusted and well-known exchange
● 24/7 customer support
Cons:
● Not available in some countries
● Some advanced features may intimidate beginners
● No fiat on-ramp
Xcoins
Xcoins.com is a European-based leading cryptocurrency exchange platform. Since its launch in 2016, the easy to use platform has served over 250,000 satisfied customers worldwide. Xcoins offers a quick and secure solution to purchase cryptocurrencies with 24/7 live support. They cater to beginners, as well as experienced crypto-veterans, and support more than 167 countries. With exceptional customer service and one of the quickest transaction processes, it's easy to see why Xcoins has been growing exponentially since its inception. No matter your level of experience or where you are in the world, Xcoins.com is a safe and reliable way to get your hands on cryptocurrencies.
Pros
24/7 live support
Low fees
Simple & secure registration and verification
Quick processing and transaction processes
Available worldwide
Cons
Only offers BTC, ETH, LTC, XRP, BTC Cash
Coinbase
Backed by trusted investors and used by millions of customers globally, Coinbase is one of the most popular and best crypto exchanges in the world. Coinbase platform makes it easy to securely buy, use, store, and trade digital currency. Users can purchase bitcoins, Ether and now Litecoin from Coinbase through a digital wallet available on Android & iPhone or through trading with other users on the company's Global Digital Asset Exchange (GDAX) subsidiary. They can easily sell their crypto as well and receive money directly into their bank account. GDAX currently operates in the United States, Europe, UK, Canada, Australia, and Singapore. GDAX does not currently charge any transfer fees for moving funds between your Coinbase account and GDAX account. For now, the selection of tradable currencies will, however, depend on the country you live in. Check out the Coinbase FAQ and GDAX FAQ
Pros: Good reputation, security, high trading volume, easy to use, reasonable fees, beginner friendly, stored currency is covered by Coinbase insurance. It's easy for novice users to trade and buy bitcoin since it allows fiat currency trading.
Cons: Customer support, limited payment methods, limited countries supported, non-uniform rollout of services worldwide, GDAX suitable for technical traders only.
Kraken
Founded in 2011, Kraken is the largest cryptocurrency exchange in euro volume and liquidity and is a partner in the first cryptocurrency bank. Kraken lets you buy and sell bitcoins and trade between bitcoins and euros, US Dollars, Canadian Dollars, British Pounds and Japanese Yen. It's also possible to trade digital currencies other than Bitcoin like Ethereum, Monero, ethereum Classic, Augur REP tokens, ICONOMI, Zcash, Litecoin, Dogecoin, Ripple and Stellar/Lumens. For more experienced users, Kraken offers margin trading and a host of other trading features. Kraken is a great choice for more experienced traders. Check out the Kraken FAQ.
While the crypto exchange is based out of San Francisco, USA, they still have one of the largest Euro-to-crypto markets in the world. Kraken is available to residents of the US, Canada, Japan, and various European nations. Kraken does not currently accept deposits via credit cards, debit cards, PayPal, or similar services. In 2014, Kraken became the number one exchange in the world when it comes to Euro trade volume. They also pioneered the first verifiable cryptographic proof of reserves audit system and was also listed on the Bloomberg Terminal within the same year. It has a solid, yet non-beginner-friendly crypto trading platform.
Pros: Good reputation, easy to use, high trading volume, decent exchange rates, low transaction fees, minimal deposit fees, feature-rich, great user support, secure, supported worldwide.
Cons: Limited payment methods (does not currently accept cash, debit card, credit cards, PayPal), or similar services., not suitable for beginners who want to get started with trading, unintuitive user interface.
Cex.io
Cex.io is one of the best cryptocurrency exchanges that provides multiple payment options for using bitcoin and other cryptocurrencies. The platform lets users easily trade fiat money with cryptocurrencies and conversely cryptocurrencies for fiat money. So, if you are a beginner, this is one of the best crypto exchanges that you can use to get started. For those looking to trade bitcoins professionally, the platform offers personalized and user-friendly trading dashboards and margin trading. Alternatively, this crypto exchange also offers a brokerage service that provides novice traders in an extremely simple way to buy bitcoin at prices that are more or less in line with the market rate. The Cex.io website is secure and intuitive and cryptocurrencies can be stored in safe cold storage. Check out the Cex.io FAQ
Pros: Good reputation, good mobile product, supports credit cards, beginner-friendly, decent exchange rate, supported worldwide, API solutions for automated trading. Available in the US, Europe, Hong Kong, and certain countries in South America. Allows crypto trading with multiple options, including debit card, USD EUR.
Cons: Strict verification rules, fees vary with the payment method.
Swapzone
Swapzone is a cryptocurrency exchange aggregator. Our job is providing the users with a platform allowing them to make an informed choice when exchanging crypto assets. To make this possible, we gather the information on the service providers, select the parameters for comparison, aggregate and sort out the deals. and present all the options in one interface. We aim for making the swap space transparent, understandable and, most importantly, unified.
How to use Swapzone?
We are creating a common user flow for non-custodial exchange services. By uniting different interfaces into one, Swapzone acts as a bridge connecting the exchanges to the user.
Pros
Non-custodial
Wide range of coins and tokens to choose from (including Stablecoins)
Multiple exchange partners with the possibility to choose among service providers
Exchange offers sorted by the best rate, time and service rating
All the communication with the services held through Swapzone — we are here to help
Cons
Geared towards advanced users
ShapeShift
ShapeShift is one of the leading cryptocurrency exchange that supports a variety of cryptocurrencies including Bitcoin, Ethereum, Monero, Zcash, Dash, Dogecoin and many others. Shapeshift is great for those who want to make instant straightforward trades without signing up for an account or relying on a platform to hold their funds. ShapeShift does not allow users to purchase crypto's with debit cards, credit cards or any other payment system. This crypto platform has a no fiat policy and only allows for the exchange between bitcoin and the other supported cryptocurrencies. Visit the Shapeshift FAQ
Pros: Good reputation, beginner-friendly, Dozens of Cryptos available for exchange, fast, reasonable prices that can allow you to get started with trading.
Cons: Average mobile app, no fiat currencies, limited payment method and tools.
Poloniex
Founded in 2014, Poloniex is one of the world's leading cryptocurrency exchanges. The crypto exchange offers a secure trading environment with more than 100 different Bitcoin cryptocurrency pairings and advanced tools and data analysis for advanced traders. As one of the most popular trading platforms with the highest trading volumes, users will always be able to close a trade position. Poloniex employs a volume-tiered, maker-taker fee schedule for all trades so fees are different depending on if you are the maker or the taker. For makers, fees range from 0 to 0.15%, depending on the amount traded.
For takers, fees range from 0.10 to 0.25%. There are no fees for withdrawals beyond the transaction fee required by the network. One of the unique tools on the Poloniex crypto exchange is the chat box which is constantly filled with user help and just about everything. Any user can write almost anything but inappropriate comments are eventually deleted by moderators. It can sometimes be hard to distinguish the good advice from the bad, but the Chat Box is a great tool that will keep you engaged.
Pros: Fast account creation, feature-rich, BTC lending, high-volume trading, user-friendly, low trading fees, open API.
Cons: Slow customer service, no fiat support.
Cryptocurrency Exchanges: Conclusion
Picking the best cryptocurrency exchange platform for your specific needs may be a difficult and time-consuming process. Remember to pay attention to the fees, reputation, security, verification processes, and geographical services an exchange platform has to offer. Remember that you are not limited to using only one cryptocurrency exchange. Hopefully, the information provided will assist you in deciding which exchange platform to use. Bookmark the article and refer back to our list of the best cryptocurrency exchange whenever you want to try a new alternative during your trading journey.
blockchain
About the author
I'm a self employed investor in cryptocurrencies, stocks and dividends. I love sharing what I've learned over the years!
Reader insights
Be the first to share your insights about this piece.
Add your insights