NFT Digital Marketing Strategies: A Tool To Boost Your Project Visibility
The Ultimate Guide to NFT Digital Marketing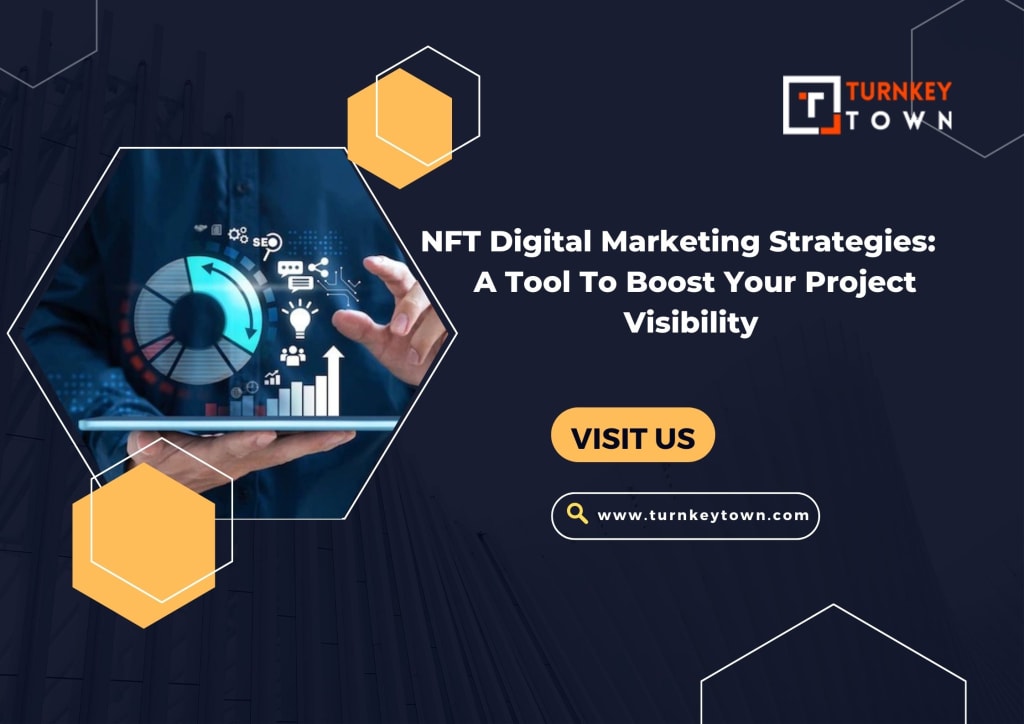 NFT Digital Marketing Service
NFT digital marketing can help your NFTs gain global exposure contributing to NFTs sales and increased business revenue. In this digitized era, digital marketing plays a major role in any business's success. It is well known that the NFTs population in the market is very high, and for your NFTs to stand out from the crowd, effective digital marketing strategies must be incorporated. Many businesses see the limelight after effectively promoting their business through various marketing strategies. Let us discuss some of this blog's major NFT digital marketing strategies that would make a huge difference in your business sales.
Digital Marketing Strategies To Skyrocket Your NFT Sales:
The following are some of the strategies that are widely used in marketing your NFT project.
Search Engine Optimization (SEO)
Promoting On Famous NFT Marketplaces
Guest Post
Blogging
Social Media Promotion
Now let us discuss in detail the strategies used in NFT digital marketing.
Search Engine Optimization (SEO)
An SEO strategy can help improve the organic visibility of your virtual collection. With NFT marketing strategies, NFT content is created that displays specific search terms. Buyers use such keywords during the process of ordering products online. By doing the specific SEO, the NFT shows the SERPs seen by potential customers. This tactic can therefore create multiple bids, leading to an intelligent advantage in the auction. When you hire an agency, you will find that SEO offers many opportunities.
Promoting On Famous NFT Marketplaces
NFT platforms are similar to amazon and eBay. They are marketplaces where the selling and buying of virtual assets take place. On the popular NFT marketplace, you can exchange numerous NFTs, such as sports player cards, online games, virtual pieces of land, etc. Register your NFTs on several platforms to increase the probability of trading them at a huge price. There are several NFT platforms, like Raroble, OpenSea, Enjin, Atomic Hub, etc., where you can promote your NFTs. NFT digital promotion on famous NFT platforms serves as a great way to improve your project visibility.
Guest Post
Well, this is another best strategy for NFT marketing. You can use these tactics when contacting specific guest posting sites. You should email them first and later explain why you are the best website for them. The motivation behind this is to provide free content to these sites so NFT collectors can learn more about your artwork. This is how NFT creators can leverage their sales. For example, your NFT collection can reach thousands of NFT fans. It also improves website domain authority and enables collaboration with other users.
Blogging:
Blogging is another technique that helps NFTs reach potential buyers at various stages of the buying process. As you know, NFT is still a new technology to many people, and it is beneficial to utilize this NFT marketing strategy to educate people about NFTs through blogging.
Create works that recognize the crypto community and compare NFT products. Additionally, information about your locale attracts the attention of search engines. This type of content is displayed on the homepage of the SERP. By displaying this content, you can demonstrate why your prospects purchase your virtual asset.
Social Media Promotion
Social media can be used to build a virtual community through various channels. The news about your project gets circulated in the community and spreads enthusiasm for your project. Project owners use multiple channels for marketing their virtual artwork. And these channels include Twitter, Reddit, YouTube, Telegram, Facebook, and Linkedin, considered the best in NFT marketing.
There are many other strategies used in NFT digital marketing. They are as follows
Influencer Marketing
Press Releases
Video Marketing
Email Marketing
CRO
Affiliate Marketing
An NFT digital marketing agency will help promote your NFT project in all ways possible.
Where can NFT Digital Marketing Services Be Employed?
NFT Digital Marketing Services can be used for marketing the following platforms
NFT Game Marketing
NFT Marketplace Marketing
NFT Art Marketing
NFT Collectibles Marketing
NFT Brand Marketing.
By hiring an NFT digital marketing service, you can get a highly personalized NFT marketing service. A team of qualified and globally experienced persons is put to use. It would be the best investment for your NFT project.
About the Creator
I'm a Digital Marketer from Appstar. I do branding, lead generation & generate traffic for the website. Also working on all social media platforms, google ads to drive more traffic and generate leads.
Reader insights
Be the first to share your insights about this piece.
Add your insights