Lacoste Introduces the "UNDW3" NFT Community
Lacoste just dropped an NFT collection inspired by its famous crocodile logo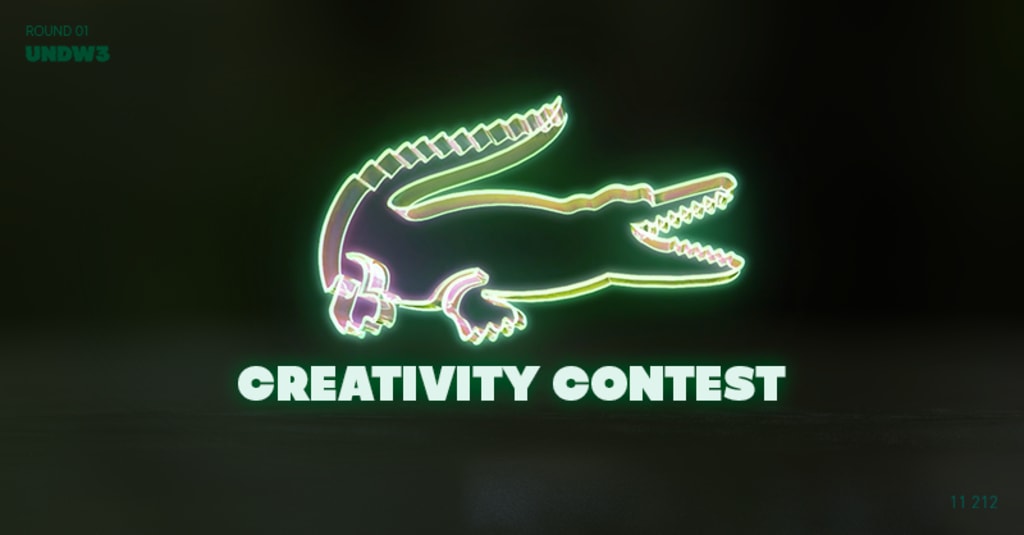 what's Lacoste brand?
René Lacoste, a French tennis player, founded the Lacoste clothing company in Troyes, France in 1933. Lacoste was initially marketed as a tennis brand, pioneering the use of short-sleeved polo shirts in the sport. Polo shirts were soon designed for golf and sailing.
The famous crocodile logo is an important part of the Lacoste brand. Many people are unaware of how the crocodile became such an iconic part of the high-end brand. So, why is there a crocodile in the Lacoste logo? The short answer is that it was René's nickname, but if you want to know how he got it, here's the longer answer:
It happened during one of René's tennis games in the early 1930s, before the Lacoste brand was established. He'd seen a crocodile skin suitcase in a nearby shop's window and had his heart set on it. So he made a bet with the captain of the French Davis Cup team, where if he should he win the game, they would buy it for him.
René lost the match and thus did not receive his crocodile skin suitcase, but he did receive a nickname. René was given the nickname "crocodile" by both the press and the public, and it stuck within a few weeks. René had a crocodile embroidered on his court blazer before founding Lacoste.
Lacoste and "UNDW3" NFT Community
Lacoste, a French clothing company, recently released an NFT collection inspired by its famous crocodile logo. These 11,212 NFTs, dubbed "UNDW3," give holders access to Lacoste's new Web3 community.
On June 14th, Lacoste released its "UNDW3" NFTs on the Ethereum blockchain. These NFTs quickly sold out, according to the brand's Twitter feed, and the only place to buy them now is on Lacoste's OpenSea page.
If you're wondering why Lacoste minted 11,212 NFTs, it's because the number refers to the company's classic Polo L1212. These NFTs, however, do not include Lacoste polo shirts. Rather, each "UNDW3" NFT displays a video of a crocodile's glowing eyes peering out of a pond.
Prior to the release of "UNDW3," Lacoste mentioned a slew of benefits available to NFT holders. All "UNDW3" community members will have access to exclusive items and experiences. Lacoste also suggested that members of the community submit ideas for future designs or custom clothing.
Despite volatile crypto market conditions, Lacoste wrote on Twitter that it believed in the promise of "virtual reality" and "the metaverse." Catherine Spindler, Lacoste's chief brand officer, also stated that Web3 technologies fit the brand's "creativity and avant-gardism."
Lacoste launched an official Discord channel before releasing its exclusive "UNDW3" NFTs to better connect with fans. Lacoste also established a DAO through which NFT holders could vote on or submit proposals.
Lacoste first expressed interest in creating metaverse experiences a few months ago. The French clothing brand launched an interactive "Croco Island" in the game Minecraft in March.
Clothing Companies Increase Their Web3 Presence
One example of a growing trend in the clothing industry is Lacoste's "UNDW3" NFT community. Rarity Sniper has reported on dozens of fashion brands using Web3 technologies to reward fans with in-person merchandise and VIP experiences in recent months.
Diesel, for example, created a metaverse community with its "D:VERSE-KEY NFTs." People who own a "D:VERSE" NFT have exclusive access to Diesel's online community as well as information about upcoming NFT drops. Some of the rarer "D:VERSE" NFTs gave holders physical items such as designer sneakers and puffer jackets.
Gap is another company that's not afraid to use NFTs and the metaverse in its business strategy. The American clothing brand has dropped many NFTs on the Tezos blockchain. More recently, Rarity Sniper discovered Gap has been developing a virtual version of its Times Square store in the Roblox metaverse.
Speaking of digital shops in Roblox, Gucci just launched its "Gucci Town" experience on the popular metaverse platform. In addition to shopping for NFT wearables, "Gucci Town" features an outdoor café, mini-games, and a special area for in-game selfies.
While Lacoste's plan for an NFT community is ambitious, it's no longer an original idea in the fashion industry.
Also read:
Is Now the Time to Buy the Dip in the Crypto Market?
nft
About the author
Blockchain technology will change the world. Cryptocurrencies are just a tool for that change.If you can't explain it to a six-year-old, you don't understand it yourself.
Instagram: @cryptogilb
Reader insights
Be the first to share your insights about this piece.
Add your insights