Is The Newly Launched Safemoon The Next Big Cryptocurrency?
The new crypto coin is growing these days.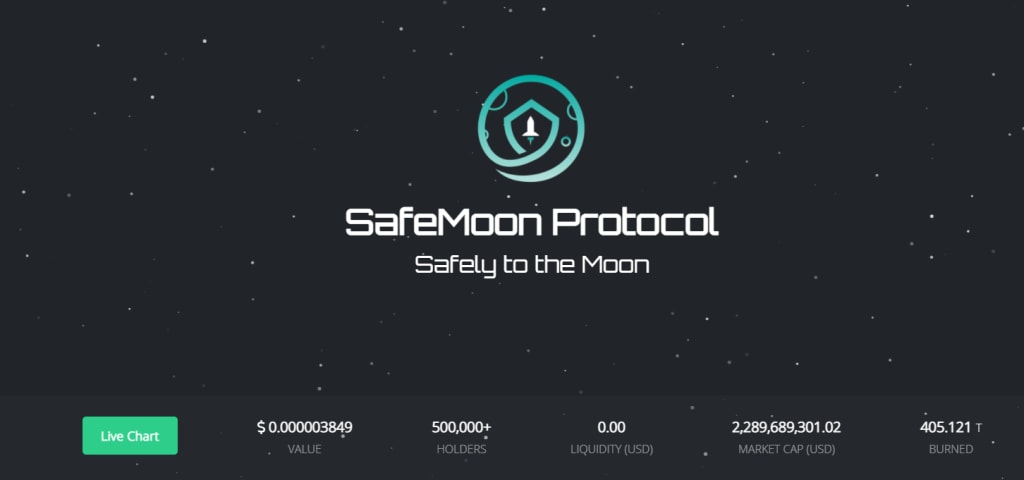 Keep reading if you're interested in learning about new crypto coins. I've just recently begun my crypto journey, and I'm actively researching crypto coins in order to maximise the return on my investments. I learned about the safe moon coins 5 days ago. Now I'm going to tell you about the story behind these safe moon coins, including whether they're legit and so on from my research knowledge.
Note: This article is only meant for educational purpose.
So What is a Safemoon coin?
This coin is a relatively new coin that was released in the month of March 2021, as of 19th April 2021, At the time of writing this article the coin has 500,000+ people holding this, this shows that the safe moon has a huge community. And according to its white paper the total supply of 1,000,000,000,000,000, with 223,000,000,000,000 burned dev tokens and a fair launch supply of 777,000,000,000,000.
What are burned dev tokens and how this coin works!
The Safemoon is a deflationary cryptocurrency, which means that it is a coin whose volume is expected to decrease over time, increasing its value. Safemoon accomplishes this in a unique way. It's straightforward. A ten per cent charge is applied to each transaction. The first 5% is redistributed to all holders, while the remaining 5% is permanently burned. Already they have burned 405.121 T coins as of now.
This not only puts more money in your pocket as others buy and sell, but it also discourages day trading and penalises those who attempt to manipulate pricing. The burned coins are sent to a null address that no one, including the developers, can reach, effectively removing them from the market volume. As a result, the burned coins would increase coin scarcity.
So, how about the programmers? How can we be sure this isn't a ruse? It's straightforward. These developers have not only registered Safemoon as a limited liability company (LLC), but they have also publicly displayed their names and faces on their website and are extremely open with their community through Twitter and Discord.
All of these factors combined to instil a high level of confidence in the developers in me and many others. They're very involved in the forum, often answering questions and providing updates on their Safemoon plans and behaviour.
So how has it been performing? Short answer: In a nutshell, Very well. The coin has experienced a tremendous amount of organic growth and shows no signs of slowing. After a recent bull run, the coin is worth around $0.000005 at the time of writing this post. In the last 24 hours, SafeMoon has increased by 86.60 per cent. The latest ranking on CoinMarketCap is #2425.
If you are a beginner and want to earn decent returns from your cryptocurrency investments or want to have a helping guide to know the market for your investments. You can join Intelligent cryptocurrency a fast-growing training program.
The coin has increased by over 800 per cent in the last week, despite the fact that it has yet to be listed on any exchanges. It's been showing steady rises, with three big spikes accompanied by healthy corrections on a steady positive uptrend, with over 500,000+ investors and one of, if not the fastest-growing crypto communities in the period it's been accessible according to their website.
SafeMoon protocol is a combination of RFI tokenomics and an auto-liquidity generating protocol. According to an article, SafeMoon plans to develop a non-fungible token (NFT) exchange, as well as charity projects and crypto educational apps in comings days.
How Is the SafeMoon Network Secured?
The SafeMoon white paper has the following plan for the safety of its protocol: the developer burned all tokens in the Dev Wallet before launch, there was a fair launch on DxSale, the LP is locked on DxLocker for four years, and an LP is generated with every trade and locked on PancakeSwap
Wondering Am I late? Or how to buy it?
You are not too late to purchase it. Safe Moon is only available via Pancake Swap and has yet to be listed on any exchange. The developers are currently working on two exchanges, with Binance looming on the horizon. If you buy before they go on the market, you'll almost certainly make a good profit. To learn how to purchase, click here. One thing to keep in mind is that you can purchase BNB coins through TrustWallet, but the fee is far higher than if you bought through Binance. If you don't have access to Binance or don't want to wait to be validated, this is a decent way to buy.
If you are a beginner and want to earn decent returns from your cryptocurrency investments or want to have a helping guide to know the market for your investments. You can join Intelligent cryptocurrency a fast growing training program.
Hope you have gained some knowledge about the new crypto, Research more if you want to invest in it.
Thank you!
product review
About the author
Hi there!
I'm Alisha the web3 lover, I'm passionate about learning new things and meeting people from all over the world. I'm an enthusiast who writes, reads, shares the knowledge that I have on crypto and web3 space.
Reader insights
Be the first to share your insights about this piece.
Add your insights