Is It Worth It To Invest In Eagle Network Cryptocurrency In 2022?
Is it is a good decision to invest in Eagle Network Cryptocurrency? Detailed analysis and predictions about the price of the Eagle Network cryptocurrency.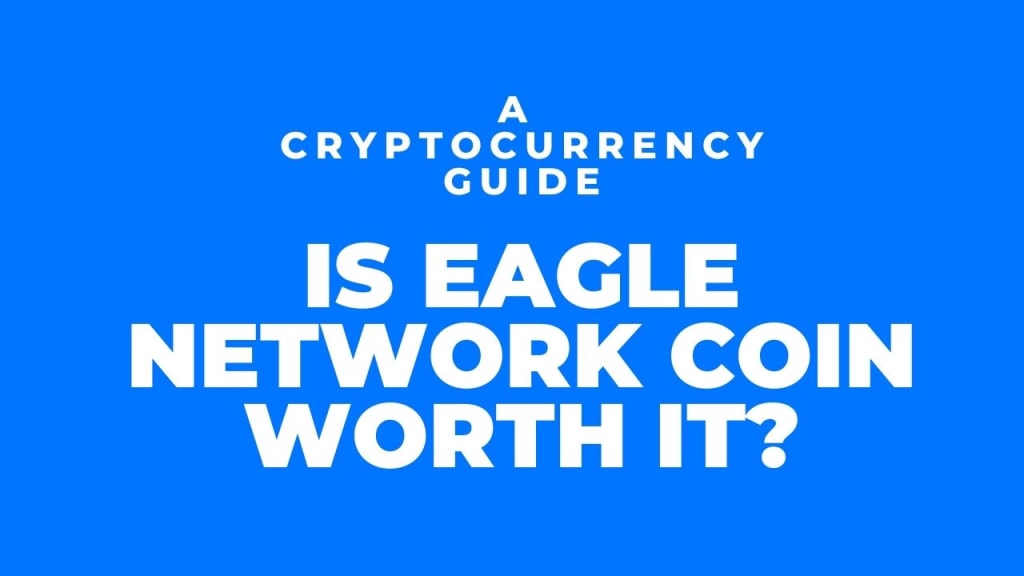 Is It Worth It To Invest In Eagle Network Cryptocurrency In 2022? / Picture created by the Author
I'm a little slow on this whole cryptocurrency game. I heard about it last week and people are talking to me like I should know all the ins and outs of how it works. The other day, one of my friends told me that Eagle coin mining can be done through your mobile phone!
Satoshi Nakamoto, who is universally recognized as the inventor of the internet of money, conceived the idea for a genuine peer-to-peer and decentralized digital cash system on October 31, 2008. He released the Bitcoin whitepaper, which launched a paradigm shift in people's beliefs about the financial system. Bitcoin is currently the most popular cryptocurrency, with over a million users. Ethereum, Litecoin, Ripple, and Dash are other well-known cryptocurrencies that have been capturing the financial sector by storm.
We understand that cryptocurrency mining may be quite rewarding when done correctly with the appropriate attitude. Mining is a secure way to invest in cryptocurrencies while also maintaining and diversifying your portfolio. One of the benefits of mining is that it makes it more difficult for newcomers to get trapped by gambling, panic, anxiety, or market manipulation.
The Eagle Network is a blockchain system that gives consumers Eagle, a cryptocurrency created on their phones. By performing the tasks of Miner, Keeper, Witness, and Delegates, players can earn Eagles through Eagle Network. Eagle Network is intended to be a genuine community of individuals who help each other build their Eagles into something real.
Eagle Mining App Ecosystem: An Overview
Miner: A Miner is a person who uses the Eagle Network's mobile app to ensure that they are not a "robot" daily. This user confirms his/her presence every day by opening the app and verifying his/her status. The base rate for a Miner is 2 Eagle tokens per hour.
Keeper: This is a member of the Eagle Network who actively promotes the Eagle Network platform to others. As the community grows, so does the value of the Eagle token. This will be important for future updates to the mobile app when members use their earned Eagle tokens to trade goods and services with one another.
Witness: This is a participant in the Eagle Network mobile app who participates by developing a network of miners with whom he or she is familiar and trustworthy. The task of building a worldwide trust graph falls to the Witness. A Witness can add confirmed users to his or her security squad after verifying them.
Delegates: The Eagle Network's mobile app has high-level mining persons called delegates. They use their desktop or laptop computer to run the Eagle node software.
Is Eagle Network a Scam?
The Eagle Network mining application is the first step toward a larger Blockchain project. We understand that a Blockchain without people and users is meaningless and useless, therefore we need an initial starting point to set the stage for real-world application of future Blockchain solutions. The hypothesis has already been demonstrated. People are trading Bitcoin, Ethereum, and Tether for goods, services, and fiat money like US dollars in real life.
Blockchain technology is the backbone of the Eagle Network community. To get a better understanding, you may look up the whitepaper of Eagle Network here.
Bitcoin's value was $0 back to its inception in 2008, but when interest in it grows and time passes, 1 Bitcoin is now trading above $64000. It'll take time and a group effort to build the worth of Eagle and the ecosystem around it. The value of Eagle will be based on the number of people in Eagle Network, transaction volumes generated by Eagle Network's transactions, liquidity in the exchange market, and time. The more people who utilize Eagle to mine cryptocurrency, the greater its value becomes.
Is There a Need for the Eagle Network's Utility?
Eagle Token has a lot of potential behind them. The Eagle Network has ambitious goals for the future, including peer-to-peer transfers and a decentralized finance viewpoint. These ideas include:
Defi token
Smart contracts
Decentralized applications
Partnerships
Future burn
New staking token: EgonCoin
With so many fresh concepts outlined in their white paper has, the Eagle tokens seem to have a bright future ahead of them.
In 2022, what Will Be the Outlook for the Eagle Network?
These days, making money on the internet is simple. Making money online might be accomplished in a variety of ways. There are certain digital currencies that you can simply install and spend five to ten minutes each day to earn $100 to $500 per day. What Is The Most Efficient Way To Make $1,000 Per Day?
In 2022, Eagle Network will likely be a very popular option for users who prefer to invest in cryptocurrency rather than traditional stock. Eagle Network has been built from the ground up with individuals in mind. Eagle is not a scam and Eagle's value is real, based on the number of people joining Eagle Network and using Eagle to transact between one another.
Eagle Network already has a unique and useful mobile app that can be used to mine Eagle tokens, and we'll continue adding more Eagle-based features in the near future. Eagle's mission is to create a new digital era and its community is fully focused on this goal. Eagle aims to bring many tangible benefits to investors who use Eagle cryptocurrency technology.
Final Words- Future Of The Eagle
The Eagle Network has been busy rolling out new features, and it's expected to go live in the next few months. Now that they've added staking, the only way to get your eagle coins out is through this option. To be able to stake, you'll need a minimum of 1000 eagle tokens.
They've also released a wallet that doesn't appear to be functioning or in its early phases of development. Overall, the Eagle network has advanced to the next stage and lowered mining difficulty to 0.1. They've also launched the ODIN token, which will be the major token in the network and will get an NFT airdrop for all owners.
Eagle Network has been established as a platform that will revolutionize the cryptocurrency industry. Everyone may use and profit from Eagle Network's digital assets because of its accessibility. Traders, investors, miners, and others seeking an alternative method to enter and profit from the cryptocurrency market will benefit from this platform.
The Eagle network has received a positive final review, and we believe the new mining software has a good chance of success. The current mining rate allows you to amass a significant number of Eagle coins in a short amount of time. We can confidently state that it does not consume your smartphone's battery life, display too many advertisements, or slow down the processing speed after studying their whitepaper and examining the app.
Eagle network's goal is to construct a separate blockchain similar to bitcoin, Ethereum, Tron, and others, which will run underneath the umbrella of other blockchains. As a result, Eagle network tokens will be valuable in the future. Another boon is that because of widespread mining tokens becoming scars, as a result of its Eagle network token mining speed has been slowed down.
Yes, In 2022, it will be worth investing your time in Eagle Network. Because you won't be investing in fiat currency, it's completely secure. For every minute you spend clicking the mining button, you'll only waste a minute. That's all there is to it.
Read more articles about cryptocurrencies:
Can Dogecoin Hit $100 In the Future? Discussing The Expected Value of Dogecoin
Is Wink Coin a Good Investment? The 2025 Prediction For Wink Coin
Is PI Coin Is Legit or Scam: Should You Trust PI Coin?
Will PI coin cross 5$ in 2025? The Expected Value of PI Coin In Future
PI Network Cryptocurrency: Expected Value, How To Invest And Make Money