Ideal ways to create a unique Cryptocurrency Exchange platform in 2020
Excellent ways to Launch a Crypto Exchange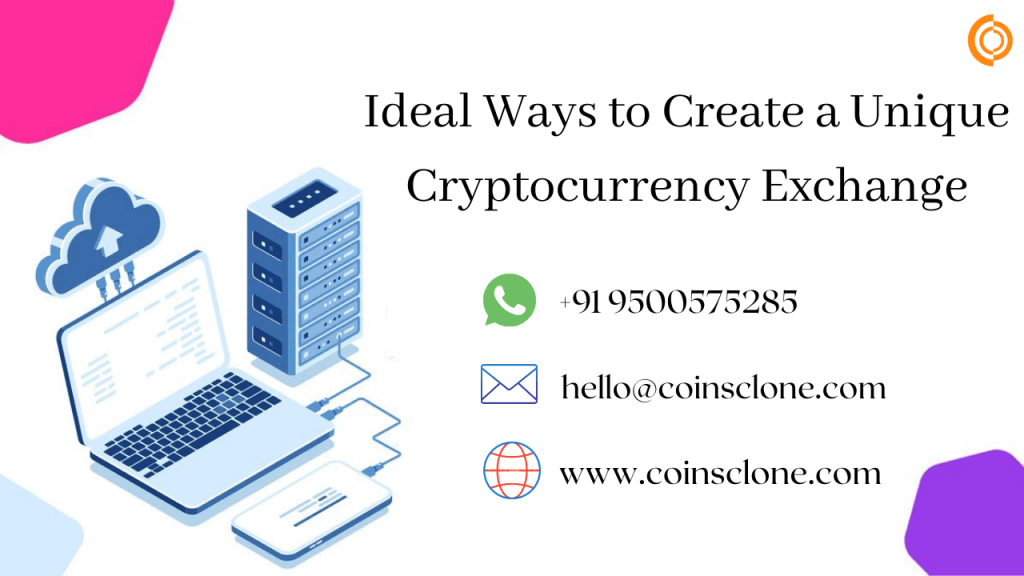 Ideal ways to create a unique Cryptocurrency Exchange platform
As for now, cryptocurrencies are hot talk in the town. Before starting a bitcoin exchange First, you need to know about the cryptocurrency and cryptocurrency exchange. Currently, these two things are the trend for online business. Everyone is facing lockdown due to COVID-19. So many people are jobless and there is a vast loss for daily workers and business class people. This insisted he business people to analyze what is cryptocurrency and cryptocurrency exchange?. If you are new to this technology then you will also have the same question in your mind.
Cryptocurrency is a digital currency or an asset. It is first invented using blockchain technology. The people who invented the first digital currency named that as bitcoin. Some people are already aware of bitcoin. It is one of the most popular digital currencies in the marketplace. This crypto coin made a terrific boom in the trading market. Also, its value is very high compared to other cryptocurrencies in the marketplace.
Now your question will be…
What is a Cryptocurrency Exchange?
It is the website or a platform where you can buy, sell, and trade the cryptocurrencies and other digital assets. One can earn more money by launching a bitcoin exchange platform. So many startups, entrepreneurs, and business class people started to build their own exchange platform using the bitcoin exchange scripts. Before starting a crypto exchange you need to select the type of exchange you want to launch. There are various kinds of crypto exchanges in the marketplace. Now let us see what are the types of crypto exchange platforms.
User to Admin Exchange:
It is a kind of centralized exchange. So there will be middlemen or intermediaries between the crypto transactions. In this type of exchange, an admin will be the intermediate for buying and selling cryptocurrencies between users. Admin will have all the control over the functionalities and securities of the crypto exchange platform. For each successful crypto transaction, the admin will collect fees from the users.
Also, the admin will monitor and control the crypto wallet. So in the centralized exchange, if any transactions are not done properly. Then the admin will rectify it and send funds back to the users.
Peer to Peer Exchange:
It is a kind of decentralized crypto exchange platform. So there will be no existence of third parties or middlemen for the transaction. Here users can trade the cryptocurrencies securely. Buyers and sellers can directly connect to each other and they can begin the trade. Here the owner of the exchange will have the control. They can enhance the settings and facilities of the user.
Hybrid Exchange:
The name itself suggests that it is a combination of both a centralized exchange and decentralized exchange. This type of exchange eliminates the drawbacks of both the user to admin and peer to peer exchange. It also brings up a user-friendly crypto trading platform. So users can have the option of selecting the best type of exchange for trading.
Orders book exchange:
The orders book exchange is the crypto trading platform. It has a live order book system like binance and poloniex. If you are planning to launch the order book exchange. Then your users can instantly buy and sell cryptocurrencies in a hassle-free manner.
Ads based Exchange:
It is an ad-based crypto exchange platform. Here any of the users will post the advertisement with an exchange rate with a fixed price. if another user is interested in that price they can directly connect with each other for trading. By using this users can buy and sell digital currencies at a fixed price that is given in the ad. Popular exchanges like LocalBitcoins and Remitano will have ads based exchange features.
Now let us figure out
How to Start a Cryptocurrency Exchange?
There are three different ways to develop your own cryptocurrency exchange platform for your business.
White Label Solution
Open-Source Solutions
Custom Software Solutions
White Label Solution
White label crypto exchange is an upgrade version of all crypto exchanges. It is also called tailor-made software. By using the white label crypto exchange software you can launch your crypto trading platform immediately. It is one of the easiest and fastest ways to begin your crypto exchange business.
Open-Source Solutions
You can also start your crypto exchange by using free open source code. These open-source codes are available free on the internet. But these solutions are not reliable. Because they are less secure. So, most of the startups, entrepreneurs, and business class people avoid this method.
Custom Software Solutions
The final way is to start your cryptocurrency trading platform from scratch. If you develop from scratch. Then you need more time and money to build your crypto exchange platform. Because you need to integrate all the trending trading features. For each feature, you need to pay some fees. Also, time consumption is more. On my suggestion. One of the easiest and safest ways to start your crypto exchange business by using bitcoin exchange software or white label solutions.
Now, your mind will be popped with a question.
Is it the Right Time to Start a Cryptocurrency Exchange?
To be honest the answer is Yes, this is the right time to start a cryptocurrency exchange business. Startups and investors have different plans for earning money in this crypto industry. Such as launching an ICO, bitcoin mining, and few of them will launch new cryptocurrencies or tokens. In the crypto industry, apart from all techniques, starting a cryptocurrency exchange is one of the easiest and safest methods to start earning money for both startups and business class people.
Must-have Features for your Cryptocurrency Exchange platform
Admin Module
Trader Module
Crypto Payment Gateway
Crypto Wallet
Liquidity API
Mobile Trading Application (Android, iOS)
Atomic Swaps
IEO Launchpad
Referral Program
Margin trading
KYC/AML
Security plays a crucial role in crypto trading platforms. Because without proper security features there may be a chance of cyber attacks and losing the funds. So you need to enable some top-notch security systems in order to avoid hacking and fraudulent activities. Those desirable security features are given below.
HTTPS authentication
Anti DDoS
Data encryption
SQL injection prevention
Anti DoS
Jail login
Two-factor authentication
Cross-Site Request Forgery(CSRF) protection
Server-Side Request Forgery(SSRF) protection
Final thoughts
If you are interested in starting a unique cryptocurrency exchange platform. Then there are three ways. Such as
Hire the best Blockchain developer to develop your crypto exchange.
If you are a blockchain developer, then you can develop it by yourself.
You can buy a premium bitcoin exchange script from the outstanding cryptocurrency exchange clone script providers.
In the above 3 methods, I would like to suggest the third method. Because in other ways you may face some difficulties. If you Hire the best Blockchain developer, You can't expect the perfect outcomes. The second way is very difficult because you must be a techie person in the Blockchain concept & cryptocurrency exchange. So the first two ways are not suitable for everyone. So you can choose the third method. You can buy the bug-free bitcoin exchange script from the top-notch crypto solution providers. They will assist you to launch a unique crypto trading platform within a few days at a reasonable price.