How to Initiate an ICO crowd sale on Ethereum network?
Initiate your crowdfunding campaign by launching an ICO on Ethereum Blockchain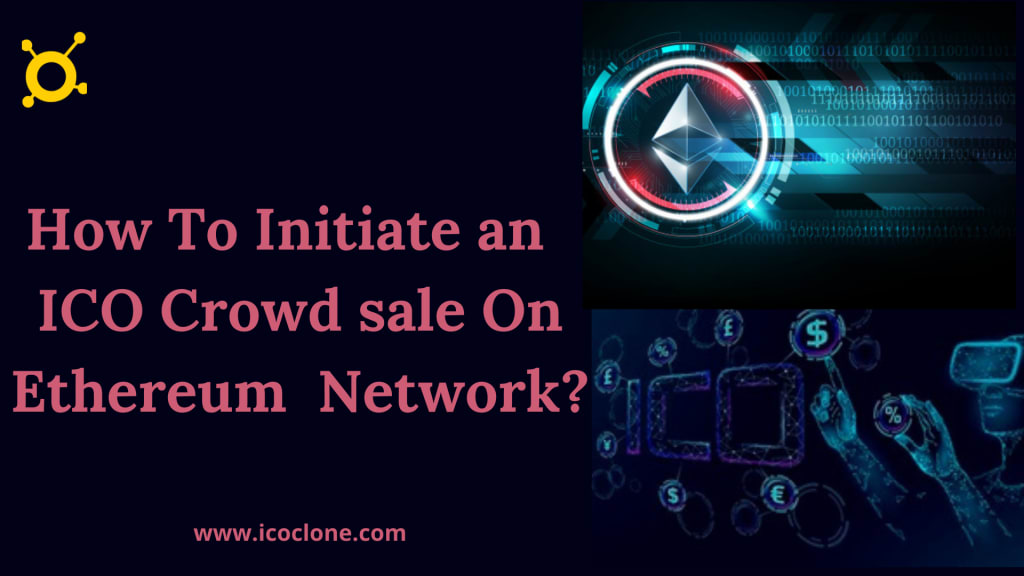 ICO on Ethereum
In recent years, many crypto and blockchain projects were showing their presence in the marketplace. Among them, ICO crowd sale projects are the most popular among crypto startups and entrepreneurs. ICO is the abbreviation of Initial Coin Offerings which is the most pioneering confluence of modern technology like the blockchain network and the traditional world of crowdsourcing investments similar to a stock market. In a short time, finances for further development were raised all over the world. For example, Ethereum-based ICO projects raised more than $108 million in investments for the development of a decentralized application. This is one of the great examples of successful ICO implementation.
In recent times, many people who want to make profits are launching their own ICO crowd sale platform on the Ethereum blockchain network. Starting a crypto business by launching an ICO crowd sale platform is a trendy one in the crypto space right now. We should admit the fact that whoever enters this business can definitely win in a short time and can make a lucrative amount of profits.
Nowadays most crypto investors and budding startups are preferring ICO crowd sale platforms. Because they can effectively raise their potential funds by launching a new crypto token using the Ethereum blockchain network. There is nothing wrong that you would have felt ICO crowd sale is being fraudulent; because sometimes they are. But you must agree with the fact that not all ICO crowd sale platforms or projects are fraudulent.
The great Ethereum blockchain network started its journey as an ICO crowd sale. Speaking of which, I am willing to talk about how to launch your own ICO crowd sale platform with Ethereum Blockchain. This article will motivate you to pick up an ICO business enveloped with Ethereum blockchain.
Let us dive into this exciting article by seeing the basics first…
What is an ICO Crowd Sale?
ICO crowd sale is a kind of token sale platform where newly released utility tokens will be sold to various buyers across the globe. On this platform, people will review the white paper of the token project. If they are interested, then they would provide a certain amount of funds to the token owner. By doing this, the owner or issuer of the crypto token will be highly benefited. ICO crowd sale platform is more similar to Initial Public Offerings. In a stock trade, the users will invest their fiat money to trade stocks. The only difference between ICO crowd sale and IPO is that ICO belongs to the crypto sector and everything depends on cryptocurrencies which do not come with any regulations.
Through this ICO crowd sale platform, startups, companies, organizations, business class people, or entrepreneurs can raise funds quickly and effectively for their business by offering a crypto token to the investor. The crypto tokens sold to the investors can be held by the investors themselves. So that when the token owner earns profits, the dividend will be shared with those who are holding the crypto tokens.
The value of the crypto token depends upon the number of crypto tokens each investor holds. If he/she cannot succeed in initiating the business through the ICO crowd sale platform, then the crypto tokens would be redeemed to the creator. Besides, the investments will be completely returned to the investors in no time. This is how the ICO crowd sale platform works in the crypto space.
Types of ICO Crowdsale Platforms
If you are leaping into the ICO crowd sale business by using the Ethereum blockchain, then you must know its types. There are two distinct types when it comes to ICO crowd sale platforms. such as
Private ICO Crowd sale
As the name suggests, a private ICO crowd sale means that you can only engage a limited number of crypto investors to raise capital. Apart from this, you can also choose the amount of minimum investment required to join your private ICO crowd sale platform.
Public ICO Crowd sale
Another important type of Initial Coin Offering is Public ICO crowdsale which is similar to IPO. The public ICO crowdsale can be referred to as crypto crowdfunding aiming to draw institutional investors and the general public. However, the private ICO crowdsale platform is more practical when compared to the public ICO crowdsale platform as it has some regulatory considerations.
Now. Let us see how the ICO terminology is scripted and how it is successfully implemented.
ICO Terminology and Implementation
ICO crowd sale on an Ethereum blockchain will have certain terminologies and principles on how they are implemented. In our case, the ICO crowdsale on ethereum blockchain is implemented by the below categories.
Pre-mining
Smart contract and gas fees
ICO campaign
KYC process and facilitative transactions
Ethereum Network on ICO Development
If you are a crypto enthusiast, you might know that the Ethereum blockchain network is completely based on a language that is fully based on a turning system. That's why the ethereum blockchain platform uses abstraction mechanisms. Without going into in-depth technical aspects, we can say that the ethereum blockchain allows for the acceleration of transactional processes by using the physical and time resources of the Ethereum Virtual Machine.
In recent years, most of the ICO crowdsale platforms are built using the Ethereum blockchain network. That's why ethereum is recognized as a prominent blockchain in the crypto industry. As we know, the Ethereum network is showing its presence in the marketplace since the emergence of ICO. Also, ethereum is the best to suit the crypto tokens for raising funds. In the ethereum blockchain, there are different token standards. Among those standards, the ERC20 token standard is being preferred for creating ethereum-based crypto tokens. It is due to its smart contract functionality and has more potential benefits for the owner of the token. Therefore, you cannot find a similar function in other Ethereum token standards like ERC1400, ERC888, ERC721, ERC1155, etc.
If you are willing to launch an ICO crowdsale platform on the ethereum network, then you need to create an ERC20 token with ideal features. Then, you should not forget to create your ethereum-based token wallet for your crypto business. Because investors will send their funds to your wallet and it will be stored securely. It will be so great if you create a multi-cryptocurrency wallet with the help of a professional token wallet development service provider. Because not all crypto investors will be ready to invest in one specific digital currency.
Technology Used on Ethereum ICO Crowdsale Platform
As of now, there are several technologies that have been used by blockchain experts to launch a successful ICO crowdsale platform using the Ethereum network.
Solidity can be used which is a prominent programming language
OpenZepplin Solidity Contracts can be utilized as the smart contract.
Truffle framework will be helpful for testing and building tools.
You can use simulators like Testrpc to emulate the local Ethereum blockchain node.
JavaScript can be used for unit testing.
You can also add some other latest technologies as per your business taste for launching a unique ICO crowdsale platform.
How to Launch an ICO Crowdsale Platform on Ethereum Network?
We are living in the digital era with modern technologies so developing an ICO crowdsale platform is not a tedious task. You can initiate a superfine ICO crowdsale platform in the ethereum network by two methods. To begin with, one can create an ICO crowdsale website from scratch but this can take more months (more than 6 months) and also will be more expensive. Some people will develop this platform on their own, but it's very risky for the crypto business. If you make a single mistake in the ICO crowdsale platform development process, you might face failure and all your investments will be wasted. So I would not suggest this method for any startups, entrepreneurs, or any other individuals. If you are interested in developing an ICO crowdsale platform on the Ethereum network by yourself, then you should make yourself ready with the below-mentioned technology tools and software.
Ethereum address on Ropsten Network
Smart contract
Text editor.
My Ether Wallet
Furthermore, you can buy premium ICO script software from a trustworthy ICO development service provider. Because they would have a handful of experienced and skilled blockchain developers for creating a secure ICO crowdsale platform with extraordinary features at an affordable cost. Also, you can easily create a feature-filled crypto token using the ethereum blockchain network. Hiring blockchain developers from the genuine ICO script software service provider will lead you to become a successful entrepreneur in the crypto sector.
Desirable Features of Ethereum ICO Crowdsale Platform
Here is the list of some of the excellent features that you must integrate while developing an ICO Crowdsale platform on the ethereum blockchain network.
Investor dashboard.
Token price control.
Multi-crypto wallet integration
Multi-lingual support
Admin Panel.
Custom UI and UX.
Security system.
Bonus system.
Rewards and Referral program.
Benefits of Creating ICO Crowdsale platform on Ethereum Network
Anybody can raise their funds easily and effectively if they have a proper whitepaper of their project with a smart contract.
No restrictions to get started because they do not claim any requirements to develop an ICO crowdsale platform on the Ethereum blockchain.
Compared to other crowdfunding models, ICO crowdsale is the most effective and reliable method to create a crypto crowdfunding platform in the blockchain space.
ICO crowdsale platforms have high liquidity and by using the ethereum blockchain, you can generate the potential capital in a short time when compared to other crypto crowdfunding platforms.
ICO crowd sale on ethereum is purely based on the trader's confidence and smart contracts.
There are no age limits when it comes to investing in ICO script development. If you are a potential investor with a perfect whitepaper and smart contract perfectly, then there is no age or financial limit required for initiating the ICO crowdsale platform on the Ethereum network.
There is no third-party interference or intervention of the company.
You can link your own crypto token wallet with your token to receive the funds easily and securely.
Final Words
Currently, we can see a rapid increase in the number of crypto investors. This means that properly developed ICO crowdsale on Ethereum network would bring not only business development funds but also a lucrative amount of profit. So this will be the right time to initiate your ICO crowdsale business by launching a crypto token on the Ethereum blockchain network. All you need to do is hire expert developers from the best ICO script provider and launch your own ICO crowdsale platform on the Ethereum network at a reasonable cost.