How to Get Started With Binance Smart Chain For BEP20 Token Creation?
Binance BEP20 Token Creation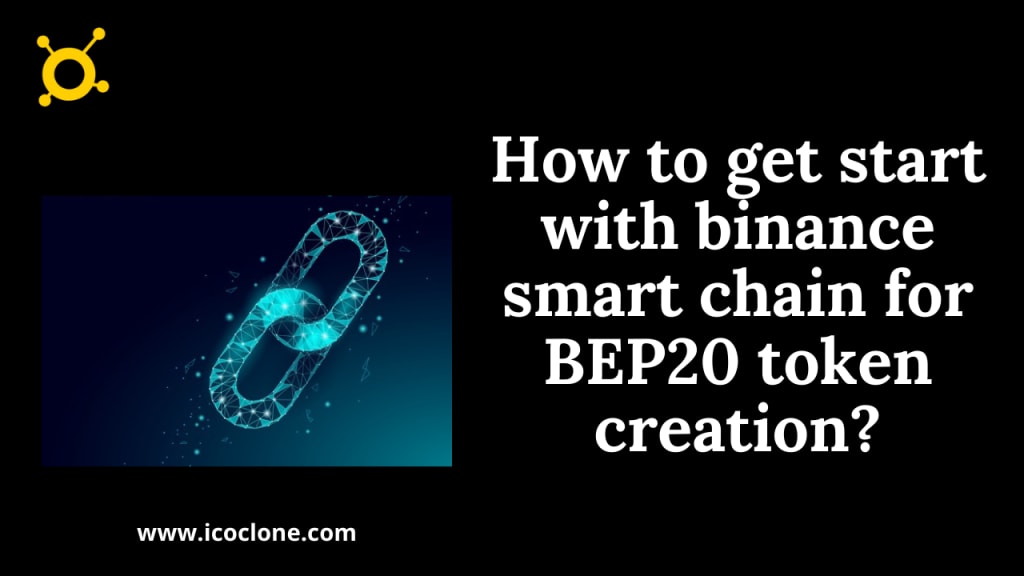 BEP20 Token
Blockchain technology has changed the digital world into the decentralized one. we can see a great hype for Defi platforms since 2020 and a lot of new crypto & blockchain-related projects have flooded the Ethereum blockchain network. So there is a hike in Ethereum gas fees. People paid a $10 gas fee for a $100 transaction. Therefore, everyone started to initiate their crypto projects to various gas-efficient platforms and among those platforms, Binance Smart Chain (BSC) is one of the trending blockchain platforms in the blockchain space.
Cryptocurrency enthusiasts will be familiar with Binance and the positive impact it has made in the DeFi space. Binance is the most popular decentralized exchange (DEX) in the crypto marketplace. Besides, it has a native coin named BNB and a separate blockchain network named Binance Chain which is introduced to upsurge flexibility and speed.
The Binance Chain is a blockchain platform that runs on the Binance Network and has some advantages. Such as one-second block time, instant transactions, and a secure ecosystem. The Binance Chain platform is completely optimized for handling trading volumes. By using the Binance chain, one can send, receive, mint, issue new BEP2 tokens and create trading pairs between two different ones. The Binance Chain was prominent in 2019 and attracted a huge number of traders and investors. Later on, they introduced the Binance smart chain and BEP20 token standard which is a trending one right now. Therefore, startups and entrepreneurs used the Binance smart chain for BEP20 token creation.
If you aren't aware of the Binance smart chain and BEP20 toke development, then this article will guide you to launch a secure BEP20 token using the Binance smart chain.
Let us begin with…
Binance Smart Chain - A Superfine Blockchain Network
The binance smart chain was first by the binance DEX network in 2020 and considered as the update for the existing Binance chain blockchain network. The binance smart chain is a kind of public blockchain so it is an open-source blockchain platform that offers many opportunities for developers. Like crypto token creation, smart contract creation, decentralized application development, and also widely used for Defi projects. Like ethereum, the binance smart chain also has different types of token standards for creating a token. Such as BEP2, BE20, BEP721, and BEP1155. These binance smart chain token standards are currently available in the crypto market and gaining popularity among traders, investors, and startups.
The key standouts of the binance smart chain include the Smart Contract functionality and the compatibility with Ethereum Virtual Machine (EVM). This blockchain platform runs independently. So in case, if the Binance Chain is down, the binance smart chain network would still run efficiently. Since this blockchain network holds the EVM integrated status, blockchain developers can link their Ethereum-based blockchain projects and dApps with the binance smart chain. For instance, a popular wallet application like Metamask can be configured to work with the binance smart chain platform.
The Binance smart chain platform has some essential functions and that form the inner workings of the network. The first one is the proof-of-stake consensus algorithm that allows users to stake tokens. The second one is the cross-chain compatibility of the binance smart chain network. In this network, the dual chain architecture is used. So the users can transfer assets from one blockchain network to the next in a risk-free manner instantly.
Advantages of using Binance Smart Chain
Here is the list of pros that you can get when you use the binance smart chain for creating BEP20 tokens.
Allows smart contract creation
Creative ecosystem for token holders, developers, validators, and other users
Provides an extraordinary performance when compared to other blockchain platforms
Enhanced acceptance for decentralized protocols and applications
Broadens the utility of binance chain
Now, let us see…
What is BEP20 Token?
The binance smart chain has various token standards, but among them - BEP20 is the best one when it comes to token development. The BEP20 is a technical and familiar token standard in a binance smart chain platform. By using the BEP20 token standard, one can develop a fully functional crypto token which is called the BEP20 token. If you are a crypto enthusiast, you might know that ethereum has a prominent token standard named ERC20. Ethereum ERC20 standard is widely used for crypto token creation, smart contracts, dapps, MLM, etc. Likewise, the BEP20 standard will help blockchain developers for creating a BEP20 crypto token with advanced functions.
This standard earned its best name by offering instant transactions in a secure manner. Besides, it has some specialized technical features which attracted many traders, investors, and startups. The primary aim of the BEP20 standard is to offer a flexible format for blockchain developers to develop and deploy several BEP20 tokens on the Binance Smart Chain platform. It can be inferred as a blueprint that defines rules on how tokens can be utilized, spent, and who can spend them. In other words, the BEP20 standard has a common set of rules for token management. Besides, it is also found to be compatible with the ERC20 and BEP2 because they are similar.
The main purpose of the BEP20 standard is to create a token contract on the Binance Smart Chain. Currently, the binance chain wallet, metamask wallet, and Trust wallet support all BEP20 Tokens. So when they receive tokens in these wallets, it will be easy for users to withdraw and for other processes. These tokens work faster and effectively compared to other standard tokens in the global marketplace. That's why there is great hype for the BEP20 token in the market. By seeing this, many crypto startups and speculators showed interest in creating a BEP20 token using the binance smart chain. Therefore, we can see a big demand for the binance smart chain BEP20 token development service.
Why You Should Create a BEP20 Token For your Business?
The binance smart chain provides a flexible platform for blockchain developers to use this BEP20 standard as a blueprint and develop several crypto tokens.
The newly developed BEP20 tokens can represent many elements such as shares, crypto assets, fiat currencies, etc.
One of the major reasons to create a BEP20 token is that other blockchain-powered crypto tokens can be pegged on the BEP20 standard token. In simple words, blockchain developers can generate other versions of crypto tokens with the BEP20 standard tokens.
An essential benefit of the BEP20 standard token is, they develop a token contract on the smart chain network.
As per the current crypto market, Binance smart chain and BEP20 standard tokens are in the top trend. Therefore, by developing a BEP20 token, you can enter into the crypto market and raise funds easily.
The BEP20 standard token is similar to the BEP2 token and ERC20 token. So creating a BEP20 token will be compatible with both blockchain platforms.
Binance smart chain is a secure blockchain network and the security standards that you get are more effective for your token business.
The user will no face any problem while processing the transaction. However, BEP20 standard tokens will take the transaction to the next level and perform perfectly.
If you want to create bulk crypto tokens in less time, the binance smart chain BEP20 token standard will be the right solution. By using the BEP20 token standard, you can bring a high level of feasibility and offers the best business results.
Trust wallet, metamask wallet, and the binance chain wallet support all the BEP20 tokens. Therefore, users can easily receive, store, and transfer in a secure manner.
Traders can easily use wallet extensions.
The dual chain architecture compliments both the binance chain network and the binance smart chain network which provides a better experience for users.
The binance smart chain wallet extension includes cross-chain compatibility which allows for easy swapping of BEP2 tokens with BEP20 standard token equivalents.
How to Develop BEP20 Token?
Creating a BEP20 token by using a binance smart chain network is not a hard task in today's modern world. You can create your own BEP20 token in two possible ways. Firstly, if you have deep knowledge in binance smart chain network and solidity programming skills. Then you can create a BEP20 token by yourself and deploy it on the Binance Smart Chain platform. The BEP20 tokens can be generated in different languages. But among them, Solidity language was mostly used when it comes to the BEP20 token creation.
You need to consider some paramount factors when it comes to BEP20 token creation. Such as
Secondly, you can hire experienced blockchain developers from a trustworthy BEP20 token service provider in the crypto sector. Because they will assist you to create a BEP20 token with elite features and deploy them in a binance smart chain network. The first one is a risky one So I would suggest you go with the second method. However, the choice is yours. So you need to choose the right method for creating a BEP20 token.
Desirable Features of BEP20 Token Development
For creating a BEP20 token, you need to integrate advanced features. Here is the list of features that you must enable in the BEP20 token creation process.
Interoperable with other frameworks
Smart Contracts Implementation
By enabling all these features, you can launch a feature-rich BEP20 token successfully in the binance smart chain network. Now, you might ask - how much does it cost to develop a BEP20 token for business? One can not predict the exact cost of creating a BEP20 token. But the BEP20 token creation cost ranges around $5.5K - $7K and in this price range, you will also get a user-friendly BEP20 token wallet mobile app that supports both Android and IOS platforms. However, the expenses might differ as per your business necessities.
Final Words
The binance smart chain and BEP20 tokens are gaining prominence among the traders. On the flip side, crypto experts are saying that it might be the future of the crypto market. So this would be the right time to get started with the BEP20 token business. The only part that lies in your hand is to hire a team of experienced blockchain developers from the first-class BEP20 token development service provider in the marketplace. Besides, they must also excel in offering bug-free ICO script software. So that you can raise funds through your own ICO platform quickly after deploying your BEP20 token on Binance smart chain network.