How to Become a Sub broker/Franchise with a Crypto Broker?
All That You Need to Know about Crypto Broking Franchise in India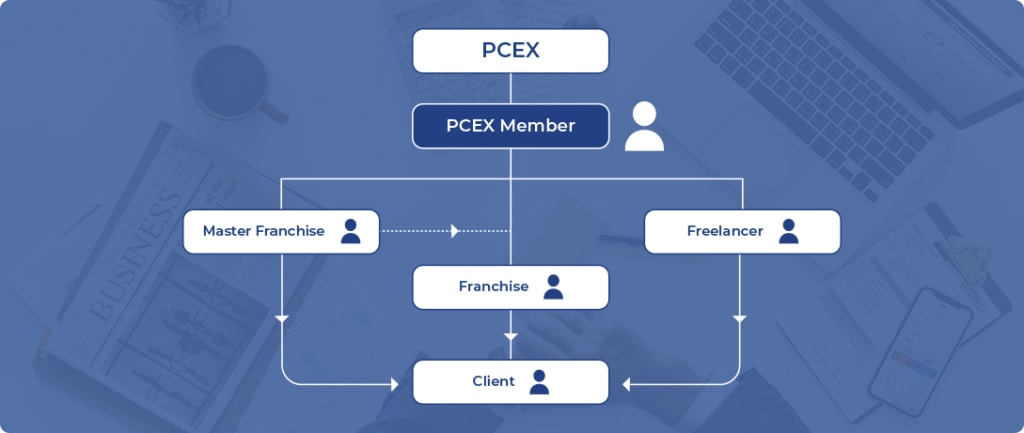 frienchise business model
The cryptocurrency market is showing bullish trends lately with high returns happening in cryptocurrencies encouraging individuals to trade for better benefits in a market slowed down by the CoronaVirus pandemic. In the times, when plenty have lost their jobs and they are looking for real-time earning solutions, crypto-trading nevertheless ends up as the best option to create a passive income portfolio. But before you deep dive into the world of trading, it is necessary to have the right acumen revolving around stocks, bonds, forex, and a limitless zeal to learn new things. So, it wouldn't be an understatement to say that working as a sub-broker franchise can bring benefits for you.
But your approach shouldn't be like a dead-man walking right from the grave to the world of cryptocurrency; on the contrary, knowledge of financial transactions, farsightedness, industry insights, picking up key indicators and rationale will help pave the way to become the best sub-broker with a crypto-broker. Therefore, before we jump into the how's of this profession or crypto business provided you want to become a sub-broker/franchise, let's keep things simpler for early adopters by explaining what's.
What is a Sub-broker/Franchise?
Let us explain by taking a real-time share trading example and we will accommodate the same logic in a cryptocurrency exchange sans centralization.
For example, NASDAQ or BSE appoints someone as the main-broker, for example, X. Now, X has the role to bring more liquidity to the exchange and for that purpose, X, appointed by NASDAQ or BSE as Master Franchise or main head in the hierarchy of trading business appoints Y as the sub-broker. The role of Y will be similar to that of X, and he/she will also use the platform of X or his/her exchange to pool in more liquidity by riding on the brand value that X has created. This is how the cryptocurrency trading platform functions. You can earn consistent income from the spread or commission for the liquidity you bring to the exchange. If you want to open a new source of income for you, register with some of the renowned cryptocurrency trading platforms like PCEX Member to become their sub-broker/franchise and diversify your earning sources.
How To Become a Sub-broker/Franchise with a Crypto-Broker Like PCEX Member?
Meet with Qualification Requirement
It is mandatory to meet the minimum qualification level to end up as a sub-broker/franchise on any cryptocurrency trading platform. You shouldn't just pursue it as a hobby since most hobbyists do not deep dive to understand the market, like how it works. Therefore, you are at a closer end of the receiving end to lose with very little knowledge of the domain. There are multiple certification courses as well that can teach you to become a broker. You can try them out as well.
Complete Documentation
Documentation is necessary for completing the next process of onboarding. Government-approved ID copies like Adhaar Card, Pan Card, driving license, passport, education proof, certification proof, address proof with current or permanent supportive documents like electricity bill, telephone, or gas bills must be verified to register yourself on any cryptocurrency broker exchange.
Picking the Cryptocurrency Brokerage Firm
At the time of starting your journey as a sub-broker/franchise, the destination you want to reach will depend on the route you take. Hence, it is necessary that you have picked the right brokerage firm. Do check the liquidity on their platform before you opt-out to associate with them. With most customers, trading fees, spot-on recommendations, and value addition in the form of guidance tempt investors/traders to associate with the exchange. You must check out what the cryptocurrency exchange broker that you want to join as a sub-broker/franchise provides to its customers.
Specific Requirement Demand
Whether you want to register as a master franchise, franchise, or just a freelancer , there are some specific infrastructure and resource requirements that you need to meet. In some of the cryptocurrency exchange broker platforms, the demand for office space, non-refundable fees, commission structure, and other details must be checked well in advance. After you have compared the same with all other crypto-broker in the industry, you can take your pick.
Explanation Call or Service Explanation
Do not naively join any cryptocurrency broker exchange for crypto business as a sub-broker to earn a consistent regular income, rather, ask them to set-up an explanation calls for business model clarification. At no point in time, you must be playing the guessing game with the cryptocurrency brokerage firm. Only when you are deeply satisfied and know how you can work and earn from the exchange, you must proceed with the association.
Onboarding
After you are convinced with everything, you are asked to make the payment and get yourself registered as a sub-broker/franchise at any crypto trading platform. You are allotted a specific business trading tag, a training session, support, and other marketing collectibles.
PCEX Member is an emerging cryptocurrency trading platform with very high liquidity and a reliable track record. It is the only crypto broker in India that has introduced this concept to create more opportunities for businesses in the crypto industry. To join as a sub-broker or franchise, you can go through all the processes that are discussed above and start your passive income source for sustainability in the challenging coronavirus struck market.