Guide for Kabalos Military Academy Genesis Mystery Box Presale
In order to express our gratitude to the early community supporters,we decided to pick 280 copies from these 2,000 limited edition genesis mystery boxes and start the presale on Metamagus official website on August 8.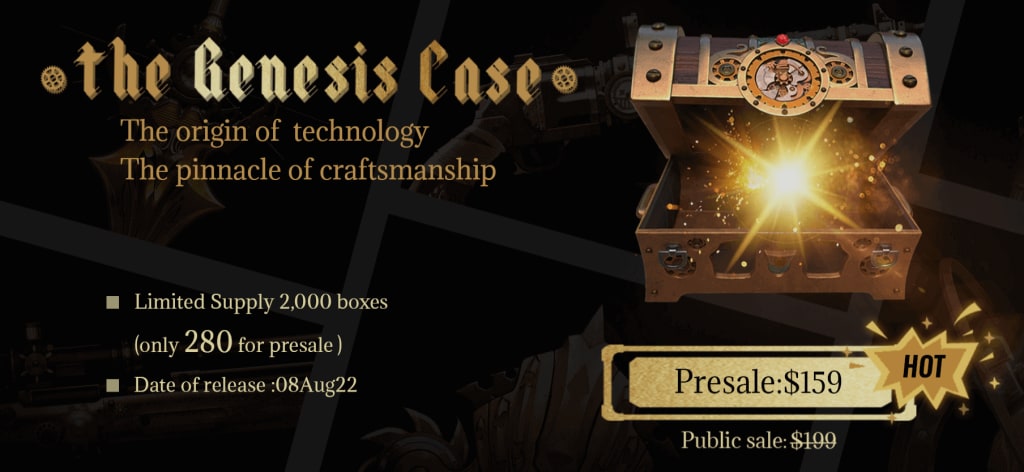 A bit about KMA Genesis mystery box presale
With the unremitting efforts of the team and the continuous contributions of community members, TheSpectrumEra's great steampunk metaverse plan is taking a concrete shape. TheSpectrumEra's first game, Kabalos Military Academy, has completed all the preparatory work and is about to officially enter the development and production stage. At the same time, it has also been highly sought after in the community, and now we are happy to take the project one step further and release a limited edition of 2,000 Genesis mystery Boxes.
This is the first batch of weapon mystery boxes in the KMA game, Moreover, there is a possibility that NFTs of different games in TheSpectrumEra may be used across domains. Therefore, the weapon NFTs drawn from the mystery box can not only help you quickly gain an advantage in KMA's intra-school duels and improve your earnings of token in the game; it can also provide great help for you to participate in other game projects of theSpectrumEra in the future.
A Mystery Box will drop a weapon that consists of 19 components which can be directly used in KMA game after its launch, Each component has independent rarity. The weapon's rarity is determined by the highest-rarity component inside.
Weapons will support disassembly, which will be available along with the upcoming community feature. When the game launches, the disassembled components can be reassembled into weapons with other components.
In addition, the Genesis mystery Box has an extensible design, Users can combine two Genesis mystery Boxes into a more advanced Heritage chest. The Heritage chest has a higher drop rate of UR and SSR, which can help users obtain a more favorite and limited or out-of-print weapon and significantly increase the Proceeds Bonus in the game.
In order to express our gratitude to the early community supporters,we decided to pick 280 copies from these 2,000 limited edition genesis mystery boxes and start the presale on Metamagus official website on August 8. which is one of our first batch of cooperative communities . Users can be the first to own the first batch of out-of-print NFTs, and enjoy a 20% discount off.
How to buy The KMA Genesis mystery box?
1. First, you need to register for our whitelist with this link: https://forms.gle/Sv1yoptAJWBVWjBC6
⏰Registration time:10:00 UTC 04th AUG — 10:00 UTC 07th AUG
🚀 All participants on this presale whitelist can get $KMAP airdrops after token launched.
🎁 Automatically win a chance to receive a Genesis mystery box for free in the lottery of this presale
(Note: upon completion of all the contents in this google form, you will be on the whitelist for KMA Genesis mystery box presale automatically.)
2. Once the registration phase ended, Metamagus will input the whitelist information to their system,then you will be able to move to the next step of the purchasing process.
3. Visit Metamagus website:https://www.metamagus.games/.
Connect your wallet by clicking on the top right "Connect" button.(Note: It is really important to make sure you have successfully connected with the same Metamask wallet address that you used for registering the Whitelist.)
Before the purchase, you need to make sure there is enough $USDT and $BNB in your wallet to cover the mystery box and gas fee.
Click "launchpad" and find "Kabalos Military Academy-KMA genesis box"
Click on "BUY" button to purchase your first genesis mystery box.
Click "MINT" to mint your genesis mystery box.
4. Please wait until the Mystery Box shows up in your "inventory" which is under "my account".If you navigate away by accident, don't worry, you won't lose your NFTs as they are permanently stored on the blockchain. Sometimes there may be slight delays while fetching from the blockchain. Please refresh the page on your browser.
5. If you come across any further issues or problems, please feel free to reach out us on Telegram: https://t.me/TheSpectrumEraOfficial_En where our admins and community members would love to help!
About TheSpectrumEra
The Spectrum Era is a steampunk world blended with magic elements. Its story and content will be presented through a variety of narrative methods based on multiple games. The Spectrum Era aims to create a virtual world connected via a variety of video games based on blockchain technology. In this world, the players can have fun, explore its endless possibilities, and use it as a bridge between the virtual and real world. The Spectrum Era will also try to innovate blockchain games, which will focus on balancing gameplay and economy, and seek a deeper integration of blockchain technology and games to bring more practical applications to blockchain technology.
Website | Twitter | Medium | Telegram
About Metamagus
Metamagus, at its core, is a decentralized open platform for Metaverse innovation and management that supports GameFi,NFT,Guild,DAO,DeFi, Pan-entertainment Socialization,collaborative community and blockchain infrastructure development. It is committed to provide a one-stop solution for blockchain and embrace the new web3.0 era…