Everything You Need to Know About Real Estate Tokenization!
What is meant by tokenization? How does it really help the industry? Let's find out!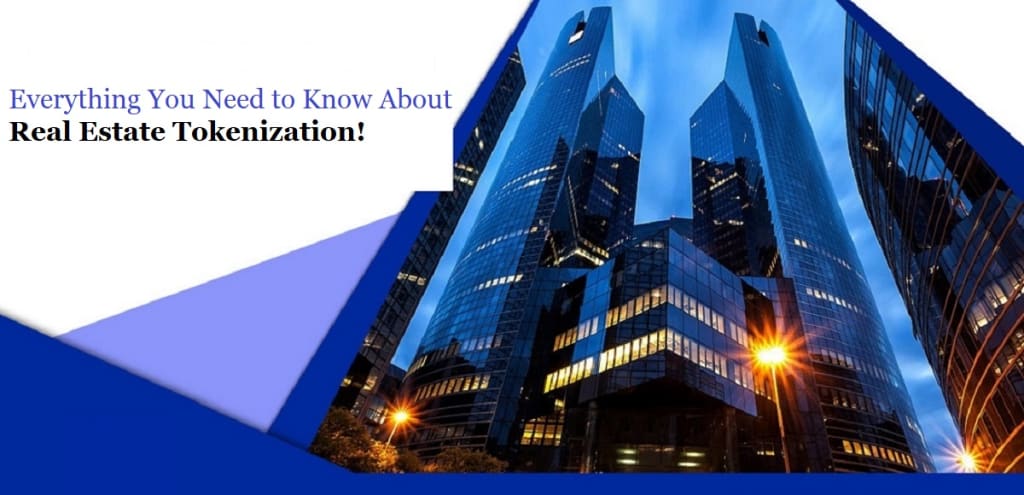 Real estate is probably the largest and the most sought after industry. Every common man aspires to invest in real estate. But the problem is that even though the industry is always on demand, it is equally complex, making the real estate business burdensome for investors. Factors such as involvement from third parties, increased property prices, constantly increasing interest rates, illiquid assets, the long and tedious buying and selling process, etc., is what makes the business intricate.
This led to a large group of real estate companies, startups, and real estate individual investors looking for better, alternative solutions. That is how tokenization of real estate assets alongside the ingenious blockchain technology came into the picture. What is meant by tokenization? How does it really help the industry? Let's find out!
The Concept Behind Real Estate Tokenization
To tokenize a real estate asset means to convert the asset value into digital tokens. Tokenization allows the asset owners to create fractional ownership for the asset, i.e., the asset value can be divided into several shares as well as the ownership of the shares. The tokens represent a single underlying property or a portfolio of properties. The tokenized platform is based on a blockchain system that helps control, secure, and verify every transaction that is executed with the tokens. There are different types of real estate tokenization such as,
Commercial real estate tokenization
Residential real estate tokenization
Single real estate tokenization
Trophy real estate tokenization
Why should you tokenize your real estate property? What are the crucial benefits? Let's take a look.
What Blockchain-based Real Estate Tokenization Offers to the Investors?
The most pivotal characteristic of blockchain is that it is immutable. Any transaction, once recorded on the blockchain, cannot be removed or interchanged. Blockchain records every transaction history, which is highly beneficial for the investors to prove their ownership for the property and prevent fraud. Blockchain eliminates the possibility of fake transactions and the possibility of deceiving investors.
The automatic smart contracts technology
The blockchain-based tokenization platforms come along with smart contracts that can self execute transactions when the involved parties meet certain pre-conditions. The agreements are transparent across the distributed decentralized network. This also helps the investors to manage other processes efficiently, such as voting, speeding up calculations, etc.
Liquidity is the most crucial factor for real estate property. Investors face hardships mostly because of illiquid assets, which makes the buying and selling process long and difficult. But, with tokenized platforms based on blockchain, investors gain more liquidity for their property and more room for fractional ownership of the property, which makes the buying and selling process quicker and easier.
Elimination of third parties
This factor is helpful for investors in several ways. A tokenized real estate platform allows investors to conduct direct peer-to-peer transactions between themselves from anywhere around the world. This removes the participation of third parties unlike the traditional real estate business where there is too much involvement from third parties such as brokers, agents, etc. This helps investors with reduced costs as they don't have to pay commissions or brokerage fees, speedy processes, and reduced risk factors.
The demand for property tokenization is rapidly evolving with each day, and it has all the ability to become the future of the real estate sector. There are multifarious examples to prove that. Let's see one of the recent ones below.
Is Property Tokenization the Future for Real Estate? Here's an Example Explaining Why!
Boulogne is said to be one of France's wealthiest cities with an average household income nearly double the French average. Boulogne possesses some of the finest architectural buildings in the country, and are worth millions of dollars. One such building is the AnnA Villa, which has a value of € 6.5 million. This property recently became the first-ever property in France that was tokenized and sold via blockchain. This is how the process took place,
First, the property ownership was transferred to a joint-stock company, known as "SAPEB AnnA."
Second, the company's ownership was divided into 10 Ethereum tokens, which were distributed to new owners.
Finally, the ten Ethereum tokens were further broken down to 100,000 units each, with each unit valued at € 6.50.
This paves the way for even small-time investors to participate or own a share of the finest architectural buildings and the ones that have high price value. Apart from the above mentioned, there are also other examples such as the U.S has already witnessed its share of larger real estate backed security token offerings of value more than $30 million. Other than this, PeakSide Capital, in Germany, launched a tokenized real estate fund with a target of volume upto € 200 million.
Summing up
As mentioned previously, we can keep going with various examples that state the property real estate tokenization market is widely expanding and has all the potential to become the future of the real estate market. So, if you want to tokenize your real estate property, there is no better time than now!
To tokenize your property in the most reliable way possible, all you have to do is, carry out extensive research and choose the right real estate tokenization company. Tokenize your property, achieve tremendous benefits for your business, and become a part of the real estate revolution club!

VanessaJane
VanessaJane is a Blockchain Consultant, been in the Software Development Industry for the last 4+ years. She has a great knowledge of Technology, Blockchain, real estate tokenization, Tour and Travels, Fashion, Education, etc...
See all posts by VanessaJane →