Create NFT Marketplace - Types, Function, Features, and Development Cost
Create NFT Marketplace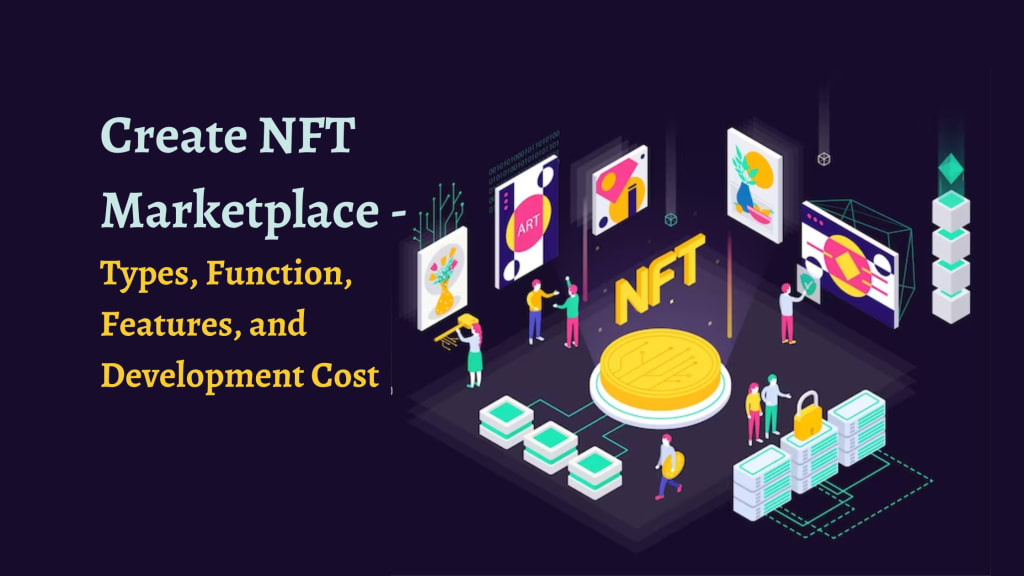 Create NFT Marketplace
An NFT (Non-fungible Token) is a digital certificate with encryption and blockchain verification. It is a trendy technology in 2023 and a promising technology for the future. The search engines depict that people are more interested in NFTs than cryptocurrencies. Moreover, the value of NFTs is more constant than the value offered by digital currencies. Nowadays, several companies consider NFT as a payment method. Also, anything is created in the form of NFTs like music, art, image, video, etc. The key benefits are adaptability and the opportunity to transfer ownership of the product.
What is the NFT Marketplace?
The NFT marketplace is the place where users can trade NFTs for cryptos. The NFT marketplace is a place to depict several collectibles, creativities, and other digital assets. In the NFT marketplace, user can list their NFTs at a fixed price or in an auction based on their preference.
The NFT platform is a digital space to mint and trade NFTs for cryptos. NFT platforms are created on various blockchain networks. The NFT marketplace helps numerous digital content creators to enhance their creativity and revenue by utilizing this platform.
In the crypto market, there exist numerous NFT marketplace platforms, come let's see briefly....
Various Kinds of NFT Marketplace:
Users could trade digital assets in an NFT marketplace. However, one platform differs from another one. The digital asset range from art to video games and more.
Universal Marketplace:
Universal Marketplace gathers various types of NFTs such as artwork, virtual worlds, trading cards, sports collectibles, domains, trading cards, and domain names. OpenSea is one best example of a Universal marketplace.
Niche Marketplace:
The niche marketplace concentrates especially on rare assets. It grabs people with a certain niche with individual tastes. This marketplace depicts a particular niche for specific users based on their interests. SuperRare is one of the best examples of a Niche marketplace.
I think you might get an idea about the two different types of NFT marketplace. Now, let's jump into the next topic working function of the NFT marketplace
Working Function of NFT Marketplace
Have you ever been amazed at how the NFT marketplace functions? come let us see in steps
Sign-in process:
Each marketplace has a sign-in process. Here, the users have registered an account with the necessary details.
Connect wallet:
Primarily, the users have to connect with the marketplace, before they begin to trade in the marketplace.
Funding the wallet:
Before beginning to buy, sell or trade NFTs, the users have to fund their wallets. This is especially for the processing and energy requirements of using a blockchain network.
Selling NFTs
Here the users can list their NFTs in the marketplace by following the below activities.
Visit the profile in the menu bar
Users have to visit the NFT collection where he wants to list their NFTs
Users have to select sell on the listing page
Users have to set the price for their NFT. Price can neither Fixed nor Auction
Users can also set the time period for their sales in the marketplace.
Buying NFTs:
Here, the user could search for the NFT collection and their preferred NFT. Then the user can follow the below activities.
Users have to visit the profile in the menu bar
Users have to check for NFT categories
Users can choose their preferred NFT from a specific category
Users can buy NFT either by bidding or sending money directly to the seller's wallet.
Now, let us look at
Why build an NFT Marketplace?
The future is moving towards the virtual world, and NFT is expected to play a major role in the digital world. With the NFT marketplace, the platform owners can also earn commissions on each sale taking place on your NFT platform.
Nowadays numerous startups are interested to develop their own NFT marketplace with their unique strategies. This is the perfect time for startups to step into the NFT world. The NFT marketplace is a decentralized platform that does not pose any rules and regulations like traditional marketplaces. NFT marketplace provides users with more flexibility and freedom when it comes to buying or selling or trading digital assets.
In the NFT marketplace, the user acquires super benefits feature access. This impacts the users to trade on the NFT marketplace and makes a demand for the NFT marketplace. So developing an NFT marketplace will create hype for your business in the crypto market and will also generate high ROI. Both the owner and the creators are benefited from the NFT marketplace with certain types of commissions earned by selling NFT on your platform. This grabs millions of people towards the NFT marketplace platform. So creating an NFT marketplace is mostly welcomed by all NFT enthusiasts.
Key Steps To Create an NFT Marketplace
There are two ways to create an NFT marketplace platform either from scratch or by using a white-label NFT marketplace solution. Let me say you the general flow of the marketplace
Requirement Gathering
Determining the blockchain network
Constructing smart contract
Executing marketplace
Implementing security
Testing
Live
Now, let's briefly see about the two ways to create an NFT marketplace
Developing an NFT Marketplace from scratch:
Creating an NFT marketplace from scratch is not a simple task, you have to hire a team of experts with blockchain knowledge to develop an efficient NFT marketplace solution. Moreover, it takes more than 1 year to implement in real time.
Developing an NFT Marketplace with a Whitelabel solution
Creating an NFT marketplace with the help of a white-label solution is the easiest way. White-label NFT marketplace solution is a ready-made software that includes all similar features and functionalities of the famous NFT marketplace. With a white-label solution, you can immediately launch your NFT marketplace platform in the market. So it is best to choose a white-label solution to create an instant marketplace with a moderate cost.
challenges in building an NFT Marketplace
Let me clear you, as the NFT marketplace works on blockchain technology, it faces a big challenge. So be conscious about the following in your marketplace
Offer the Best user experience:
If the users try to build their own NFT, then he has to create an account in the marketplace by providing their KYC. The marketplace secures the KYC details acquired from the users or it might lead to a poor user experience.
Market fit
Due to the sudden popularity of NFT, you might address numerous challenges among several NFT marketplaces, which creates a lack of NFT marketplace development process.
As NFT is changing rapidly, you have to be conscious of current updates and have to examine which will fit your business goals.
Blockchain Technology:
The NFT marketplace is a big challenge if you fail to select an appropriate blockchain technology. So to create an excellent NFT marketplace, you must have skilled developers.
These are some of the points you should be conscious of while creating an NFT marketplace. Similarly, you have to know about some of the extraordinary features of the NFT marketplace to make your platform unique and user-friendly.
Key Features of NFT Marketplace Development
Some of the extraordinary features of the NFT marketplace are,
Bid and Buy
Proven Security
Flawless Trading
Stunning Dashboard
Custom UI/UX
Instant Information
Trending collections
Ownership Transfer
Customer service
QR scanner
Efficient listing
Feature Request
Search Filter
Now you know how to develop an NFT marketplace and also the extraordinary features of it. Next will think about the cost spent to create an NFT marketplace, am I right?
so let's look at the cost needed to launch an NFT marketplace platform.
How much cost is needed to create an NFT marketplace?
The cost of building the NFT marketplace may vary according to your business goals. Creating an NFT marketplace takes place in two ways from scratch and white-label. Creating a marketplace from scratch means building the marketplace platform from the ground. So the development cost might range from $80,000 - $100,000.
On the other hand, creating an NFT marketplace platform with white-label software. With the help of a white-label NFT marketplace solution, you can easily implement your platform in the market, whose cost may range from $8000 to $14000.
So compared to developing from scratch, the white-label software is best for both times cost-efficient.
Conclusion:
In the upcoming year, NFT will be a constant trend. So this is the perfect time to develop an NFT marketplace. To build an NFT marketplace with power-pack functionalities, be conscious to choose the right NFT marketplace development as they are the one who is going to bring you business idea
Reader insights
Be the first to share your insights about this piece.
Add your insights