Blockchain & Bitcoin
Bitcoin: What is it?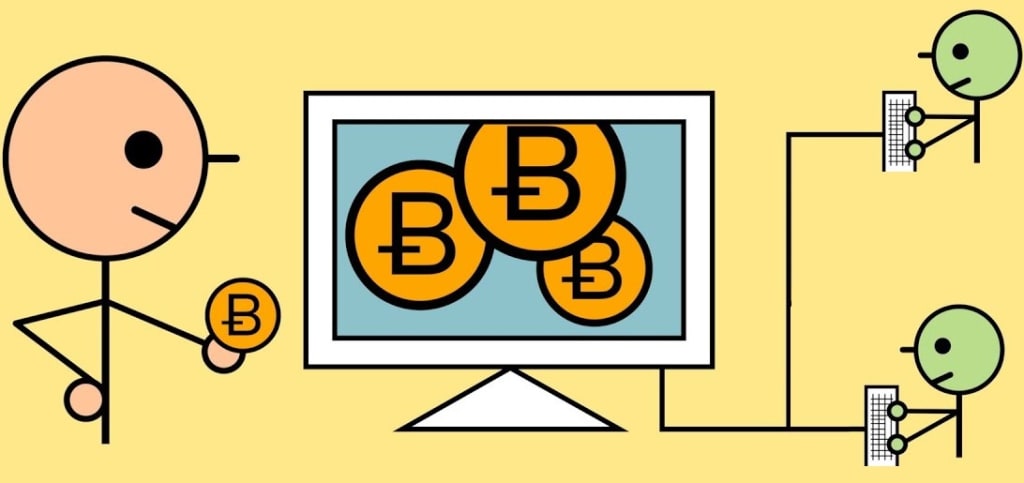 Blockchain and bitcoin. For the past 10 years, these words appeared on your social media feeds many times. For the past 10 years, still nobody really understands what bitcoin means... or that Blockchain is a digital money technology advertised as an antidote to the death of civilization.
Cryptology initially had a bad reputation because they're decentralized, difficult to control, and therefore, were used when purchasing weapons and drugs on the dark net. But as an exciting wave, the word "blockchain" was used in the whole sense to encourage investors and even persuade your old aunt not to sell aloe vera, but to invest in bitcoin. 2008 was not only the year of the last world economic crisis, but also the birth year of the monetary unit, which for some represents the future of the economy—even if you do not know how these blocks will change the world. Cryptocurrencies are part of our present, but we are still talking about them as artificial intelligence... or the rule of Martha McFree, like science fiction. After all, bitcoin and company are already in pop culture. Tracks give you some information you can say—even if you do not know exactly what cryptography means to "cancel the hash function."
Kasotsuka Shojo
Proof that Bitcoin belongs to general education? Members of the Japanese group Kasotkou Shoji not only sing about cryptographers, but they mask as such: Each of the traditional costume students means cryptography or a related brand (Ethereal, Bitcoin, Ripple ...). The stated goal of formation is to educate the masses in the proper use of the new technology: "Always gentle, do not underestimate the market price (...) Beware of cheaters (...) Take care of your password, use each singing Bitcoin Girls."
Japan is not only a country where pop stars sell everything, but is also one of the first countries that legalize and distribute Bitcoins. Unlike China and South Korea, since April 2017, Japan officially used cyber currency to help the economy (while North Korea focuses on violating the cyber currency of South Korea). The rest of the world hesitates, with two exceptions: The dictatorship in Belarus tries to lure investors through tax breaks for transactions with cryptocurrencies. And in Venezuela, President Maduro announced the creation of Peter. This virtual currency is intended to help avoid economic sanctions imposed by the United States, even if this project is more of a political ad than a real economic project.
Cryptokitties
Cryptocurrency may be nice and good, but apart from the banks, a small number of governments, and the original world, hardly anyone is interested. The rest of the world is still waiting for an "add-on killer," an ideal product that will give the technology a final breakthrough.
The first thing to note is the cryptographic function is that all transactions are entered into a shared, decentralized registry, which in turn is copied to all nodes in the network, and thus becomes intolerable and not deceptive. Theoretically, you can have many trust in all these registries. This trust is the basis of "intellectual contracts:" contracts between several parties that are in a decentralized register and enjoy a good reputation.
Ethereal, the competition protocol from Bitcoin, for this system is believed that large companies have announced they want to use it. Now, guess which of these "smart contracts" is the most successful. This is the trade in virtual cats. In the game Cryptokitties, published in November 2017 (i.e., in the middle of the Bitcoin boom), there were inserted unique Ethereal Blockchain cats that can be bought and sold (to give you an idea of ​​the scale: Prices have risen to $100,000 for a virtual cat.). You can also cross your cats to create other unique and valuable cats. The game has become so popular that it currently contains up to 24 percent of these deals. More serious thoughts complained of a slowdown in the network.
So do not worry if you still do not understand that mysterious currency. You do not have to get annoyed that you have not previously invested in Bitcoins. This is a complex subject, which still has many discrepancies. And the question arises whether the future is to invest in high-performance computers that make ineffective calculations (the computing power to create a block within this chain is simply to prevent fraud—otherwise, these machines are not very high).
Today, money vaults are serviced only by investors who want to avoid taxation through ICOs and symbolic systems, as well as banks (through Ripple, which centralizes operations and returns power to the authorities). It is difficult to even understand for a non-hippie to call the system an innovative one that uses a bunch of energy to calculate everything that makes no sense and makes them richer. Is this the predecessor to the new world? Is this the last fall of the capitalist technological civilization? Until we learn, we can continue inventing extremely complex passwords and work with crypto codes.
About the Author
I am Matthew Evans and I want to show people how beautiful and interesting our world is. I am a business coach, ruby fortune casino Canada review writer, and travel blogger. In addition, I really like to read new information about psychology and politics. I believe that you should know everything about politics, especially if you want to start your own business. I hope that my knowledge will help me understand people and make their lives better.