Another Bitcoin Decline in Sight Before Possible FOMC Reversal Rally is Really Getting Hot !
Before important events, markets often rise or fall into support or resistance levels. This time is no exception.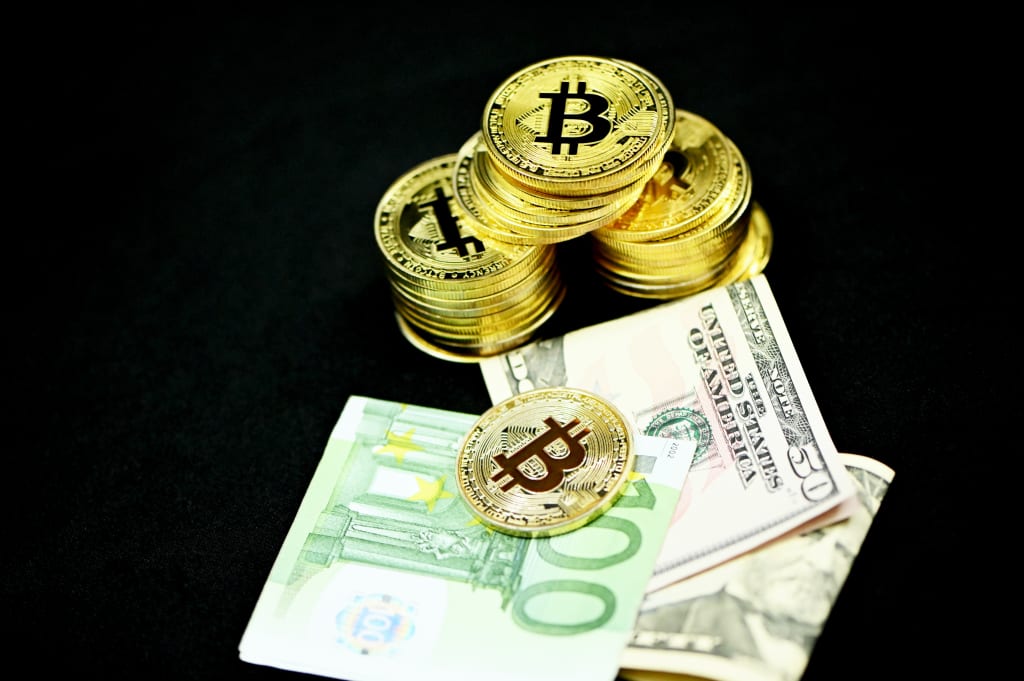 Photo By UnSplash.com
If bitcoin fails to clear the $38,880 resistance zone, it could start a fresh decline. An immediate support on the downside is near the $38,400 level.
The next major support is seen near the $38,200 level and the triangle lower trend line. A downside break below the triangle support could even push the price below $38,000. The next major support is $37,400, below which the price could dive to $36,500. ( we hope wednesday might reverse the bearish decline ).
A strong recovery is possible after the hike annoucement but it can posssibly hold if the Nasdaq is able to recovers just as well , if Nasdaq decline, Then Bitcoin will trend towards $34,000 in short term before 6th May (non-farm payroll report ) and 9th May which are another sets of important dates; as market will check on empolyment figures in the US and also Russia is due to make an big Annoucement .
The Federal Open Market Committee (FOMC) meeting on Wednesday may spur a brief increase in risk assets like cryptocurrencies and stocks, while also driving the US currency away from recent highs.
Even while this event is capable of causing panic in risk markets, the direction of the market on Wednesday will be determined by the recent happening in the U.S and rest of the world with Russia and Ukraine war still ongoing and the serious aftermath on supplies problems caused from lockdown due to covid pandemic in 2 major export cities namely Shanghai and Beijing in China
During the coming press conference on May 4, Jerome Powell, the chairman of the US Federal Reserve, will speak on present and future monetary policy in the United States, as well as the Federal Reserve's decision for this month.
Various critical components are needed in order to understand the outcome of this event based on the data and current understanding that is available at the time of this writing.
If we will review the recent month of March meeting then , Interest rates were raised by 25 basis points for the first time since 2018 by the Federal Reserve. In the run-up to the FOMC's March meeting. The market began pricing in the 25 basis point hike ahead of the meeting in anticipation of its occurrence.
In the end, this led to lower equities, lower crypto, and an overall risk-off attitude, with the US dollar hitting new highs after new highs as the destiny of the March 2022 implementation of rate increase remained in doubt then
In order to elaborate on the March open discussion, I would like to point out that the market is currently undergoing a very similar dynamic, in which the outcome is priced in advance.
Because of this, we should expect to witness an unwinding of protective positioning that will lead to greater or higher market levels. The market expects the Federal Reserve will raise interest rates by 50 basis points on Wednesday, with a 99.5 percent certainty , and that will means that the market are intent to pricing in June with 75% basis point at least . Investors are nervous and worried and they are possibly flocking to Bitcoin..consumer are running out of money and the US is going into recession going into the next quater
An official statement from Federal Reserve will be issued describing their findings and their most current comments on the market and economic conditions in general.
When Jerome Powell does his press conference at 2:30 p.m. UST , I expect the market to react sharply, as he will provide further information on the Fed's decision from earlier this month as well as guidance on what to expect from US monetary policy in the months ahead. As a result, we can expect to learn more about what Powell is thinking and how he thinks the other members of the FOMC are thinking as well by interviewing him in the United States.
Before important events, markets often rise or fall into support or resistance levels. This time is no exception. When the US dollar was at its greatest position, which is why many start stocking up USDT , you might have bought the currency.
For Bitcoin, the price of a single bitcoin is now hovering around $39,000. You can count on Wednesday to be the ultimate catalyst for market movement, whether that is risk on where we see Bitcoin and stocks go higher or risk off where Bitcoin and stocks collapse as the US Dollar continues to rise. this 4th May will be the ultimate driver for market movement.( UP or DOWN — Breakthrough , Stagnant or Down ??)
In general, the Federal Reserve's ultimate goal is not to raise or lower interest rates. It does not matter if they are concerned about the level of prices, economic growth, or unemployment. The main goal of decreasing inflation is served by lowering the interest rate target.
Excessively accommodating monetary policy has unintended consequences. Expanding the economy is pointless when it has reached its carrying capacity. In general, the Federal Reserve is ultimately aiming for something other than interest rates at the end of the day. They are interested in the expansion of the money supply, the level of prices, the growth of the economy, or the unemployment rate. The interest rate target serves as a vehicle for achieving the greater policy goal of lowering inflation.
On top of that, there are institutional biases such as tax structures that do not account for inflationary swings that make it more difficult to control inflation.
During periods of high inflation, there are periods of low money supply, which are followed by periods of hardship.
If the US economy was experiencing negative growth, then I believe the Federal Reserve should take this into account as well. The U.S. GDP shrank by 1.4% in the third quarter. A technical recession, defined as two consecutive quarters of negative economic growth, has been forecast for the first three months of 2022, and this has sparked anxiety. ( will there be a rush into Bitcoin )
For this reason, I believe that the Federal Reserve will do all in its power to prevent a second quarter of negative growth, as we have already had one quarter of negative growth. Although it was established to avoid such tragedies, the Federal Reserve was also established to prevent financial crises in the first place.
Money market funds, government bonds, and certificate of deposit (CD) interest rates all benefit from an increase in the Federal Reserve's policy rate. In the stock market, there are inherent risks. It is possible that the value of your investment could rise or fall. There is not a real threat because the value of money in banks or Treasury bonds will not decline
Depositing money in CDs, Treasury bills, and other interest-bearing securities becomes more appealing when interest rates climb. Even with a 1.5 percent interest rate, the money invested could not keep pace with escalating living expenses. An increase in the quantity of money invested in less risky assets is directly proportional to the rate of return.
I have not heard anyone mention asset bubbles in low-rate situations as a possible reason for the decision, but this is not the only possible explanation.
Many factors lead people to believe that it is necessary to begin hiking rates, which is why they are outraged by this one coming so fast since the last increase and more is coming . The following are some of the things to consider:
Low inflation is made more difficult by the high cost of oil, which threatens to be a drag on growth.
American firms are having a harder time selling their products throughout the world because the value of the dollar is rising.It is clear that the global economy is not operating as well as many would like it to, since many economies are still trying to loosen monetary policy.
Bitcoin movement will be correlate to Nasdaq, the falling wedge is still showing weakness, as few weak before, some analyst foresee the rate hike, may boost some reversal ,but iof S&P 500 still showed weakness in Tech stock, it might caused a slide in shorterm down to USD 36,000- $ 34,000 rahe, which means -traders must look out to short trade if the slide become drastic ,volatility will be drastic until the slide reach at least $34,000 , why so is because ,Russia's whales are out of the market and 9th May signify some major events will be annouced in Russia and whales want to buy at the lowest for accumulation for big boost , when people fears of possible declaration of WAR , or even a possible Nuclear attack into Ukraine
#Disclaimer Note : This publication is not intended for use as a source of any financial , money making legal, medical or accounting advice. The information contained in this guide may be subject to laws in the United States and other jurisdictions. We suggest carefully reading the necessary terms of the services/products used before applying it to any activity which is, or may be, regulated. We do not assume any responsibility for what you choose to do with this information. This article is not meant for financial advice , Use with your own judgment.
bitcoin
About the author
Estalontech is an Indie publisher with over 400 Book titles on Amazon KDP.Being a Publisher , it is normal for us to co author some of our publications with brainstorm on interesting contents which we will like to share on this paltform
Reader insights
Be the first to share your insights about this piece.
Add your insights