6 Cutting-edge Blockchain Solutions for Real Estate
How blockchain changes real estate industry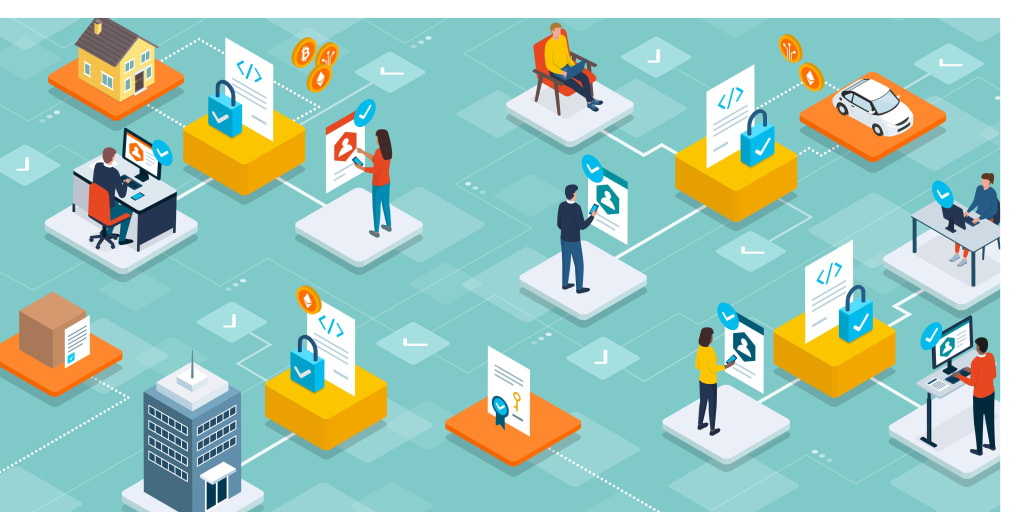 blockchain and real estate
The post-pandemic situation has affected many industries worldwide, and real estate is not the exception. Today, people prefer purchasing property online rather than conducting deals with agents face to face. In this light, some services move online, however, the majority of them finds that transition hard to complete. Needless to say, ready online real estate solutions, on the other hand, are rapidly gaining momentum among users.
And blockchain is the technology that notably stands out from the host of other innovations in the real estate industry. Users increasingly admit that blockchain-based digital tokens, serving as a virtual representation of the property, are the safest form of trading. And today, we invite you to discover how blockchain helps to streamline real estate operations with the best blockchain solutions for real estate so far.
The Best Blockchain Tools for Real Estate
RealT
RealT is a blockchain-based platform providing real estate clients with intuitive investment possibilities. A unique feature of the platform is that it replaces traditional paper deeds with Ethereum tokens. Since deals are conducted digitally, users can purchase property from any part of the world; while typically, an ordinary property purchase takes one month minimum, on RealT it's done in just 30 minutes or so.
Thanks to tokenization features introduced by RealT, investments are affordable to virtually any user. A single token on RealT costs between $50 and $150, which are the lowest investment sums the industry has ever witnessed so far! Traditional real estate investments start at $5,000, which makes RealT a real deal for property buyers.
Aetsoft
Aetsoft is a custom development company with a strong focus on blockchain-based solutions. One of its latest blockchain developments is a ready real estate solution that reimagines the concept of online investments by allowing representing digital assets in the form of tokens traded on the blockchain. It provides users with direct access to investments without brokers, banks, and other intermediaries and without broker fees.
For better security of operations, there are three user roles that exist within the platform, each with its own permissions:
Platform Owners — verify the applied businesses, publish projects on the platform, and issue tokens.
Project Holders — businesses, startups, property holders who come to the platform, get verified by the Platform Owner, and discuss relevant investment options.
Investors — retail and accredited investors who register on the platform, get verified through KYC and AML, and buy tokens with crypto or fiat money.
RealBlocks
RealBlocks is a universal online marketplace that connects investors, advisors, and alternative investment managers. Their blockchain solution leaves behind the local boundaries that previously limited real estate investors in their ability to raise capital. Instead, RealBlocks provides them with access to a global network of advisors and investors, thus bringing their investment deals to a whole new level.
For alternative investors, RealBlocks provides a full back-office functionality along with easy access to it; investor onboarding is fully automated as well as KYC and AML procedures. Once onboarded, investors can benefit from a quick fund setup period (only 2 months) and low setup costs (starting with $50K).
Finally, fund distributors have access to custom funds (including single-manager and multi-manager funds and alternative investments) and feeder funds (low-cost digital investments and multi-channel access) to improve their investment portfolio.
SolidBlock
SolidBlock is a platform that revolutionizes the industry by introducing blockchain-powered p2p transactions. Those are designed to replace outdated banking procedures with more advanced real estate trading, which is more secure, quick, and doesn't require paperwork.
On the platform, investors are free to choose when to invest in a particular project, starting as early as at the initial stage, when securities are issued, through their growth, and during the period of securities trading. They can always find exclusive deals, with low minimum investments required, able to bring them higher returns.
Property owners, in turn, can stay assured that their property deals are safe and stable thanks to blockchain-powered transactions. SolidBlock is an efficient way for them to raise capital with full transparency of value history, allowing them to trace back each asset, and access to a broad market of investors.
DocuWalk
DocuWalk is an end-to-end solution where all paperwork procedures — from contract negotiation to signing — are moved to digital. At this point, previously grueling tasks become time-efficient; for example, data sharing is safe against hackers thanks to built-in blockchain security algorithms. Additionally, there's no need to check with regulations while signing contracts since pre-made templates are designed in compliance with local laws. For agents, there's an intuitively managed library where they can store all the data and pick up where they left off whenever needed.
Landshare
Landshare developers state that they created a platform whose goal is to "leverage real estate and DeFi for an unrivaled investment." The key to achieving this goal is tokenized real estate assets as it allows for the ownership of real estate assets directly on the blockchain.
Recently, the developers introduced NFT-based real estate to the platform as an additional incentive for landholders and crypto users to invest in digital real estate. NFTs are distributed to all users who make an asset token purchase of at least $250, or five asset tokens. From that moment onward, in addition to the rental income their real-world counterparts generate, users can stake their asset tokens in their NFTs to generate land yields.
Same as in the real world, users will be able to upgrade their NFT property with various renovations and visual improvements. Each house upgrade will multiply the user's rewards by a set number; that is, the nicer an NFT property is, the more yields it can generate. All the upgrades and renovating materials will be special resources gathered within Landshare's ecosystem.
Reader insights
Be the first to share your insights about this piece.
Add your insights