Your Guide to Irish and Celtic Sapphire Rings
Irish Jewelry Craft is a trusted online retail store offering luxurious Sapphire Rings adorned with glistening diamonds, in a variety of different Irish and Celtic styles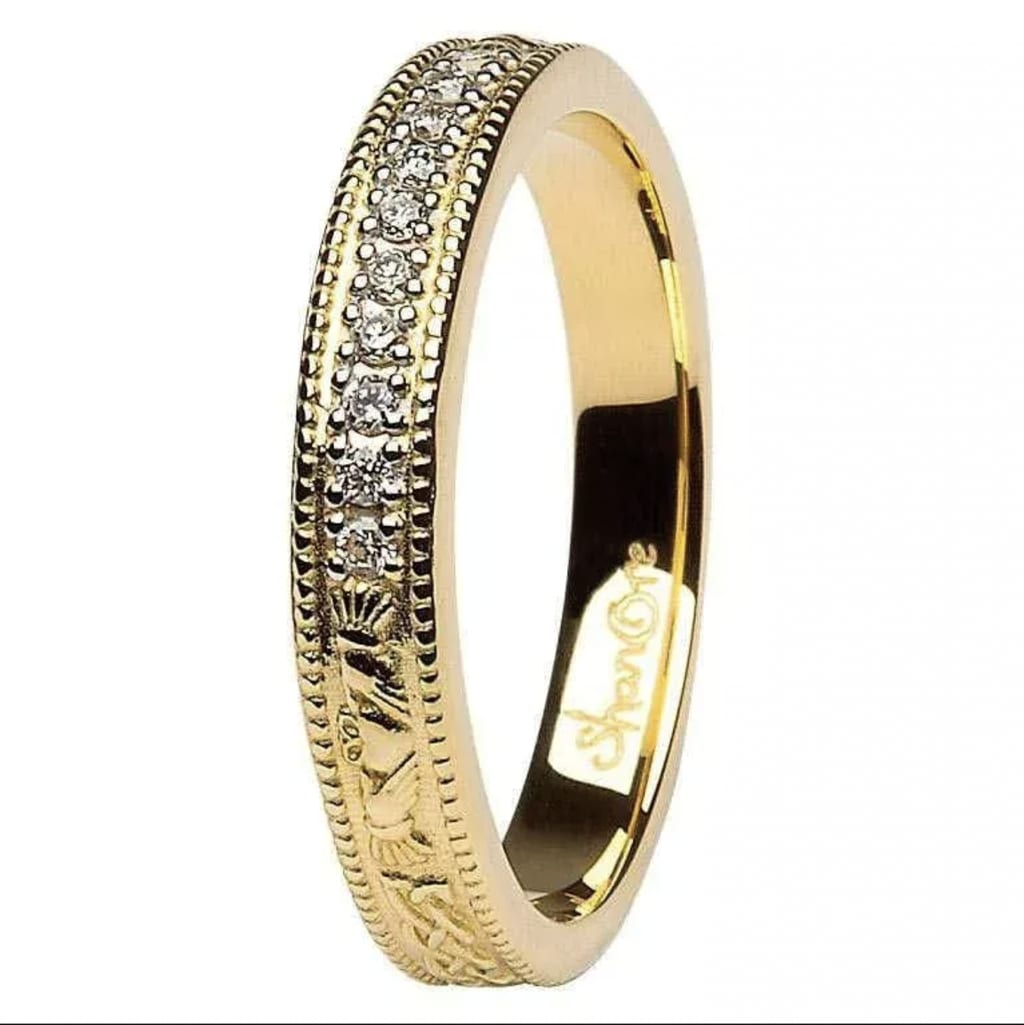 Irish and Celtic rings adorned with Sapphire gemstones
Handcrafted Sapphire Rings from Ireland are a timeless and elegant fashion statement derived from ancient Irish design. An Irish or Celtic ring featuring a Sapphire jewel is a unique symbol of unity, love, and romance. It will add a semblance of style to your Jewelry box.
Irish Jewelry Craft is a trusted online retail store offering luxurious Sapphire Rings adorned with glistening diamonds, in a variety of different Irish and Celtic styles.
What is the meaning behind the Sapphire Gemstone?
Sapphires have a well-known association with royalty, and are among the most popular gemstones worldwide, radiating luxury and natural beauty.
The rich blue Sapphire jewel represents wisdom, virtue, good fortune, enduring love, and royalty. Many also believe it grants inner peace and tranquility to the wearer.
Sapphire is the birthstone for the month of September. A claddagh ring with sapphire stone makes a timeless birthstone ring. Sapphire birthstone rings make a breathtaking gift for any lady lucky enough to have a birthday in September!
Sapphire gemstones come in a wide variety of colors, including purple, pink, orange, and yellow. However, blue sapphires are the most well-known and popular.
Full Heartshape Sapphire And Diamond Claddagh Ring
This eye-catching White Gold Claddagh Ring With Sapphire is expertly crafted from 14K white gold, with fine attention to detail. It showcases a 0.55ct heart-shaped shimmering sapphire stone at its center. The hands and crown of the Claddagh design are embellished with genuine diamonds. Celebrate love, loyalty, and friendship with this awe-inspiring Claddagh ring with Sapphire.
Traditional Claddagh Ring featuring Genuine Sapphire Heart
The Claddagh ring is one of the most iconic and romantic pieces of jewelry to have emerged from Irish history. Suitable for both ladies and gents, the Claddagh design - two hands delicately clasping a central heart topped with a crown - is an Irish symbol of love, loyalty, and friendship. An Irish sailor named Richard Joyce, from the ancient fishing village of Claddagh in County Galway, created the original Claddagh design over 400 years ago.
A gold Claddagh Ring featuring a stunning blue Sapphire gemstone at its center is an elegant and breathtaking piece of jewelry. Many Claddagh Sapphire rings are encrusted with sparkling diamonds, making them exquisite ladies' engagement and wedding rings.
Heartshape Sapphire Diamond Claddagh Ring
Take her breath away with this magnificent Sapphire Claddagh engagement ring! Delicately handcrafted from 14k yellow gold, it displays a 0.35ct heart-shaped blue Sapphire gemstone. The delicate hands are adorned with sparkling diamonds, which enhance the Sapphire stone beautifully. This glorious Claddagh ring speaks of eternal love and devotion.
Stunning Sapphire Claddagh Rings for all Occasions
Sapphire celtic engagement rings from Ireland can be worn in many ways and for many different occasions. With all their romantic meaning and symbolism, they make stunning sapphire Celtic engagement rings and wedding rings. The blue Sapphire represents faithfulness and devotion when worn as an engagement ring. A Celtic Sapphire ring can also be gifted as a promise ring, birthstone ring, friendship ring, or precious family heirloom.
Sapphire And Diamond Shamrock Ring In Gold
This delightful engagement ring features an Irish Shamrock adorned with three sumptuous Sapphire stones. It is handmade in Ireland from 14K yellow gold and encrusted with dazzling diamonds. This stunning ring design is also available in white gold.
The Irish Shamrock is an iconic symbol of Ireland. It is believed that Saint Patrick, Ireland's patron saint, used the shamrock's leaves to represent the holy trinity of The Father, The Son, and The Holy Spirit. It is also considered an Irish good luck charm.
Feel the luck of the Irish when you wear a Sapphire Shamrock ring from Ireland!
Beautiful Display of Romantic Tradition and Mesmerizing Style
Irish Jewelry Craft offers a superb range of Irish and Celtic Sapphire rings laced with sparkling diamonds. A stunning sapphire gemstone transforms a simple ring into something truly magnificent and mesmerizing.