Work Outfits to Survive Summer Heat
Summer can sometimes be unbearable with all the high temperatures. Especially when you need to think about what to wear to work that won't make you sweat all over, the challenge becomes even greater.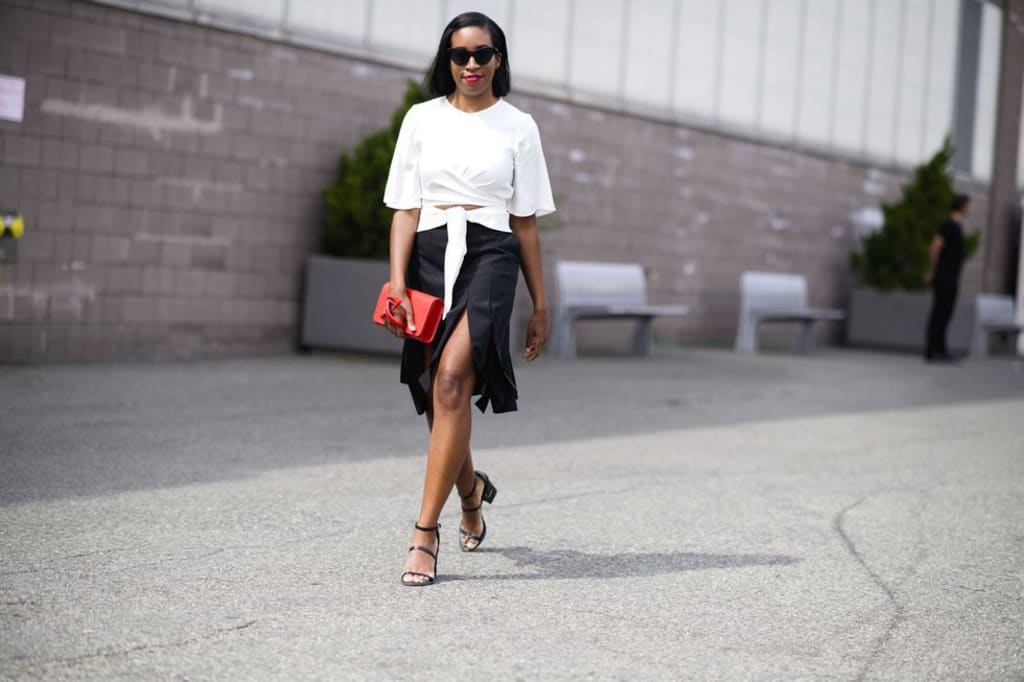 However, just because you're working at the office it doesn't mean you always have to stick to your corporate look to the core. Feel free to modify it a little when the sun starts radiating the blazing heat and make summer days at the office much more enjoyable.
Chic and comfy skirts
Skirts have always been a main part of the office attire, but you don't always have to stick to pencil skirts or the ones in solid colours. As long as your office outfit features a skirt that hits at the knee and is breathable enough to make you feel comfortable, you made the right choice. A linen midi skirt in combination with a white viscose blouse will make you feel as light as air. The fabrics will allow the air to circulate through the clothes, instead of keeping the fabric stuck to your body and make you sweat.
Floral dresses to keep you stylish
Florals will make every day happier, and floral dresses in the summer radiate pure joy. Therefore, think about throwing on some of your favourite lightweight floral dresses that reach the shortest at your knee. Pick out a dress from Realisation clothing for a trendy outfit that will make you look and feel good in your own skin. Feel free to throw a blazer or a cardigan over your shoulders in case thin straps aren't considered appropriate at your workplace. With a pair of wedge sandals and a fedora hat, you'll look fabulous.
Stick to lightweight fabrics
Linen, cotton, viscose and silk will keep you cool all summer long. That's why you should build your summer wardrobe around those specific fabrics. Just think about wearing linen pants and a viscose blouse, and finishing off all that with a pair of sandals. Your feet won't swell up too much because flat sandals will offer enough room, unlike closed footwear. A midi viscose skirt and a linen top are all you need to go through the hot summer months without breaking too much sweat.
Go for happy bright colours
Lime green, yellow, bright orange, fuchsia, and cobalt blue are just some of the amazing summer colours you should think about wearing to make your work outfit livelier. A white pair of jeans and a lime green shirt tucked inside the jeans will look incredibly chic. Add a brown belt and a pair of camel mules for the ultimate office ensemble. Don't forget a pair of shades to protect your eyes from the sun but to complete an entire ensemble as well. A brightly coloured jumpsuit is also a fabulous option. If you opt for one with no sleeves, throw over a or a leather jacket over the shoulders to keep it both stylish and office-appropriate.
Choose footwear carefully
When it comes to footwear, office policy can be quite tricky. That's why you should always be aware if open toes are allowed, as well as if sandals are appropriate or not. Wedge sandals, ballerina flats, Oxford shoes, moccasins and pumps are some of the safest choices. If you notice other employees walking freely in their strappy sandals, don't hesitate to make them a part of your summer outfit too. Heels will always look better with maxi dresses and long boilersuits, so feel free to match your sandal wedges with a long wardrobe.
Final thoughts
Putting together a summer office wardrobe can be challenging, but if you stick to a few trendy pieces and remember what is work-appropriate, you'll have no trouble in building your corporate wardrobe. Just remember that you don't have to stick to strictly solid colours, but add a pop of colour and always go for lightweight fabrics that will offer maximum comfort.
tips
About the author
Reader insights
Be the first to share your insights about this piece.
Add your insights