Why The Costumes in Bridgerton Suck
Yes, I'm Sorry.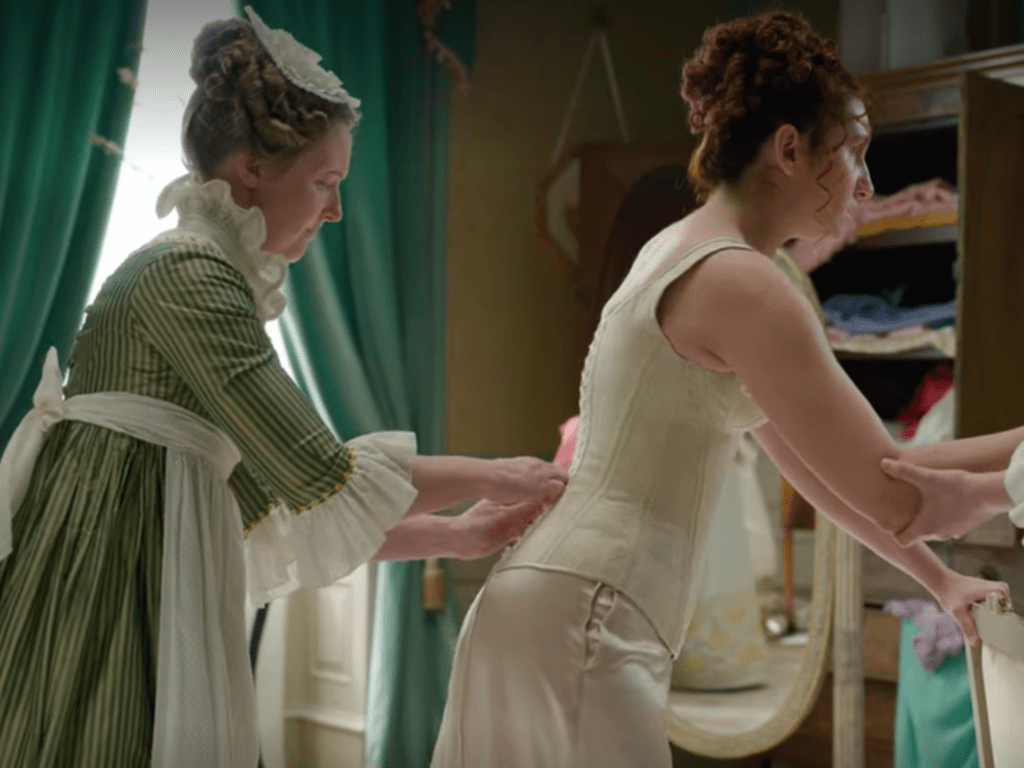 Background on Bridgerton: A period drama set in 1813 London. The clothing is worn by British people in mostly English and some french styles, as was fashionable. The costume designer is Ellen Mirojnick, who stated her intention wasn't historical accuracy, but that she was putting her own spin on regency dress to convey the character and story in a way that made sense. It is true that the entire plot and contents of the Bridgerton story isn't historically accurate, so I presume that the costumes were just one more thing done wrong.
What Makes a Good Period Drama Costume?
Silhouette: The outline, fit, cut and overall shape of the garment must be accurate. The Regency Silhouette consisted of low decollete, the waistline firmly beneath the bust, the natural waist in no way accentuated. Bridgerton got some of this right, as it is often the easiest part of the historically accurate costume. Most of the time the silhouette is done properly, but there are two main offenders here. The (I think it is her, anyways) Featherington Mother (that red-headed shrewish type woman) has a Victorian corseted waist, that is accentuated by her form-fitting frock. That would absolutely never have been done, not even if she was a prostitute (let alone a lady, ye gods.) And Queen Charlotte will have a section all to herself soon, don't worry :D Also, Daphne, Miss Bridgerton's, use of evening gown trains in day dresses is a travesty.
Fabric/Materials: Using materials, prints and fabrics that would have been available at the time is essential. You can't have people wearing things that hadn't even been invented yet. With the regency, net, or mesh was invented and became a very popular part of evening wear for young ladies. But, never for day dresses, people! (Yes, you, Featheringtons D:<) Then, we make it to the florals. Floral print was most definitely NOT a thing in the regency. Actually, prints in general were not a thing. That is all I have to say on florals. The use of modern floral appliques is also revolting (not a thing). Rhinestones and glitter also weren't in use. If you were to use any print at all on a dress, it would be small (take a look at that lovely green frock with the paisley below) because of the extensive work required for the print to be created. And paisley wasn't even popular until the 1840s, really. Rosettes were sometimes used, though again, sparingly! Also, pelisse's were never printed with patterns (The Dowager Duchess, ehem ehem)
Hair + Cosmetics: They didn't really wear makeup. If they did, it didn't look like they were wearing any (this is where the no-makeup makeup trend was done first. And they did it better.) The Dowager Duchess's plucked and penciled eyebrows and eyeliners are a no-no. Hair styling in the regency was unflattering and tedious. Slicked back ponytails and loose hair was never done. Neither were fringes. I didn't see a historically accurate hairstyle in the entire show, actually. Hair gel was not a thing, (Featheringtons!) but concoctions with animal fat (lard hair :D) were sometimes used to paste the hair into its desired shape. The desired shape typically involved to front sections of the hair tightly curled into ringlets. The rest was pulled into a simple chignon, typically. And Queen Charlotte's wigs are terrible and looked like shaving cream was piled onto her and her attendants' heads.
Undergarments: In the regency, women still wore stays. Stays were soft and were used to support the bust and shape of the dress more than to cinch the waist. Because of the empire waist of the regency, most women wore short stays, that didn't go past the ribs. So that scene with the tightlacing was completely wrong. Also, I know this completely damages the sexiness of it, but women wore chemises under their corsets. They were white, boxy, shapeless linen shifts that protected both the wearer and the stays. The chemise would absorb all the sweat and whatnot from the wearer and prevent it from permeating and damaging the stays. And having stays rub up against your skin and leave welts and blisters was a trifle uncomfortable, so a chemise would prevent it fro doing just so. Stockings went above the knee, and were tied with a ribbon garter below the knee.
Headwear and other accessories: No tiaras or top hats for women in the regency. But Bonnets! Where art thou bonnets, lassies? Nowhere to be seen, alas. And no reticules! Where are those? Again, nowhere to be seen. And the gloves are wrong. Satine elbow length gloves from party city are a no. And the bloody jewelry, ye gods. One big disaster here.
Proper Outdoor/Indoor and Day/Evening Distinctions: Can someone tell me why I don't see a proper day dress all the show. Who said wearing evening gowns to the bloody park in the morning was acceptable propriety? Yes, nobody at all. And going outdoors without a spencer or pelisse, reticule, gloves, and bonnet (not to mention chaperone) was absolutely never done.
Colour: Hate to break it to you, but neons and artificial dyes were not quite yet available in the regency. Nor did women wear any black at all, unless they were in mourning.
Understanding before Modifying: Back to the argument Ms Mirojnick made about modifying history for the sake of the story. I get it, and I'm not completely opposed to the idea, as it can be done well within the realm of accuracy. But when you modify something, you have to understand what you are modifying to begin with, and Ms Mirojnick did not.
What in the devil is Queen Charlotte wearing, explained! Queen Charlotte is shown wearing mid-18th dress (or an attempt at it) for her onscreen appearance. That made sense, as Queen Charlotte did wear 18th century dress that was popular when she was young. It was common for older women to wear clothing that was fashionable when they were in their prime, though Queen Charlotte took it to a new level. The main thing Ms Mirojnick got wrong, other than the wigs, was that Queen Charlotte would have been wearing gowns from the 1760s and 1770s, not 1740s and 1750s, when the Queen would have been a young child.
The Men:
You may think, since regency was the turning point into a certain dullness in men's fashion, that it would be hard to get wrong. But, here we are.
Cravats: The collar of the shirt was buttoned up the front up to the jawline. The fact that His Grace, The Duke of Hastings, is sometimes seen wearing shirts with the collar opened and/or without a cravat was greatly indecent and wholly inappropriate and most definitely not done. Also, His Grace on occasion is sighted wearing a black cravat. Black cravats were really only worn in military uniforms. Cravats were always white.
Trousers vs Breeches. Yes, a man in capris and hose is very un-sexy, I get it, but the majority of men in 1813 would have still worn fall front breeches and hose (especially older men) during the day. For formal and social events, such as balls, not a single trouser would have been in sight. Trousers were worn riding and hunting, mostly.
NO HESSIANS AT FORMAL EVENTS! < that. Hessians, or boots of the regency, may have been worn out during the day, at sporting events, etc. but never, and I repeat, never, at any formal event whatsoever.