Why is Gold Kada Gaining Popularity in India?
Different Types of Kadas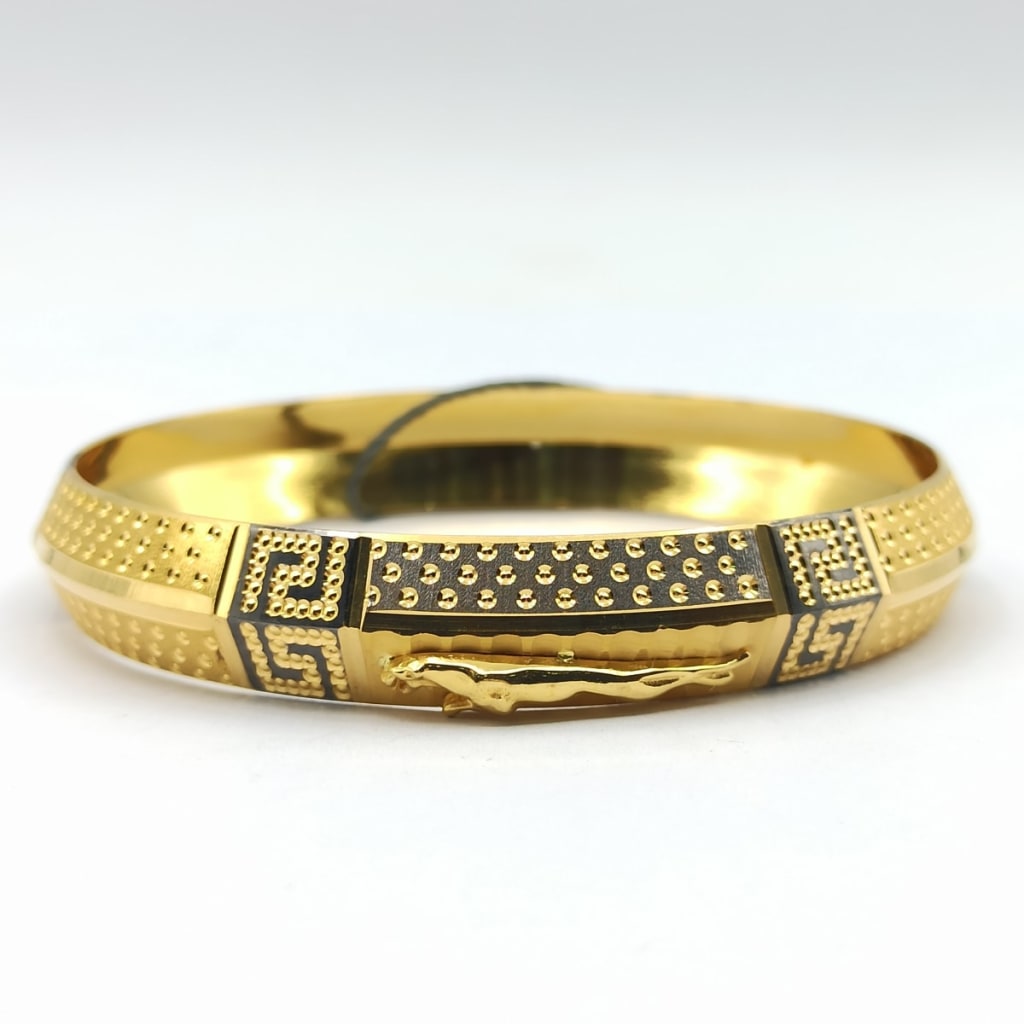 A 'Kada' also known as 'Kara' is one of the most popular jewelry items adorned by men, women and children alike. The Kara is a thick sturdy bracelet worn on the wrist just like bangles or a wristwatch. The reasons for wearing Kada differs among the people in India. Everyone has their reasons however most usually it is a symbol of fashion, or for religious purposes.
The gold Kada worn by women in India has a cultural value for them since the Kadas in different forms have been worn since ages. Married women tend to wear Kadas standalone or along with bangles while as it has been seen that young unmarried girls tend to wear for style and fashion purposes, without any other accessories.
Different Types of Kadas
There are tons of different types of gold kadas available in India. These have been created for different people:
Rajputi Gold Kada for Men
Punjabi Kada Gold
Rajasthani Gold Kada Designs
Antique Gold Kada
Traditional Gold Kada Designs
Peacock Design Gold Kada
Modern Gold Kada Designs
Simple Gold Kada Designs
Gold Simha Kada Designs/Lion Face Gold Kada
Rose Gold Kada
Every different type of Kada has its unique significance in different regional cultures of India.
Significance of Kadas for Sikhs
For Sikhs, Kada has a valued religious symbol as per their '5 Kakars' which are their articles of faith. The convention of Kada was done by the Guru Gobind Singh in 1699 and is a symbol of commitment to god for doing good deeds in the world.
The shape of Kada, a circle, is a symbol that goodness has no beginning or end and will keep on going just like the eternity of God. The wearing of the Kada gives a constant reminder that they have been initiated into the Khalsa, and must only do good and righteous deeds.
Women in Punjab are supposed to wear simple gold kadas for 21 days after their wedding as a cultural symbol. This tradition may be slowly losing its edge but is still highly valued by most Punjabis.
Is 'Kada' For Men Or Women?
In India, Jewelry items like Kada are worn by both men and women. Even Kids are given kadas at early ages so that they grow with the right mindset of the 'Khalsa'.
Women prefer to wear the Kada on their left hand, while men wear kadas on the right hand in India.
Children whether boys or girls love the Kadas because it makes them look grown-up until they understand what's the real significance of these beautiful accessories.
Kada As A Style Statement
'Kada' is a fashion symbol nowadays in most regions in India with no religious affiliation. The design and look of this fashionable jewellery are suited for everyone, and of all ages. Men have taken an extreme liking into this jewelry item. It is also observed that somehow Kadas provide a confidence boost for men.
Kadas in Rajasthan is inspired by the royalties from ages and also from early Indian architectural carvings.
Where Can I Find The Best Kada?
Kadas are available almost everywhere. There are hundreds of shops in every Indian city but finding the perfect piece which you have a desire for can get difficult unless you love to go from store to store. The best thing you can do is explore the online marketplace like JewelFlix first which has thousands of jewelry items including gold kadas exclusively available in the Indian market only.
Neatly organized and easy to find, they provide 100% authentic and BIS Hallmarked gold jewelry from only registered and genuine jewellers. Try and we guarantee you that you'll find something to suit your needs.