Why Chikankari Cotton Kurtas Popular Among Women
Want to enhance your summer look? You can do so with Chikankari cotton kurtas.

Chikankari is an intricate and graceful silhouette type of embroidery. Predominantly, the embroidery work used to be done with white thread on colorless muslins, popularly known as tanzeb. However, currently, chiffon, georgette, cotton, and other fine textiles are also being used. From being an adornment used mainly for ornamenting clothes, the Chikankari work of India has now spread to pillow covers, cushion covers, table linen, and much more in the queue.
There are a variety of reasons behind the progress of the Chikankari technique. According to an opinion, the word Chikankari has been adopted from the Persian word Chakeen or Chakin, which means weaving intricate and delicate patterns on textiles. As per the others, Chikankari may be a warped version of Sequin or Chikan, a coin worth Rs 4 for which the work was sold. However, another explanation accredits the term to the regional language of East Bengal, in which Chikan shows fineness.
History of Chikankari
We have got references to Indian Chikan embroidery in the early 3rd century BC. A Greek traveler, Megasthenes, has written about the importance of flower and petal pattern muslins for Indians. There are several opinions in terms of the origin of Chikankari work in India. Some people believe that a Greek traveler who was passing through a village in Lucknow has stopped for a moment and requested a peasant for a glass of water. Elated at the hospitality of the poor peasant, the Greek traveler taught him the art of Chikankari so that the poor peasant would never remain hungry in his entire life. Lucknow is the most famous place for Chikankari work. While believing in another opinion, the credit for discovering the Chikankari embroidery work in India goes to Noorjahan, the crown lady of Emperor Jahangir.
Why Women Prefer Chikankari Cotton Kurta Over Others
When it comes to carrying ethnic wear, women always prefer Chikankari cotton kurta over other kurtas. Women can never get over the elegance and beauty of chikankari Cotton Kurtas. The chikankari cotton kurta comes under the category of the best cotton kurtas for summer. It is one of the traditional outfits that can fit anyone and look gorgeous with less effort.
The intricate chikankari work on cotton kurta is typically divided into three categories:
Flat Stitches (the delicate stitches on fabric)
Embossed Stitches (the granular sort of embroidery)
Jali Work (the net effect form of embroidery)
How to Style Chikan Kurtas?
The best thing about chikankari cotton kurtas is their simplicity. "It is not necessary that you always have to put together a kurta set to showcase chikan embroidery. You can pair them up with jeans, khakis, and even go without bottoms in case of Anarkali kurtas."
These Chikankari cotton kurtas are available at various prices depending on their embroidery work and fabric blend.
Where to Buy Chikankari Cotton Kurta
After reading all these appealing things about chikankari kurta, you must be itching to get one for yourself. It's kind of obvious! After all, they comprise all the beautiful motifs, fine stitching, and decent fabrics. Chikankari Cotton kurtas come in a variety of prices depending on embroidery work on them.
Now, the question comes of where to buy all these beautiful chikankari cotton kurtas. So, we are here to sort out all of your problems. PCL is a fashion label that provides the best of chikankari kurtas while offering jobs to thousands of low-income families. PCL believes in spreading happiness & warmth of care, and their belief reflects in the families of poor handweavers. This fashion house has a broad range of chikankari cotton kurta and other ethnic wear. A few of them are listed below:
FIza Brown Chikankari Cotton Kurta
This beautiful Fiza brown chikankari kurta piece represents the pomp of chikankari on pristine Mul. The delicate embroidery on the chikankari cotton kurta comes directly from the court of awadh, while its fresh shades illustrate the light summery colors. Ideal and cozy wear for spring or summer, Add this elegant chikankari cotton kurta to your wardrobe collection. Team it with trousers, cotton pants, blue denim, mix and match to determine the perfect style that suits you. Carry it as semi-formal wear or casual wear. This elegant brown chikankari kurta is available from XS-XXXL.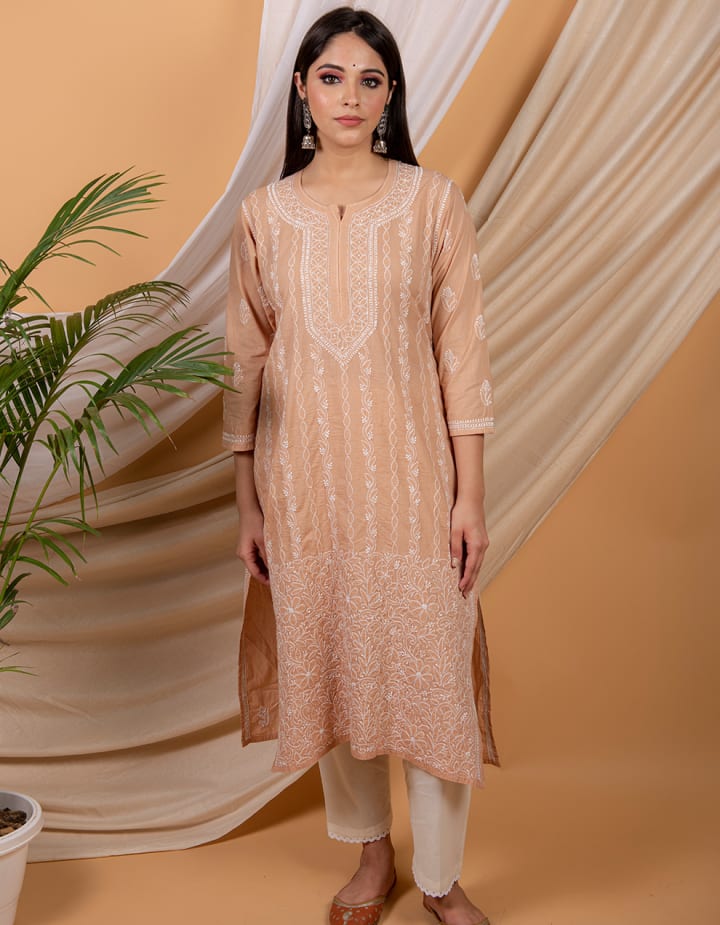 Fiza Dusty Pink Chikankari Cotton Kurta
This appealing Fiza dusty pink chikankari cotton kurta ensemble illustrates the grandeur of chikankari on pristine mul. The elaborated embroidery on the chikankari cotton kurta comes from the grounds of awadh, while its appealing silhouettes showcase the elegant summery colors. Comfortable and perfect wear for summer or spring days. This beautiful chikankari cotton kurta will add value to your wardrobe collection. Match it with cotton pants, blue denim, trousers, mix and match to see the perfect style that speaks to you. You can wear it as casual wear or semi-formal wear. This dusty pink chikankari cotton kurta comes in all sizes.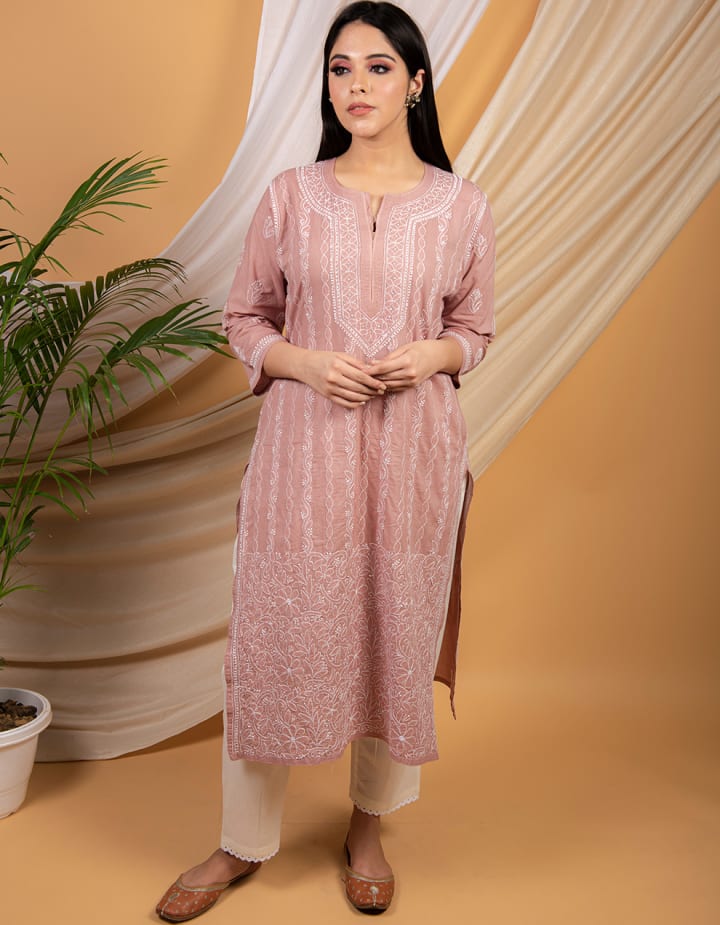 trends
Hi, I am a top-notch fashion designer. We are the best online seller for ladies ethnic wear, providing the latest trend on woman's fashion.